Welcome to Women in Politics: College Edition, where promising women leaders in student government on college and university campuses across the country will be featured on msnbc.com over the course of the year. Daryl Joy Walters has been nominated by Wiley College as a leader making a difference not only through key issues on campus, but in bridging the gender gap in politics.
As part of a new series at msnbc, "Women of 2014," these hand-selected women become part of a larger discussion of women candidates and women's issues on a national level. "Women of 2014" is a home for all women in politics – notably those in some of the year's most pivotal races – with newsmaker interviews, profiles, photos, a Twitter trail following more than 35 candidates, and deep dives into the key conversations.
From the Ivy Leagues to the Big Ten to liberal arts colleges and beyond, young women are making a difference across the country – meet them here!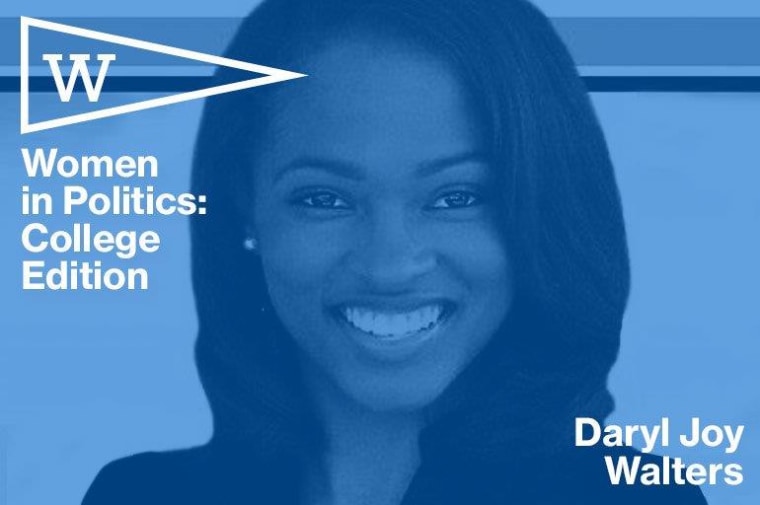 Name: Daryl Joy Walters
School: Wiley College 
Hometown: Shreveport, Louisiana 
Concentration: Religion and Philosophy 
Role in Student Government: Chief of Staff
Dream job: White House Chief of Staff
Class year: 2014
***
What is your biggest challenge as a leader on campus?
Well, let me first say that Wiley College is an institution where everybody is somebody. Therefore, each student knows that he or she can come me or any member to voice their concern or propose an event. The most challenging issue that I face on campus is deciding which brilliant events should be approved during the fiscal year. 
Which female leaders do you draw inspiration from?
There are so many strong leaders that I hold in high esteem. I draw inspiration from female public figures such as Shirley Chisholm, Patricia Roberts Harris, Fannie Lou Hammer, Dorothy Irene Height, Michelle Obama, and Hillary Clinton. These women have all played a significant role in shaping America.  
What comes to mind first when you think about important moments in history?
All history is important; no historical account is superior to another. However, the Civil Rights era is a moment in history that I feel most connected to. The Civil Rights era broke down racial barriers in the then-"segregated south." Although slavery had been abolished for several years, blacks' hands were still tied by Jim Crow laws. The connection to this era for me runs deep. My late great-grandmother was on Martin L. King's staff when he came to Shreveport, Louisiana. Dr. King was attempting to create peace and tolerance between all races in the south. It was his dream that blacks, whites, Latinos and Asians could all unite. In addition, my Pastor, Dr. Harry Blake was a Freedom Rider and contributed an endless amount of work during the civil rights era. If it were not for that movement, several opportunities that I and other people of color have had in life would be nonexistent. Now, every ethnic group can be a part of the American dream. 
What do you think should be President Obama's No. 1 priority?
President Obama's first priority should be education. I believe that universal pre-k and fixing the student debt crisis will have a stronger impact on the future of America. If these two challenges are met:
A. Every American will compete on an equal playing field to pursue their academic and career goals from an early age. 
B. Resolving the student debt crisis, for example by changing regulations to allow student debt to be treated as normal debt, will afford my generation and future generations more meaningful choices, eliminating the current burden that saddles so many new and not-so-new graduates. There is a freedom that comes from being debt free. No American should have to live under a student debt-sentence.  
Follow Daryl Joy Walters on Twitter @darlyljwalters and Check out last week's female leader at Princeton University
To nominate an exceptional undergraduate female leader in student government please email Anna Brand at Anna.Brand@nbcuni.com