Welcome to Women in Politics: College Edition, where promising women leaders in student government on college and university campuses across the country will be featured on msnbc.com. Tatiana Kaehler has been nominated to represent the Whitman College as a leader making a difference not only through key issues on campus, but in bridging the gender gap in politics.
As part of msnbc's "Women in Politics"  series, these hand-selected women become part of a larger discussion of women candidates and women's issues on a national level. "Women in Politics" features newsmaker interviews, profiles, photos, and deep dives into the key conversations.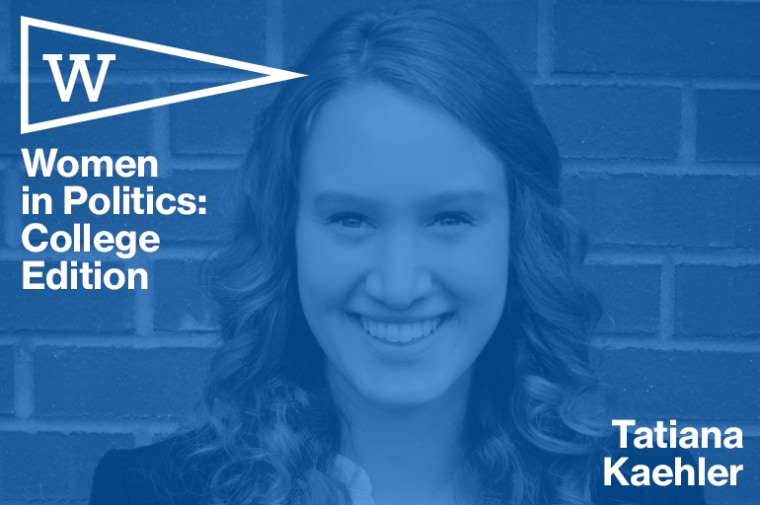 Name: Tatiana Kaehler
School: Whitman College
Hometown: Bellevue, Washington
Concentration: Health Science, Policy and Culture 
Role in Student Government: Student Body President
Dream job: Director of the Centers for Disease Control and Prevention
Class year: 2015
***
What is your biggest challenge as a leader on campus?
My biggest challenge as a female leader on campus has been overcoming gender stereotypes about what it means to be a woman and a leader. Growing up, girls are often taught that they are, or should be, sensitive, nurturing, and soft-spoken. Many of these "feminine" qualities are the opposite of what we imagine a leader to possess. These restrictive descriptors prevent both women and men from using their unique qualities and talents to become effective leaders. Through working with strong female leaders from student government, academia, and the business world, I have learned that there is no singular way to define femininity or female leadership. Initially, I spent a good portion of my college career attempting to mold myself based on stereotypes of women and leadership. Abandoning the idea that I had to conform to these narrow conventions enabled me to adopt a leadership style that fits me.
Which female leaders do you draw inspiration from?
I am lucky that I have not had to look far to find inspirational women. Although the female leaders in the news have inspired me to imagine myself in positions in which I could enact positive change, no one has had a greater impact on my success than the women in my own life. At an early age, my grandmother told me about how she was the first girl in her small town in Quebec to wear blue jeans. Decades later, my mother participated in her high school's first women's soccer team. Women like them taught me that even seemingly small gestures can pave the way for future generations of women. Later in their lives, my grandmother became a vice president at a bank and my mother became a gun control advocate: their stories emboldened me to take on leadership roles. At Whitman College, my biology professor and advisor, Dr. Leena Knight, has inspired me to be confident and challenge the status quo. Leann Adams, the Director of Student Activities and student government advisor, has shown me how to successfully manage an organization, while demonstrating compassion and listening to others.
Do you plan to run for office one day? 
I strive to become an advocate for policies that will improve access to health care domestically and abroad. I believe there are a variety of ways to accomplish this goal, whether it be holding a leadership position in the government, a non-profit, or a hospital. Regardless of where my career takes me, I hope to use the skills I have developed as a student leader to attempt to tackle health inequities.
What's the best professional advice you've ever gotten? 
The best professional advice I have ever received was from a visiting speaker on campus, Dr. Gregory Petsko, who told students not to listen to the voice of self-doubt in their heads. I realized that listening to this voice not only prevents me from pursuing new opportunities, but also perpetuates a negative self-image. Ignoring that voice has enabled me to take on new challenges such as leading a student government organization.
What does feminism mean to you?
For me, feminism is the recognition of gender inequalities and the promotion of equal opportunities for people of all genders. My identification as a feminist has helped me acknowledge the structural barriers to my own success as a leader. Last year, I spent months questioning whether or not I should run for student body president. I felt confident in my leadership abilities but could not imagine myself in the position. It took the encouragement of professors, staff and students whom I admired for me to recognize that I was hesitant to run because I had never seen a woman serve as student body president. Through my three years of working with male student body presidents, I had subconsciously developed a specific image of a successful president. That image was always a man. Feminism inspires me to combat gendered notions of a successful leader and encourages me to set an example for younger generations of women.
Check out all of msnbc's featured student leaders right here!
To nominate an exceptional undergraduate female leader in student government please email Anna Brand at Anna.Brand@nbcuni.com