Welcome to Women in Politics: College Edition, where promising women leaders in student government on college and university campuses across the country will be featured on msnbc.com over the course of the year. Kate Cullen has been nominated by Wesleyan University as a leader making a difference not only through key issues on campus, but in bridging the gender gap in politics.
As part of msnbc's "Women in Politics"  series, these hand-selected women become part of a larger discussion of women candidates and women's issues on a national level. "Women in Politics" features newsmaker interviews, profiles, photos, and deep dives into the key conversations, including a series on "Women Leaders Bridging Tech and Politics in 2016."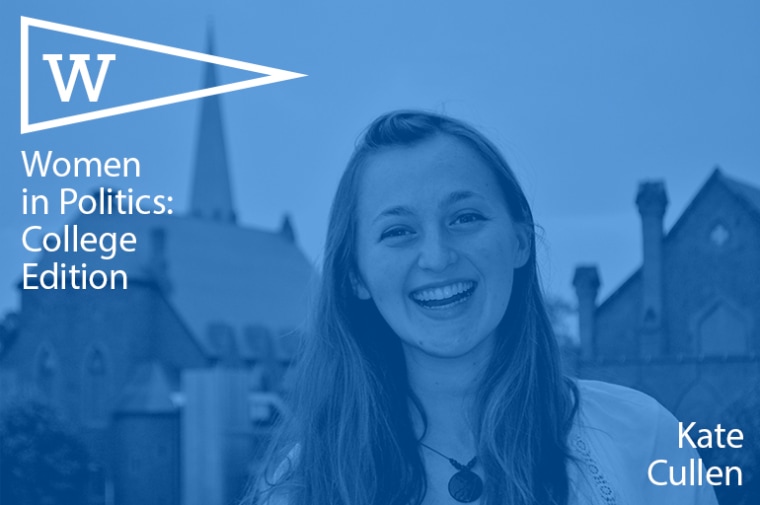 Name: Kate Cullen
School: Wesleyan University
Hometown: Bethesda, Maryland 
Concentration: Earth & Environmental Science and History 
Role in student government, organizations: President of the Wesleyan Student Assembly
Dream job: National Geographic explorer
Class year: 2016
***
What keeps you motivated to work in student government?
Making a tangible impact, whether through a policy change, facilitated dialogue or big community event, motivates me to keep working. My favorite moments working on student government have been on projects where I pair up with other student leadership, activists to address a specific problem or inequality we see at our school. 
Why do you think it's important for women to take on leadership roles on campus and beyond?
I've been fortunate to have a lot of strong female role models who taught me I can do whatever I put my mind too. I think it's important for women to be in leadership roles to show younger women they also have the same opportunities. Only this way can we address how few females there are in top leadership positions in the corporate, tech and professional world. 
Have you ever been in a protest? If so, how was it and how has it effected your leadership work?
I've been to many. Going to Wesleyan University, there are quite a few protests on campus. I often pair up with activist groups who are planning protests, even in my role as student government president. I have even helped facilitate protest planning at events I was helping host. I think student activism and free expression are of the utmost importance in fostering meaningful campus dialogues. 
Do you plan to vote in the primary and/or November presidential elections this year?
Of course!
What show(s) are you currently or have recently been binge watching in your free time?
Haha, good question. I have been binge watching "Scandal," which I imagine I'm not alone in doing in this group. 
To nominate an exceptional undergraduate female leader in student government please email Anna Brand at Anna.Brand@nbcuni.com