Welcome to Women in Politics: College Edition, where promising women leaders in student government on college and university campuses across the country will be featured on msnbc.com over the course of the year. Bonner Williams has been nominated by the University of Washington in St. Louis as a leader making a difference not only through key issues on campus, but in bridging the gender gap in politics.
As part of msnbc's "Women in Politics"  series, these hand-selected women become part of a larger discussion of women candidates and women's issues on a national level. "Women in Politics" features newsmaker interviews, profiles, photos, and deep dives into the key conversations, including a series on "Women Leaders Bridging Tech and Politics in 2016."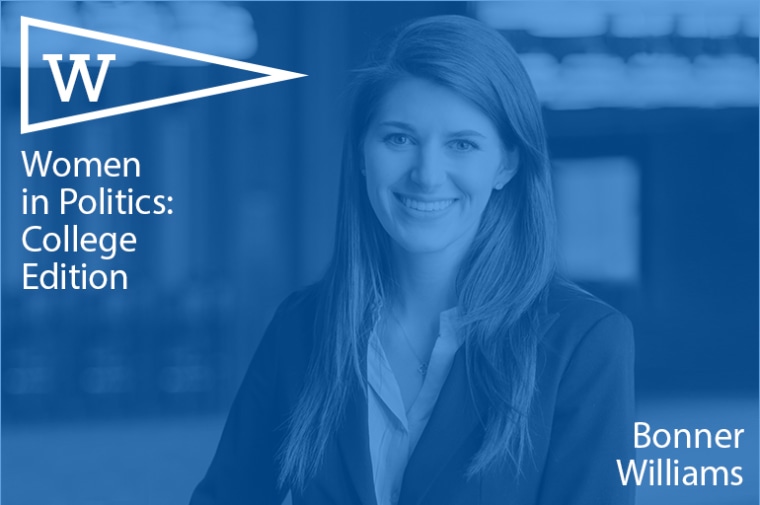 Name: Bonner Williams
School: Washington University in St. Louis
Hometown: Memphis, TN
Concentration: Economics & Strategy, Organization & Human Resources
Role in student government, organizations: Student Union vice president of programming
Dream job: Photographer for National Geographic
Class year: 2016
***
What is one of your proudest achievements so far?
One of the responsibilities of VP Programming of Student Union is to organize and run a Pre-Orientation program for a group of incoming freshman. This year, I was lucky enough to work with 45 incredible freshmen who transformed this experience into one of my proudest achievements. Their energetic participation in activities and positive attitudes not only helped the group learn more about leadership skills and ways to get involved in Student Union, but also allowed them to develop a strong community that will stay with them throughout their college experience. Being able to watch these participants get involved and take on various leadership roles within Student Union has been the most meaningful of all, and I am honored to have been able to positively influence these students' college experiences.
What women's issues are you most passionate about addressing both on campus and nationally?
One issue that I'm passionate about bringing attention to and striving to eliminate is campus sexual assault and violence. The troubling statistics surrounding this issue display a clear demand for action, and I'm proud and honored to be a part of a student government that has made this issue a top priority. This year, we've committed to training 1 in 4 WashU students on bystander intervention, and I led the development and launch of our new PSA that highlights three poignant stories of students' experiences with intervention.
Do you plan to vote in the primary and/or November presidential elections this year?
I absolutely plan on voting! I hope everyone who is able to chooses to vote as well; cast your vote and have your voice be heard.
Has feminism played a role in your life? If so, how?
Undoubtedly. As a proud alumna of Hutchison School, an all-girls K-12 school in Memphis, I was lucky enough to grow up in an environment that fostered the development of strong, independent women. Hutchison provided me with a space where I was both surrounded by female leaders and consistently encouraged and provided opportunities to become a leader in my areas of interest. I know that Hutchison helped me become confident in my abilities, both in and outside of the classroom, which has directly impacted in my involvements in college and plans for after graduation.
If you could travel anywhere in the world, where would you go and why?
Iceland, Finland, Norway… anywhere where I could see the Northern Lights!
Follow Bonner on her personal website here.
To nominate an exceptional undergraduate female leader in student government please email Anna Brand at Anna.Brand@nbcuni.com