Welcome to Women in Politics: College Edition, where promising women leaders in student government on college and university campuses across the country will be featured on msnbc.com over the course of the year. Catherine Coulter has been nominated by Virginia Tech as a leader making a difference not only through key issues on campus, but in bridging the gender gap in politics.
As part of a new series at msnbc, "Women of 2014," these hand-selected women become part of a larger discussion of women candidates and women's issues on a national level. "Women of 2014" is a home for all women in politics – notably those in some of the year's most pivotal races – with newsmaker interviews, profiles, photos, a Twitter trail following more than 35 candidates, and deep dives into the key conversations.
From the Ivy Leagues to the Big Ten to liberal arts colleges and beyond, young women are making a difference across the country – meet them here!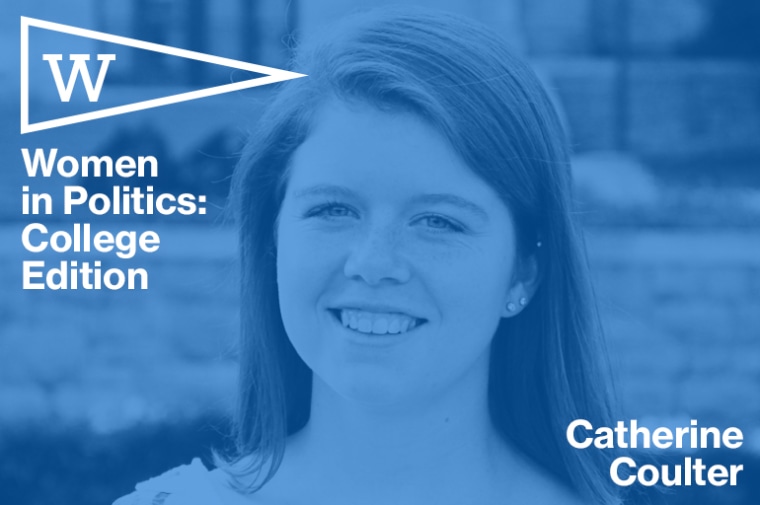 School: Virginia Tech
Hometown: Burke, Virginia
Major/Concentration: BS in Sociology: Women and Gender Studies & BA in Public and Urban Affairs: Public Policy, Minoring in Political Science
Dream job: President of the United States
Class Year: 2016
***
What is your biggest challenge as a leader on campus?
The biggest challenge I have faced since becoming a leader at Virginia Tech is getting my opinions and those of the organization I represent heard on a campus that has over 700 student organizations.  With so many student organizations, it is easy for new initiatives and events to go unnoticed so it requires a lot of hard work to create successful programming. My goal is to create meaningful change through the leadership positions I hold that impact the student body at Virginia Tech in a positive and long lasting way. I have been working tirelessly to turn my organization, the Young Democrats, into a club that does not blend in at Tech but rather stands out as a prominent organization that is inclusive and provides students with the opportunity to get involved with politics at the local, state, and national level. College students are becoming more and more hesitant to identify and get involved with any political party and this translates to low voter turnout among my peers. I want to transform the culture surrounding politics on campus so that students want to exercise their civic duty and develop an interest in the political process rather than shy away from the polls on Election Day.   
Which female leaders do you draw inspiration from?  
The most inspirational female figure in my life has been Hillary Clinton. I met Hillary Clinton at a book signing this summer and could not find the words to express how grateful I am for what she has done to improve the position of women in the United States as well as around the world. From a very early age, I looked up to her as someone who was a strong advocate for those who did not have a voice and as a woman who was unafraid to enter the public sphere. I found my political voice in 2008 when she pursued the Democratic nomination for president and was inspired to devote my life to public service. My interest and passion for politics is a result of Hillary Clinton's commitment to human rights and her love of country. She has paved the way for young women like myself to be able to pursue higher leadership positions in college as well as at the local, state, and national level. From first lady to senator to secretary of state, she has redefined the role of women in politics. Hillary Clinton has cracked the glass ceiling in such a way that will allow for the young women of my generation to finally shatter it.
What comes to mind first when you think about important moments in history?
There are so many important historical moments but I will have to choose the passage and ratification of the 19th Amendment. The 19th Amendment granted the right to vote to women and barred sex as a method of disenfranchisement. This amendment enabled the voices of women to be heard in every election and forced politicians to care about the legitimate concerns of female voters.  
What do you think should be President Obama's No. 1 priority?
President Obama's number one priority should be preventing sexual assault on college campuses. Both men and women have the right to obtain an education without fear of assault. One in five women will be assaulted during their time at college and strong action at the federal level is necessary to address such a devastating failure of our higher education system.  
Got a favorite ice cream flavor?
My favorite ice cream flavor is definitely the Homestead Creamery Peach Ice Cream. I can only find this flavor in Southwest Virginia and it is by far the best ice cream I have ever had.
Follow Catherine on Twitter @ktcoulter21 and check out last week's female leader at University of Iowa! 
You can see all student leaders featured here
To nominate an exceptional undergraduate female leader in student government please email Anna Brand at Anna.Brand@nbcuni.com