Welcome to Women in Politics: College Edition, where promising women leaders in student government on college and university campuses across the country will be featured on msnbc.com over the course of the year. Alexandra Poindexter has been nominated by the University of Rochester as a leader making a difference not only through key issues on campus, but in bridging the gender gap in politics.
As part of a new series at msnbc, "Women of 2014," these hand-selected women become part of a larger discussion of women candidates and women's issues on a national level. "Women of 2014" is a home for all women in politics – notably those in some of the year's most pivotal races – with newsmaker interviews, profiles, photos, a Twitter trail following more than 35 candidates, and deep dives into the key conversations.
From the Ivy Leagues to the Big Ten to liberal arts colleges and beyond, young women are making a difference across the country – meet them here!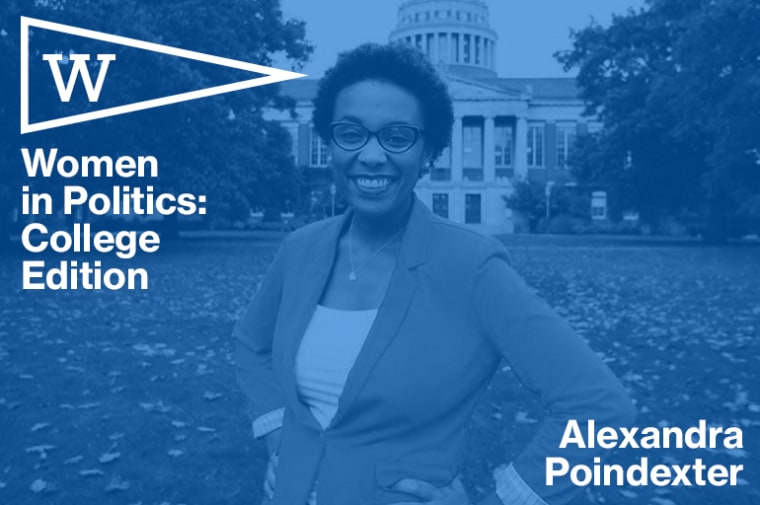 School: University of Rochester
Hometown: Lawrenceburg, Indiana
Major/Concentration: Political Science
Role in Student Government: Black Students' Union – President, Douglass Leadership House – Resident, Students' Association Student Government – Senator, Food Recovery Network, Equality Coalition
Dream job: Food Policy Lobbyist
Class Year: Senior
***
What is your biggest challenge as a leader on campus?
My biggest challenge as a leader on campus is having students understand the significance of each particular organization. In all of my organizations, many students seem apathetic. Members get caught up in the day to day affairs as opposed to the bigger picture. Specifically for the Black Students' Union, I think that it's very important to remind and have members understand the significance of this organization. BSU has deep rooted history in the struggle and it came about to have their voices heard on campus. They led sit-ins, protests, and various other actions to emphasize the importance of black voices and needs on campus. For that, I would like everyone to know the history but it's very difficult to implement at times.
Which female leaders do you draw inspiration from?  
Ms. Tanya Fields, founder of the BLK Project or my Mother  
What comes to mind first when you think about important moments in history?
Voting Rights Act of 1965
What do you think should be President Obama's No. 1 priority?
President Obama's no. 1 priority should be addressing that all Black lives matter. With the passing of the landmark piece of legislation "My Brother's Keeper," comes serious repercussions. Throughout history Black women have been strong supporters of Black men and have been given minimal recognition through their efforts. This is evident in how history is presented in classrooms and in academia. Scholars such as Melissa Harris-Perry bring to light the significance of women and their support of various movements. I have the same sentiments for the "My Brother's Keeper" initiative. To be Black and a woman is challenging and deserves just as much national recognition as my male counterparts. We have higher statistics of poverty and teen pregnancy, are paid less cents to the dollar than men, and are much less likely to graduate than white girls and women. Understanding intersectionality could be integral in addressing the problems of Black men and women. Kimberlé Williams Crenshaw says it best, "The need to acknowledge the crisis facing boys, should not come at the expense of addressing the stunted opportunities for girls who live in the same households, suffer in the same schools, and struggle to overcome a common history of limited opportunities caused by various forms of discrimination."
What are you reading right now?
"Chasers of the Light" by Tyler Knott.
You can see all student leaders featured here
To nominate an exceptional undergraduate female leader in student government please email Anna Brand at Anna.Brand@nbcuni.com