Welcome to Women in Politics: College Edition, where promising women leaders in student government on college and university campuses across the country will be featured on msnbc.com. Ariel Koren has been nominated to represent the University of Pennsylvania as a leader making a difference not only through key issues on campus, but in bridging the gender gap in politics.
As part of msnbc's "Women in Politics"  series, these hand-selected women become part of a larger discussion of women candidates and women's issues on a national level. "Women in Politics" features newsmaker interviews, profiles, photos, and deep dives into the key conversations.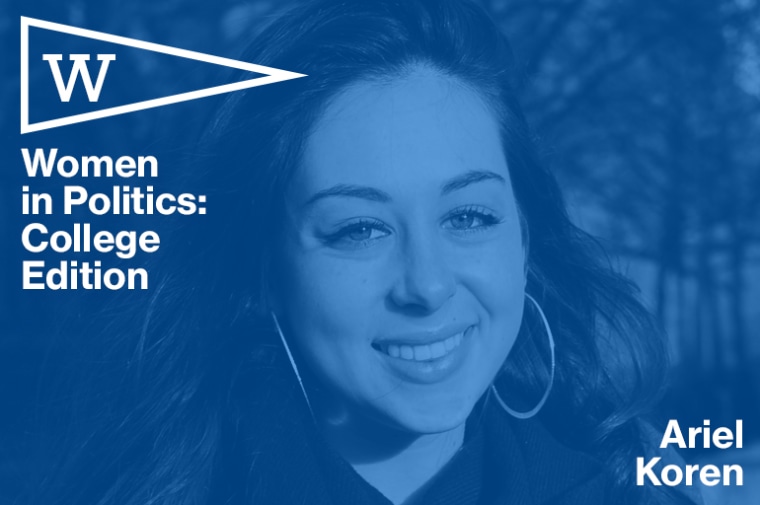 Name: Ariel Koren
School: University of Pennsylvania
Hometown: Jacksonville, Florida
Concentration: East Asian Languages and Civilizations 
Role in Student Government: President of the Class of 2015
Dream job: Working at the private-public sector nexus to increase cultural competency in the United States
Class year: 2015
***
What is your biggest challenge as a leader on campus?
One challenge specifically associated with my experiences as a female leader is figuring out how to find the balance between celebrating my identity as a woman with being an effective leader in general. I seek to overcome this by viewing my identity as a woman as a leadership opportunity rather than a leadership challenge. Being a woman in leadership has been empowering and emboldening in many ways because I have emerged into networks of incredibly inspiring and strong women leaders and also because I have been afforded meaningful opportunities to speak out against issues that disproportionately affect women and other historically marginalized groups while also supporting and advocating for my class in its entirety.
My class has 2600+ students and my job as class president is to advocate for and unify all of us through programming that is accessible, engaging, safe, and fun for everyone. The most exciting challenge has been to find ways to truly be a voice for everyone when our class is so diverse; I think I rise to this challenge by celebrating our diversity and by listening to the needs and insights and stories of as many people as possible.
Currently, Penn's senior class board is spearheading a staple senior Penn tradition called Feb Club where the class attends a large scale event on 22 consecutive nights during the month of February. We leverage this tradition to bring the entire class together in celebration of unity. The unique talents of all 12 fellow board members and our board's dynamic and teamwork skills have allowed us to create a lineup of 22 events ranging from a classwide trip to Atlantic City to a classwide trip to the Philadelphia Orchestra: a lineup so diverse that there truly is something for everybody.
Which female leaders do you draw inspiration from?
Too many to name! A few who come to mind are Edith Windsor, Emma Sulkowicz, Janet Mock, and Lupita Nyong'o. Edith Windsor because her story catalyzed the marriage equality movement in the US at the time when I was coming out to family and friends. Emma Sulkowicz because I am one of so many who have been made to feel empowered and galvanized to action by her senior thesis art endurance piece "Mattress Performance: Carry That Weight" through which she carries a mattress everywhere she goes on Columbia's campus to symbolize the pain and injustice endured by sexual assault survivors. I'm also so inspired by the powerful writer and trans activist Janet Mock, because her memoir "Redefining Realness" speaks her truth so bravely and boldly, and I aspire to be so brave! And Lupita Nyong'o who closed her 2014 Oscar acceptance speech with what is now amongst my favorite quotes: "no matter where you're from, your dreams are valid".
Do you plan to run for office one day? Why/why not? 
After being elected to Penn student government as a freshman in 2012, I was shocked to learn that I was the first female to be elected class president at Penn in over a decade. It is similarly upsetting that it wasn't until 2014 that Penn first elected a woman to serve as student body president. Learning how politically underrepresented women are not just at the university level but also in national politics has been disheartening; I was particularly saddened to read in Forbes that a 2012 survey of thousands of political candidates showed that men are 60% more likely than women to consider themselves "very qualified" to run for office.
At Penn it has been both challenging and gratifying to be part of efforts to reverse these trends and to work actively toward increasing the number of women who participate in politics. So, maybe one day I will. I'm still figuring out where the future will take me, and I am passionate about public service as well as the importance of increasing female representation in politics and government. 
What's the best professional advice you've ever gotten? 
Chade-Meng Tan is a motivational speaker and internationally renowned peacemaker whose official job title is "Jolly Good Fellow of Google". I had the incredible opportunity to get to know him while working at Google last summer and to speak extensively with him about the power of being vulnerable in a professional context. His advice to me lay in the concept that being vulnerable isn't mutually exclusive with being powerful, but rather vulnerability is inherently powerful. I have found that being open and honest about the way we feel is an act of courage that can establish a climate of openness and compassion in the workplace. Being willing to be vulnerable has the power to turn colleagues who work together into friends who can count on each other.  
I also think it's worth mentioning that "being vulnerable" isn't just about letting others into our struggles and personal lives. I think taking a risk by being assertive and open about our wants and needs is an act of vulnerability. I'm the founder of a language and culture teaching nonprofit educational organization called ACTION. Last year I was recruiting a co-director and was mainly considering upperclassmen. Paola Gamarra, who was a freshman at the Wharton Business School at the time, was a member of ACTION's fundraising committee. While chatting with her about our search for a co-director, I mentioned that I hoped she'd direct the organization one day. She paused and then responded: "One day? How about now!?" Paola has been leading ACTION ever since, and under her leadership ACTION has expanded to impact hundreds of students in schools around the US. Having the confidence and wherewithal to ask so boldly for a position she knew herself to be qualified for was an act of assertiveness and vulnerability that yielded hugely positive results for her and for the organization.
I seek to draw on the advice of Chade Meng Tan at Google and to follow the example of Paola because I think that when we share our stories, give a voice to our goals, and take ownership of our needs we exercise a powerful, rewarding form of vulnerability and courage.
If you could move to one country abroad it would be …
I spent the summer of 2012 learning to speak (and rap in) Mandarin Chinese while studying abroad in and falling in love with Taiwan! My host mother 吳郁茹 (Stella Wu) is a powerhouse who combined her passions for languages, empowering youth, and entrepreneurship by founding a language school for young Taiwanese students. So I'd love to move to Taiwan both because I'm dying to learn Taiwanese which has over eight different tones (compared to Mandarin's also-very-beautiful and already-very-many-four!) and also because I'd love the chance to absorb more of Stella's wisdom and amazingness.      
Follow Ariel on Twitter @ariel_koko and check out last week's female leader at Meredith College
To nominate an exceptional undergraduate female leader in student government please email Anna Brand at Anna.Brand@nbcuni.com