Welcome to Women in Politics: College Edition, where promising women leaders in student government on college and university campuses across the country will be featured on msnbc.com over the course of the year. Nancy Joyce has been nominated by University of Notre Dame as a leader making a difference not only through key issues on campus, but in bridging the gender gap in politics.
As part of a new series at msnbc, "Women of 2014," these hand-selected women become part of a larger discussion of women candidates and women's issues on a national level. "Women of 2014" is a home for all women in politics – notably those in some of the year's most pivotal races – with newsmaker interviews, profiles, photos, a Twitter trail following more than 35 candidates, and deep dives into the key conversations.
From the Ivy Leagues to the Big Ten to liberal arts colleges and beyond, young women are making a difference across the country – meet them here!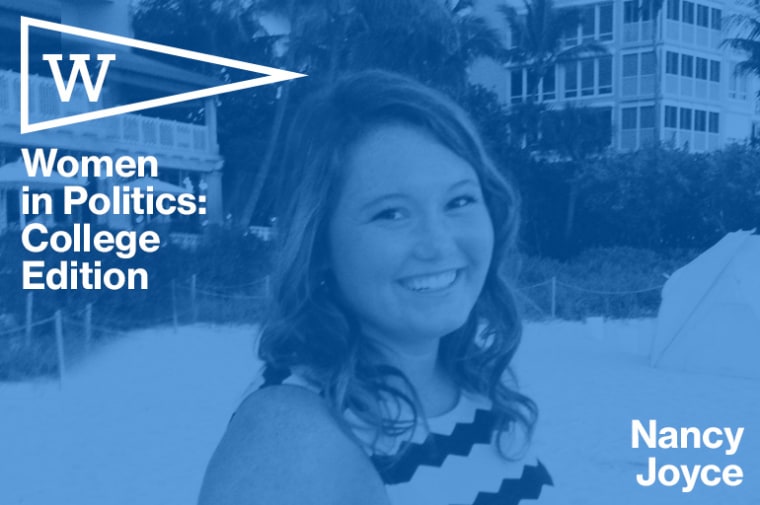 Name: Nancy Joyce
School: University of Notre Dame 
Hometown: Akron, Ohio
Role in Student Government: Vice-President
Concentration: Arabic, Economics, Peace Studies (minor)
Dream job: International affairs journalist 
Class year: Senior
***
What is your biggest challenge as a leader on campus?
Finding the right balance between working on the macro and the micro issues on campus has been one of the biggest challenges for me. Macro issues, such as diversity, inclusion, and sexual assault prevention, require long-term focus and a significant amount of attention, but they have to be balanced with micro issues that address immediate student needs, such as adding a coffee bar to a classroom building. Though the macro issues often seem (and are) the most important and the most pressing, sometimes it's the smaller conveniences and issues that make or a break a student's college experience. Our student government team has worked hard to strike this balance and to use the challenge as an opportunity to better our campus, in both big and small ways. 
Which female leaders do you draw inspiration from?
Condoleezza Rice. I admire the way in which she strives for excellence in all that she does—from her piano playing to her foreign affairs expertise. It also doesn't hurt that she's a Notre Dame football fan!
What comes to mind first when you think about important moments in history?
As an avid reader and book lover, the printing of the first book (the Gutenberg Bible in the 1450s) strikes me as an important historical moment. I don't know what I would do without books!
What do you think should be President Obama's No. 1 priority?
In my capacity as Student Government Vice President, I hope that President Obama takes seriously the findings and recommendations of the White House Task Force to Protect Students from Sexual Assault. This is an issue that affects men and women on all campus communities across the country, and I hope that follow-through on the Task Force's recommendations is both quick and effective. By giving this issue continued and serious publicity and focus, President Obama can work to heal and preserve the human dignity of students on campuses throughout the nation.
Do you have a favorite ice cream flavor?
I'll never turn down any flavor of ice cream, but given a choice, I'd pick Moose Tracks--anytime, anywhere.
Follow Nancy on Twitter @njoyce92 and Check out last week's female leader!