Welcome to Women in Politics: College Edition, where promising women leaders in student government on college and university campuses across the country will be featured on msnbc.com over the course of the year. Carter Bell has been nominated by University of Iowa as a leader making a difference not only through key issues on campus, but in bridging the gender gap in politics.
As part of a new series at msnbc, "Women of 2014," these hand-selected women become part of a larger discussion of women candidates and women's issues on a national level. "Women of 2014" is a home for all women in politics – notably those in some of the year's most pivotal races – with newsmaker interviews, profiles, photos, a Twitter trail following more than 35 candidates, and deep dives into the key conversations.
From the Ivy Leagues to the Big Ten to liberal arts colleges and beyond, young women are making a difference across the country – meet them here!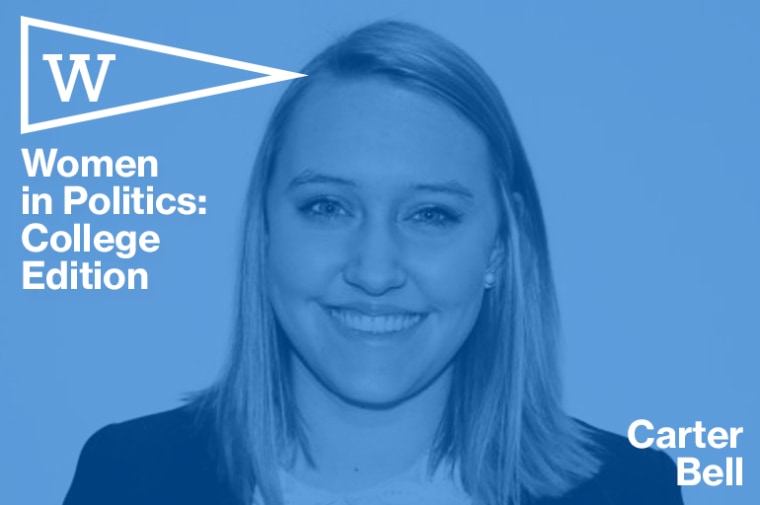 Name: Carter Bell
Hometown: Waukee, IA
Concentration: B.S. in Political Science, Certificate in Fundraising and Philanthropy Communication
Position with Student Government: Governmental Relations Liaison
Dream job: President of the United States
Class year: 2016
***
What is your biggest challenge as a leader on campus?
The biggest challenge I've found as a leader on campus is honestly the "little p" politics, or finding a balance between personal and professional relationships with others on campus. I didn't realize I would be pulled in so many different directions and have to balance interacting with various groups of people—my peers, coworkers, school administrators, the press, community members—all while trying to accomplish goals and maintain my values. I think a major lesson of college for young women is that we can't please everyone, and we shouldn't have to try. It's a balance of figuring out what lines up with your beliefs, what's best for the students you represent, and what's good policy. 
Which female leaders do you draw inspiration from?  
I really look up to Jennifer Lawless, a leading scholar on women's involvement in politics. She has contributed exceptional and important work to the subjects of female political ambition, women's decisions to run for office, and sexism in elections. She also ran for the Democratic nomination for Rhode Island Congress in 2006 and lost, but that has not stopped her from her activist and academic work. I deeply respect women willing to put their name on a ballot and ask for people's votes, and furthermore admire her intelligence, attitude, and resolve. 
What comes to mind first when you think about important moments in history?
It's not a positive moment, but the Citizens United Supreme Court decision is a very important moment in recent history. The ruling has unleashed a torrent of outside money in politics and significantly the altered the political campaigning process. I read that Nancy Pelosi has said that until we raise the level of civility and reduce the amount of money in politics, women will not feel inclined to run for public office at the same level and frequency as men. Thus, I believe the Citizens United decision is a major factor in preventing women's equity in politics. 
What do you think should be President Obama's No. 1 priority?
Raising the minimum wage should be one of President Obama's top priorities. Minimum wage earners are not just teenagers making extra money—they are single mothers, they are college students trying to pay for tuition, rent, books, and food. When the minimum wage is low, we pay for it in other policies such as affordable housing and food stamps. My state of Iowa's minimum wage is the same as the federal minimum wage of $7.25, or the lowest it can legally be. This is extremely far away from being a living wage, so a satisfactory standard must be set at the federal level.  
Got a favorite milkshake flavor?
Cookies and Cream! 
Follow Carter Bell @WhatTheBell_ and Check out last week's female leader at Sewanee: The University of the South!
See all student leaders featured here
To nominate an exceptional undergraduate female leader in student government please email Anna Brand at Anna.Brand@nbcuni.com