Welcome to Women in Politics: College Edition, where promising women leaders in student government on college and university campuses across the country will be featured on msnbc.com. Sarah Hochman has been nominated to represent the University of Illinois as a leader making a difference not only through key issues on campus, but in bridging the gender gap in politics.
As part of msnbc's "Women in Politics"  series, these hand-selected women become part of a larger discussion of women candidates and women's issues on a national level. "Women in Politics" features newsmaker interviews, profiles, photos, and deep dives into the key conversations.
From the Ivy Leagues to the Big Ten to liberal arts colleges and beyond, young women are making a difference across the country – meet them here!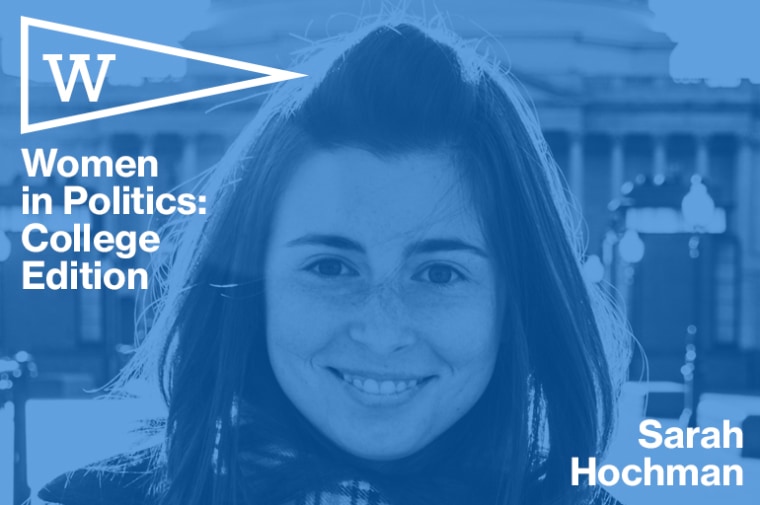 School: University of Illinois at Urbana-Champaign
Hometown: Bloomingdale, IL
Concentration: Agricultural Economics and Policy
Role in Student Government: Student Body Vice President Internal OR Vice President Internal, Illinois Student Senate
Dream job: U.S. Secretary of Agriculture
Class year: 2016
***
What is your biggest challenge as a leader on campus?
Championing the female voice without alienating the men on campus.
Which female leaders do you draw inspiration from?
I draw inspiration from many female leaders, but my mother has inspired me since day one. She has worked tirelessly to build a successful career, but she has always remained involved in my life as well.  She was my Girl Scout troupe leader for seven years, the elementary headroom mom for 10 years, listened to every band concert I played in, volunteered with our marching band, and supported us through it all.  Even when she became a single mother, she ensured everything was the same for my brother and me. She is the woman who inspires me every day to be the best person I can be.
Do you plan to run for office one day? 
I'm not going to rule it out, but I believe my skill set is best suited to create and advance policy issues in a government agency. I am passionate about public service making our country, and the world, a better a place for everyone to live in. There are many paths that I can take to influence our nation's policies and I look forward to exploring them after graduation.
What's the best professional advice you've ever gotten? 
Listen more than you talk. My mother has told me this while growing up, but throughout my college career it has helped me retain information in meetings, observe group dynamics and make strategic choices that maximize team efforts. 
What does feminism mean to you?
I believe feminism is the ability for women to have choices and not be limited. Feminism was previously seen as radical, but throughout its journey its core theme has been remained consistent. Along the way, women burned bras, sacrificed time with their children and even fought to wear pantsuits – all to earn equality. Feminism is celebrating these successes about womanhood without fear of unequal treatment. I am passionate about feminist issues today that focus on violence against women, the wage gap and equity in the office, and I look forward to combating these issues in my career. 
Follow Sarah on Twitter @s_hochs & check out all of msnbc's featured student leaders right here!
To nominate an exceptional undergraduate female leader in student government please email Anna Brand at Anna.Brand@nbcuni.com