Welcome to Women in Politics: College Edition, where promising women leaders in student government on college and university campuses across the country will be featured on msnbc.com over the course of the year. Kalyani Hawaldar has been nominated by the University of Florida as a leader making a difference not only through key issues on campus, but in bridging the gender gap in politics.
As part of msnbc's "Women in Politics"  series, these hand-selected women become part of a larger discussion of women candidates and women's issues on a national level. "Women in Politics" features newsmaker interviews, profiles, photos, and deep dives into the key conversations, including a series on "Women Leaders Bridging Tech and Politics in 2016."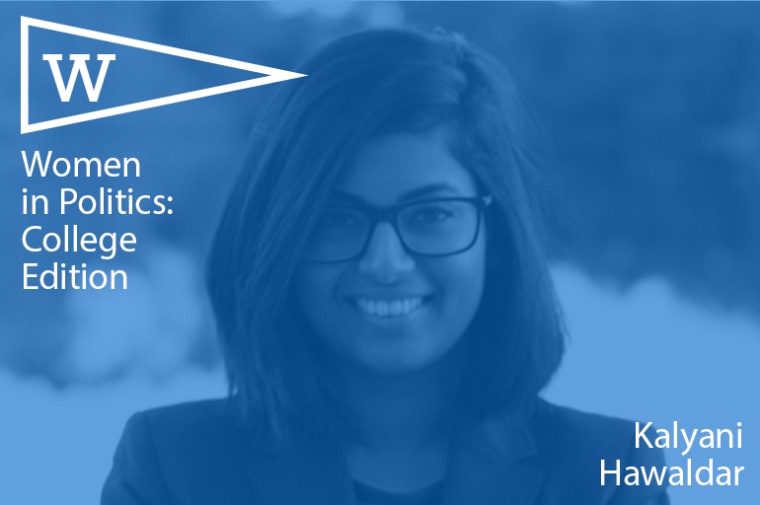 Name: Kalyani Hawaldar
School: University of Florida 
Hometown: Jacksonville, Florida
Concentration: Sociology and Biology
Role in Student Government, Organizations: University Ambassador, Orientation Leader, President of Student Government party, Diversity Affairs Executive Advisor
Dream job: Health Policy Analyst, Domestic Policy Advisor to the President
Class year: 2016
***
Has feminism played a role in your life? If so, how?
Intersectional feminism has played an enormous role in my life. My marginalized identities as a woman of color have greatly influenced my experiences as a college student. I noticed this particularly through my involvement in Student Government; there are very few women of color or Indian-American women who hold positions in University of Florida Student Government. When I ran for Student Body President, I was very aware that I was running against the odds—out of 106 Student Body Presidents since 1909, only 7 have been women and of those, only 2 have been women of color. There have been no Indian-American woman Student Body Presidents. 
My feminism has empowered me by allowing me to consciously fight against the gender roles that I am labeled with and the restrictions that come with them. Women struggle with being undermined and overshadowed in leadership. This is something that I have personally experienced. To overcome this, I surround myself with strong women who inspire me and I challenge myself to always make my voice heard. 
Feminism is an action that works toward the equity of people of all genders. A belief in this ideology has taught me to be confident in my own strengths and to be an ally for others. 
What is one of your proudest achievements so far?
I serve as the Diversity Affairs Executive Advisor within Student Government. In this position, I headed an initiative to bring gender-neutral restrooms to the University of Florida campus. In 2015, the Obama administration announced that a gender-neutral restroom would be available in the Eisenhower Executive Office Building for visitors to use. This left an impression on me as an important step towards inclusion, especially for transgender and gender non-conforming individuals. 
After collaborating with a task force of 8 other students to gather research, I worked with the Student Body President to present our proposal to the administration. The University of Florida now has 63 gender-neutral restrooms across residence halls, classroom buildings and our student union. This is a proud achievement for me because I am happy to have played a part in making my university a more inclusive space. 
Do you think it's important for college students to vote during elections? Why or why not?
It is absolutely essential for college students to vote during elections. Furthermore, it is important for students to not only vote in national elections, but also state and local elections. It is often easy to ignore state and local elections but these areas of government are, in some senses, more directly impactful on our lives than federal elections. 
College students make up an influential voting bloc. Our opinions matter—from issues such as reproductive rights to college tuition rates to climate change. Additionally, the Millennial generation is shaping important social movements in our country. In order to turn this social advocacy into change, we have to be involved in political advocacy as well. This begins with voting.
What issues are you most passionate about following this election season? Why?
Two of the issues that I am following closely this cycle are race relations and health care policy. The fight for civil rights has taken a new turn in the past few years. I have seen the effects of racial tensions manifest on my campus—students of color feel underrepresented, misunderstood and unsupported. As a woman of color, this is an issue that I am intimately aware of. I strongly believe that our next President must be able to handle the needs of Americans who are disenfranchised based on their racial identities.
Health care policy is another important issue during this cycle. President Obama is leaving his legacy in the form of the Affordable Care Act and it is up to our next President to keep improving upon our current healthcare system. As it stands, there are millions of Americans who cannot afford health insurance. As a Pre-Medicine student, this is something that really strikes me because basic healthcare should not be a privilege, but rather a right.
If you could travel anywhere in the world, where would you go and why?
I would love to travel to London because I am a huge fan of Harry Potter. The newest installment of the series comes in the form of a play, Harry Potter and the Cursed Child, which is currently playing in London. It would be an absolute dream come true if I could see the play and the city!
Follow Kalyani on Twitter @Kalyani_h & check out all of msnbc's featured student leaders right here!
To nominate an exceptional undergraduate female leader in student government please email Anna Brand at Anna.Brand@nbcuni.com