Welcome to Women in Politics: College Edition, where promising women leaders in student government on college and university campuses across the country will be featured on msnbc.com over the course of the year. Delaney Rives has been nominated to represent Siena College as a leader making a difference not only through key issues on campus, but in bridging the gender gap in politics.
As part of a new series at msnbc, "Women of 2014," these hand-selected women become part of a larger discussion of women candidates and women's issues on a national level. "Women of 2014" is a home for all women in politics – notably those in some of the year's most pivotal races – with newsmaker interviews, profiles, photos, a Twitter trail following more than 35 candidates, and deep dives into the key conversations.
From the Ivy Leagues to the Big Ten to liberal arts colleges and beyond, young women are making a difference across the country – meet them here!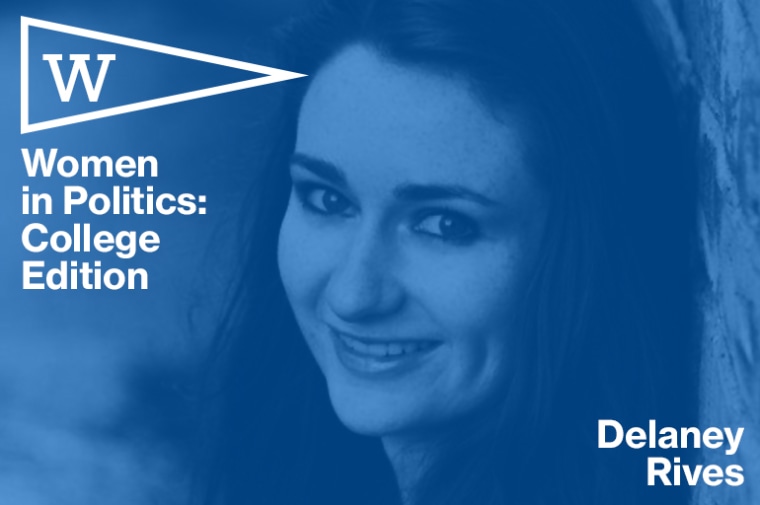 Name: Delaney Rives
School: Siena College
Hometown: Austin, TX
Concentration: Sociology Major, Women's Studies Minor
Dream Job: My dream job would be to serve as director of an agency that is dedicated to aiding victims of sexual and/or domestic violence. I also hope to become a certified yoga teacher after graduation so I can hold classes for victims of abuse
Class Year: 2015
***
What is your biggest challenge as a leader on campus?
The biggest challenge I have faced as a leader on campus is encouraging students to become engaged in social justice issues. There is an art to framing issues in a way that will inspire passion in students who already have academic and work responsibilities, as well as social lives. However, if you can find issues that students care about, there's nothing they won't do to help bring about change. In the past few years on my campus I've helped to mobilize students around issues such as ending campus sexual violence, stopping slut-shaming, advocating for gender equality, educating students on healthy relationships, providing information on human trafficking as well as creating campaigns to end catcalling and street harassment.
Which female leaders do you draw inspiration from?
I draw much of my inspiration from Alice Paul and Susan B. Anthony who were both suffragettes. My passion lies in the feminist and women's rights movements and these two women have provided me with courage in the face of what has seemed to be impossible at times. I recently got the chance to visit Susan B. Anthony's house in Rochester, NY, and was overcome with gratitude and awe as I walked through the rooms where she helped organize campaigns for the women's right to vote.
What comes to mind first when you think about important movements in history?
When I think about important moments in history, I tend to focus on the mobilization of the masses. This could include the Civil Rights Movement of 1964, Women's Suffrage Movement resulting in the right to vote in 1920, or even the People's Climate March this past September, which resulted in one of the largest protests for climate change in history. I find these movements to be inspiring and encouraging of the idea that everyone can make a difference by being a part of something greater than themselves.
What do you think should be President Obama's No. 1 priority?
I believe President Obama's priority as he enters the end of his term should be to focus on protecting human rights. This is a broad answer but I believe our nation was founded on the ideas of diversity and acceptance and I would like to see our country continue fulfilling these notions by granting women greater access to, and protection of, reproductive rights, allowing for the passage of marriage equality in all 50 states, establishing gender identity and sexual orientation as protected categories against discrimination, and passing the Equal Rights Amendment.
Follow Delaney on Twitter @dmrives and check out last week's female leader at George Washington University!
You can see all student leaders featured here
To nominate an exceptional undergraduate female leader in student government please email Anna Brand at Anna.Brand@nbcuni.com