Welcome to Women in Politics: College Edition, where promising women leaders in student government on college and university campuses across the country will be featured on msnbc.com over the course of the year. Priscilla Barbour has been nominated by Prairie View A&M University as a leader making a difference not only through key issues on campus, but in bridging the gender gap in politics.
As part of a new series at msnbc, "Women of 2014," these hand-selected women become part of a larger discussion of women candidates and women's issues on a national level. "Women of 2014" is a home for all women in politics – notably those in some of the year's most pivotal races – with newsmaker interviews, profiles, photos, a Twitter trail following more than 35 candidates, and deep dives into the key conversations.
From the Ivy Leagues to the Big Ten to liberal arts colleges and beyond, young women are making a difference across the country – meet them here!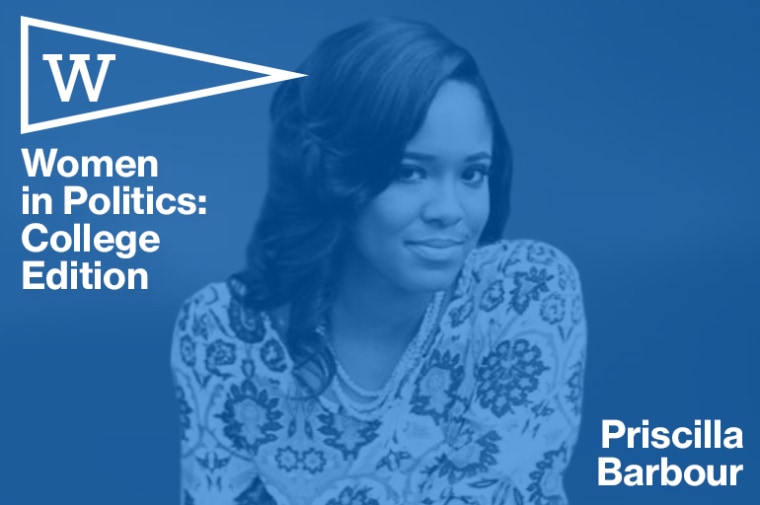 School: Prairie View A&M University 
Hometown: Dallas, Texas
Concentration: Political Science; Minor in Sociology
Role in Student Government: President; Chief of Staff 2012-2013
Dream job: My dream job is one that consists of life-long public service and advocacy. I want to work to aid communities suffering from the lack of thriving economies, broken school systems and limited accessibility to enriching social programs. As of now, I plan to do so as a City Manager. 
Class year: Recent Graduate
***
What is your biggest challenge as a leader on campus?
One of the biggest challenges I faced as a leader on campus was the balance between leadership, scholarship, and family. My biggest opportunity for leadership came at an interesting time in my life. I was gearing up to be SGA President, a graduating senior, preparing for graduate school and also helping my family take care of my father. My father is a 78-year-old Alzheimer's patient, and during my last semester of college had to undergo major surgery to have his leg amputated due to other health issues. Caring for my father and attending college approximately four hours away from home was difficult to balance, but I worked diligently to sustain. Being a student, maintaining good grades, preparing for the next stage of my life, being student body president of over 8,500 students and caring for my father was the greatest challenge to date; and yet it made me stronger. This challenge taught me that regardless of the circumstances that occur throughout my life, the students of Prairie View still trusted me to represent them and to give 100% percent of myself to the job at hand. I definitely learned the importance of having a resilient spirit, and not allowing circumstances to waiver my passion for service to my student body.  This challenge also taught me the importance of consistency in leadership. I learned that leadership is not completely about outcome, but the ability to be consistent and genuine to those you represent. The students, faculty and staff of Prairie View A&M University supported me whole heartedly during one of the most difficult times in my life. I credit their support and trust to my dedication to be a consistent, genuine and passionate leader. 
Which female leaders do you draw inspiration from?
There are so many female figures that inspire me, but the most influential one is Eleanor Roosevelt. My mother, who I love dearly made me recite her famous quote countless times as a child, "No one can make you feel inferior without your consent." Whenever I doubted myself, or questioned the decisions I had made as Student Government Association president. I would always recite "No one can make you feel inferior without your consent." As SGA president, I chose to tackle the issue of voting rights for the students of Prairie View A&M University. This was an issue that was decades in the making. Whenever I faced opposition, and there was definitely plenty of it from all angles I would recite Eleanor Roosevelt's quote. 
What comes to mind first when you think about important moments in history?
The moment in history I believe to be the most important is the Women's Suffrage movement in America. The Election of 1920 was the first time women in America were allowed to cast their ballots, and we have been influential in the political process ever since. That moment in history led to this moment. If it were not for those bold and courageous women, the many women featured including myself, would not have the opportunity to make the impacts we have made in our communities and campuses. The 19th Amendment gave all women in America a seat at the table, and the opportunity to bring a new perspective to politics. The once voiceless demographic,  is now a dominant factor in today's politics. 
What do you think should be President Obama's No. 1 priority?
I definitely think President Obama should continue to focus on the cost of higher education. Over the years, paying for a college education has become synonymous to paying a 30-year home mortgage. The average American student cannot go to college without signing themselves up for a load of debt in student loans. As the global job market becomes more competitive, it is imperative for America's security and stability that our young people have access to quality education without the dread of drowning in debt. So much potential and academic skill is underutilized just because average American students cannot afford the financial burden that higher education has become. The cure for cancer could be locked away in the mind of a young person who never had the opportunity to gain higher learning because of cost. The next big innovator and leader in clean energy could be graduating from a public high school this year, but unable to unlock their passion and skill because it just costs way too much to attend college and gain knowledge. The solution to our problems and the future of our country is wrapped in the minds of our young people, but we will never know, until we make college affordable for them to indulge in higher learning. Obtaining knowledge should not be a business for financial gain, but a service for cultivation and innovation. 
What would be your dream vacation?
My dream vacation would be to travel to the world's most historic places. I want to see the pyramids of Egypt, the ruins of Rome, Italy and Greece. These places are considered the birthplaces of modern knowledge, and I would just love to experience the rich history and absorb all I can.   
Follow Priscilla on Twitter @LadySillaB and check out last week's female leader at Wiley College
To nominate an exceptional undergraduate female leader in student government please email Anna Brand at Anna.Brand@nbcuni.com