Welcome to Women in Politics: College Edition, where promising women leaders in student government on college and university campuses across the country will be featured on msnbc.com. Heidi Richards has been nominated to represent Nova Southeastern University as a leader making a difference not only through key issues on campus, but in bridging the gender gap in politics.
As part of msnbc's "Women in Politics"  series, these hand-selected women become part of a larger discussion of women candidates and women's issues on a national level. "Women in Politics" features newsmaker interviews, profiles, photos, and deep dives into the key conversations.
From the Ivy Leagues to the Big Ten to liberal arts colleges and beyond, young women are making a difference across the country – meet them here!
Name: Heidi Richards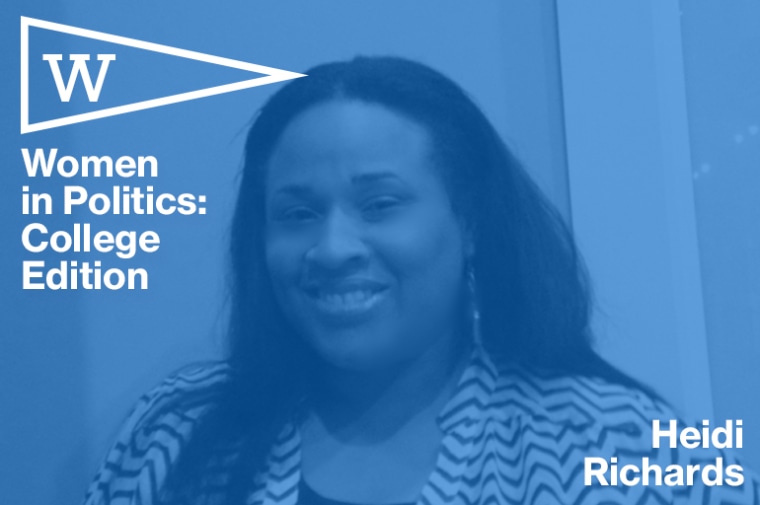 School: Nova Southeastern University
Hometown: Kingston, Jamaica / Fort Lauderdale, Florida
Concentrations: Organizational Leadership
Role in student government: Executive Board, VP of Legislative Affairs FSE-SGA 
Dream job: Florida State Senator 
Class year: 2017
***
What is your biggest challenge as a leader on campus?
My biggest challenge as a female leader is to continuously prove that I am a capable, competent, and effective leader for students on campus. With this role, I have made it my mission to mentor and provide guidance to those around me to ensure they remain motivated and involved and that through these relationships I am keeping abreast of the issues that matter most to the student body. 
Which female leaders do you draw inspiration from?
My mother has always been the strongest women I know. She taught me that to be successful you must have perseverance, tenacity and a healthy sense of humor in every aspect of life. I am fortunate to be living in an age where there are a wealth of inspirational female leaders to emulate and aspire to become such as Shirley Chisholm (Trailblazer: first Black Congresswoman), Michelle Obama (Grace under Pressure: first African-American first lady), Portia Simpson-Miller (Effective Leader: first female Prime Minister of Jamaica) and Kirsten Gillibrand (One to watch: Junior Senator from New York). 
Do you plan to run for office one day?
Absolutely.  I plan to run for a seat on the Florida Senate. I want to be part of the culture shift of women who run for political appointments to be an active voice and advocate for their communities.   
What's the best professional advice you've ever gotten?
The best professional advice I have ever received was from my father. He said to always be passionate about your beliefs and find a career that you love to do so that in times of struggle you will feel the pressure to do your best but not lose the reason why you do it. 
What smartphone app do you use the most?
I'm super busy with both school and work, so in order to prioritize and stay organized, I utilize a great to-do list app called Do It Tomorrow. It allows me to focus on the task at hand by crossing off the things I've completed or automatically moving whatever task I haven't completed today to the next day. 
Follow Heidi on Twitter @ledgi & check out all of msnbc's featured student leaders right here!
To nominate an exceptional undergraduate female leader in student government please email Anna Brand at Anna.Brand@nbcuni.com