Welcome to Women in Politics: College Edition, where promising women leaders in student government on college and university campuses across the country will be featured on msnbc.com over the course of the year. Rylee Stenberg has been nominated by New Mexico State University as a leader making a difference not only through key issues on campus, but in bridging the gender gap in politics.
As part of a new series at msnbc, "Women of 2014," these hand-selected women become part of a larger discussion of women candidates and women's issues on a national level. "Women of 2014" is a home for all women in politics – notably those in some of the year's most pivotal races – with newsmaker interviews, profiles, photos, a Twitter trail following more than 35 candidates, and deep dives into the key conversations.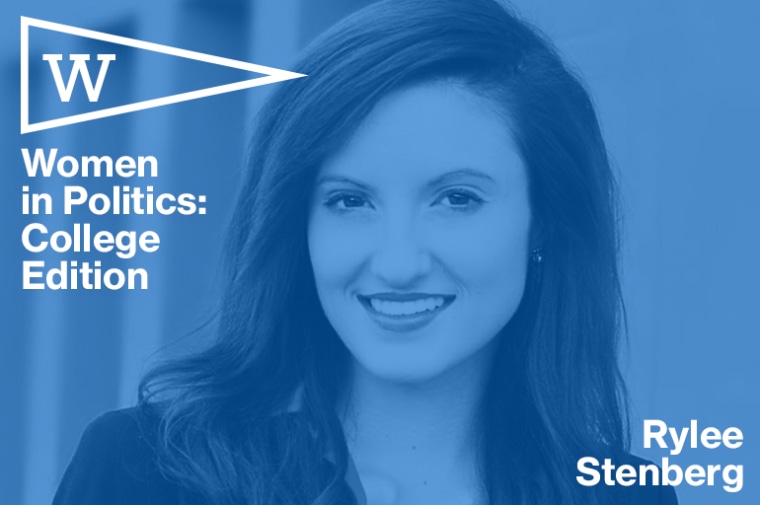 Name: Rylee Stenberg
School: New Mexico State University
Hometown: Las Cruces, New Mexico
Major/Concentration: Government and Law & Society
Organizations involved in on campus: President, New Mexico State University Chapter of the National Society of Collegiate Scholars; Senator, Associated Students of New Mexico State University (ASNMSU)
Dream job: U.S. Senator for New Mexico 
Class Year: 2015
***
What is your biggest challenge as a leader on campus?
The biggest challenge I face as a leader on campus is getting students engaged in organizations.  Although many students will sign up for membership, it is often challenging to keep them engaged in events and programs.
Which female leaders do you draw inspiration from?  
I am inspired by Sandra Day O'Connor as she has motivated herself to shine in every realm throughout her life. After earning her law degree from Stanford University, numerous law firms in California refused to interview her because she is a woman. However, O'Connor didn't allow opposition to halt her progress. After working as a deputy county attorney without a salary, she was the first female Majority Leader in the Arizona Senate and the first female Justice of the Supreme Court. Justice O'Connor also is the mother of three sons and was awarded the Presidential Medal of Freedom from President Obama in 2009. Sandra Day O'Connor not only has excelled despite hindrances, but continues to show that women can have it all-intellect, motherhood, success, and leadership.
What comes to mind first when you think about important moments in history?
Among the many important moments in history, September 17th, 1787 was essential to the trajectory of American history. With the signing of the Constitution, the United States grasped ownership of principles the nation deemed as fundamental. Although the Constitution has been altered since then, this moment in history was essential for the United States and her formation as a nation.
What do you think should be President Obama's No. 1 priority?
Tax policy should be at the heart of President Barack Obama's focus. Not only does it affect nearly every aspect of the economy, but it is a determining factor in the livelihood of American families and businesses.
Most used Smartphone App?
Every morning I open my Daily Quote app which gives inspirational and thought-provoking quotes, from Thomas Jefferson to Ernest Hemingway. These quotes keep me motivated and I love sharing intellectually stimulating sayings with friends and family.
Check out last week's female leader at Virginia Tech and see all student leaders featured here
To nominate an exceptional undergraduate female leader in student government please email Anna Brand at Anna.Brand@nbcuni.com