Welcome to Women in Politics: College Edition, where promising women leaders in student government on college and university campuses across the country will be featured on msnbc.com over the course of the year. Victoria Gonçalves has been nominated by George Washington University as a leader making a difference not only through key issues on campus, but in bridging the gender gap in politics.
As part of a new series at msnbc, "Women of 2014," these hand-selected women become part of a larger discussion of women candidates and women's issues on a national level. "Women of 2014" is a home for all women in politics – notably those in some of the year's most pivotal races – with newsmaker interviews, profiles, photos, a Twitter trail following more than 35 candidates, and deep dives into the key conversations.
From the Ivy Leagues to the Big Ten to liberal arts colleges and beyond, young women are making a difference across the country – meet them here!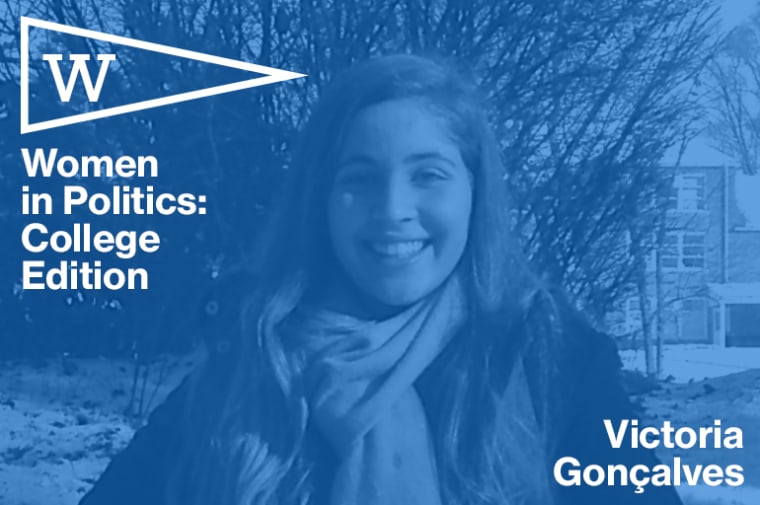 Name: Victoria Gonçalves
School: George Washington University
Hometown: Miami, Florida (born in Caracas, Venezuela) 
Major/Concentration: Political Science
Role on campus: Executive Board of the Organization of Latino American Students; Senator of the Student Association 
Dream job: Campaign Manager and Congresswoman 
Class Year: 2017
***
What is your biggest challenge as a leader on campus?
I think one of the biggest challenges that I've experienced on campus is bringing the gap between different organizations. A lot of organizations have traditions and it can be hard sometimes to get them to try new things and collaborate with groups that they have never met before. GWU has a very activist-oriented campus because we are in DC and so many students are involved in politics, it can sometimes be tough to get political organizations to work with non-political organizations and vice-versa. Another big challenge that I've faced has been turning great conversations about challenges that students are having into real actions. It's easy to get students to sit together and identify a problem, but the tough part is coming up with real solutions. For example, I participated in a discussion about the low Latino student retention rate in which a lot of opinions and experiences were shared about why this could be happening but it was tough to come up with real actions that would help improve the retention rates. As a result of that discussion, I am working with a Latino student organization to apply for a grant to start a latino student mentorship program. 
Which female leaders do you draw inspiration from?  
That's tough, Hillary Clinton is an obvious choice, though. One of the aspects of career that inspires me the most is the way that she has been a champion for women's rights internationally in every office that she has held. Melissa Harris-Perry has also been incredibly inspirational to me because she opened my eyes to black feminism. I think that one of the biggest realizations that I've had about my own political views has been recognizing the intersectionality of race, sexuality, class and gender which is the basis of black feminism. I love the diversity of backgrounds and opinions that she presents on her show and I am currently reading her book "Sister Citizen," which is amazing. 
What comes to mind first when you think about important moments in history?
I think that the '60s and '70s are an incredible time in American History. When I was in middle school, I was obsessed with The Beatles and Bob Dylan and after listening to their music I stared to notice the political context of it and I was amazed. The fact that there was a whole generation that was committed to questioning the status quo in order to fight for equal rights but also protest war is incredibly inspiring. 
What do you think should be President Obama's No. 1 priority?
President Obama, but also congress need to finally agree on and pass Comprehensive Immigration Reform. I grew up in Miami, Fl, one of the most diverse cities in the country, where I have friends and family members that are undocumented. People that I've know since I was in elementary school that did not have the same opportunities as me because they were undocumented. Although a good amount of them were able to get jobs and start community college because of the DREAMAct, none of them attended a four-year university because they could not receive financial aid. I feel incredibly blessed to be able to be where I am today and to be able to say that I will be a citizen in less than a year. I'm so excited to be able to vote and participate democratically in this country that I love so much, but I can't help but feel guilty because of the millions that weren't as lucky as me. I've seen mother and fathers and children and friends of immigrants that have been deported and I can honestly say that there is nothing more heart breaking than the despair in their eyes. But through this hardship, they have hope, they have hope that- President Obama, Democrats and Republicans will be able to come together to pass comprehensive immigration reform. I really believethat the President needs to make this a priority right now before the midterm elections, he needs to do everything in his power to make sure that the House also passes a comprehensive immigration bill.
What's your go-to Karaoke Song?
Flawless by Beyonce! 
Follow Victoria on Twitter @vikygoncalves and check out all the featured student leaders here!
To nominate an exceptional undergraduate female leader in student government please email Anna Brand at Anna.Brand@nbcuni.com