Welcome to Women in Politics: College Edition, where promising women leaders in student government on college and university campuses across the country will be featured on msnbc.com. Ariel Koren has been nominated to represent the University of Pennsylvania as a leader making a difference not only through key issues on campus, but in bridging the gender gap in politics.
As part of msnbc's "Women in Politics"  series, these hand-selected women become part of a larger discussion of women candidates and women's issues on a national level. "Women in Politics" features newsmaker interviews, profiles, photos, and deep dives into the key conversations.
From the Ivy Leagues to the Big Ten to liberal arts colleges and beyond, young women are making a difference across the country – meet them here!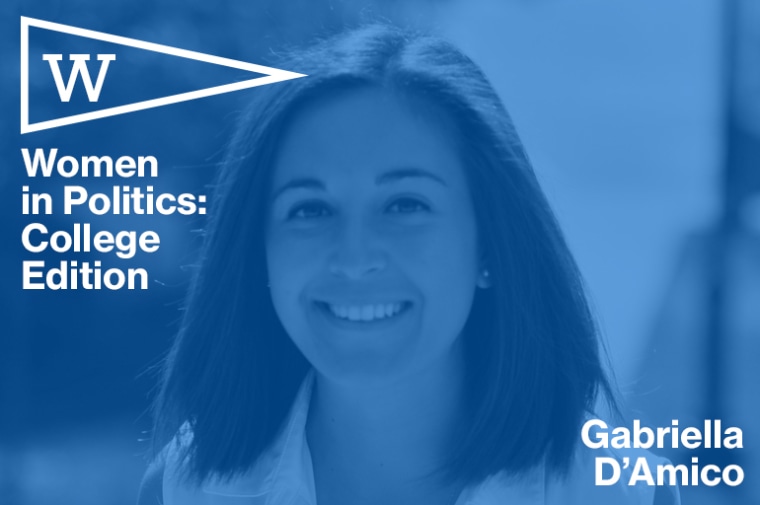 School: Fairleigh Dickinson University
Hometown: Mullica Hill, NJ
Concentration: Communications major, journalism minor
Role in Student Government: V.P. of Communications 
Dream job: School guidance counselor 
Class year: 2015
***
What is your biggest challenge as a leader on campus?
My biggest challenge as a female leader on campus is getting students from not just my organization, but the entire campus to participate in events. I attend a university that consists of just over 2,500 undergrad students. Most of these students tend to stick to their own clubs and getting people to attend events outside of their group is difficult. This year as the Student Athlete Advisory Committee (SAAC) president, I was able to involve many students by creating a "You Can Play Video." This video campaign states a message saying that anyone can be a part of our campus community no matter their race, religion or sexual orientation.   
Which female leaders do you draw inspiration from?
The first person that I draw influence from is St. Rita. As a woman who not only overcame domestic violence, she achieved greatness when she was alone in the world. I chose St. Rita as my Confirmation name because I look to her to guide me past my challenges and along my triumphs. The second person that I draw influence from is someone who was a major influence throughout my college career: Coach Jenn Noon was my field hockey coach, mentor and supporter both on and off of the field. She has pushed me past my limits and has helped me to realize how far my confidence will take me in life. She is a woman who immerses herself in her work and takes pride in not only what she has accomplished but all of the victories that her athletes have reached as well. She is a strong woman who puts her team, her colleagues, and her family before herself; that is what I admire most about her. 
Do you plan to run for office one day? 
Right now, I do not plan to run for office. Next year, I will be attending graduate school to receive my master's degree in school guidance counseling. But who knows. God has a crazy plan for our lives that we don't know about, and I'm not afraid to take advantage of any opportunity that may come my way.   
What's the best professional advice you've ever gotten? 
The best professional advice I've gotten is that discipline gives us freedom. 
What does feminism mean to you?
Feminism is embracing the individual power that I have as a woman to achieve whatever I may set my mind to. It's about having the motivation to show men and women, that I am not only capable of helping myself, but I want to make others feel just as empowered as I am to be great. If I can make other people feel just as ambitious as I am, then I feel accomplished. Feminism means being proud of the positive impact that I have the power to make. Not just because I am a woman, but because I have the freedom to do so.
Check out all of msnbc's featured student leaders right here!
To nominate an exceptional undergraduate female leader in student government please email Anna Brand at Anna.Brand@nbcuni.com