Welcome to Women in Politics: College Edition, where promising women leaders in student government on college and university campuses across the country will be featured on msnbc.com over the course of the year. Juliana Batista has been nominated by Cornell University as a leader making a difference not only through key issues on campus, but in bridging the gender gap in politics.
As part of msnbc's "Women in Politics"  series, these hand-selected women become part of a larger discussion of women candidates and women's issues on a national level. "Women in Politics" features newsmaker interviews, profiles, photos, and deep dives into the key conversations, including a series on "Women Leaders Bridging Tech and Politics in 2016."
From the Ivy Leagues to the Big Ten to liberal arts colleges and beyond, young women are making a difference across the country – meet them here!
Name: Juliana Batista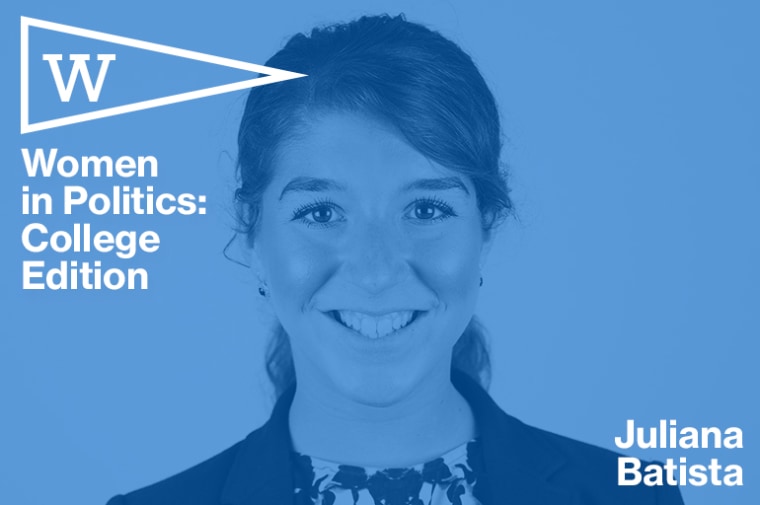 School: Cornell University
Hometown: Southborough, MA
Concentration: Industrial & labor relations, minoring in  economics and business
Role in student government, organizations: Student Assembly, President; University Assembly, Undergraduate Representative; Admissions and Financial Aid Working Group, Representative; Consent Ed, Facilitator; Big Red Shuttle transportation, Founder; Risley Residential College, Residential Advisor; Delta Delta Delta sorority, active member
Dream job: President of World Bank
Class year: 2016
***
Why did you get involved in student government?
I got involved in student government in college because I wanted the opportunity to hit the ground running and understand more about my campus. I have always been a natural problem solver and the Student Assembly gave me the opportunity assist my peers grappling with campus issues. It really has evolved into a platform to voice student concerns and shape the future direction of Cornell.
Do you plan to vote in the primary and/or November presidential elections this year?  
Yes! Voting is vital to the American democratic process. I don't vote unless I am informed: so I stay abreast of news outlets and try to develop my own opinion.
Have you ever been in a protest? If so, how was it and how has it affected your leadership work?
I have been involved in a protest at Cornell around the student health fee and the viability of shared governance. It opened my eyes to the importance of "smart activism," where protesters use existing structure in a respectful way to intelligently get their point across. Generating attention for a cause you are passionate about can sometimes be a constructive supplement to going through typical channels.
Has feminism played a role in your life? If so, how?
I am a proud feminist. Gender inequality still exists and I really think that women's rights should be on everyone's radar. I don't think gender should be used as an insult or a reason to treat a person as inferior. It's that simple. Understanding feminism has made me look at the world through a different lens, being conscious of the inherent divides and subconscious biases we hold.  
If you could be any social media platform, which one would you be and why?  
I would be Snapchat because it captures moments from people lives in raw and genuine ways.
Check out last week's college woman leader here! 
To nominate an exceptional undergraduate female leader in student government please email Anna Brand at Anna.Brand@nbcuni.com