Women are at the forefront of many of this year's critical and most-watched races. From candidates for governorships making waves from red-to-blue states, to game-changing senate seats up for grabs, women are making their voices heard now more than ever. Pivotal issues, including equal pay for women, health care, and campus sexual assault are front and center in Washington and statewide with women leading the charge. While the 113th Congress boasted 20 female senators – more than any other Congress to date, women still only make up 24.2% of state legislators in the U.S. With only a few months until the November midterm elections, it's down to the wire for many candidates striving to change all that and bring a female perspective to the table.
To showcase a year of textbook races for women, msnbc introduces '30 in 30,' a new series where the 30 of the most dynamic women candidates seeking office in 2014 will be spotlighted: One a day over the next 30 days. The candidates – Democrat and Republican – have answered questions based on women's issues and being a woman in a male-dominated industry. Welcome to Day 29!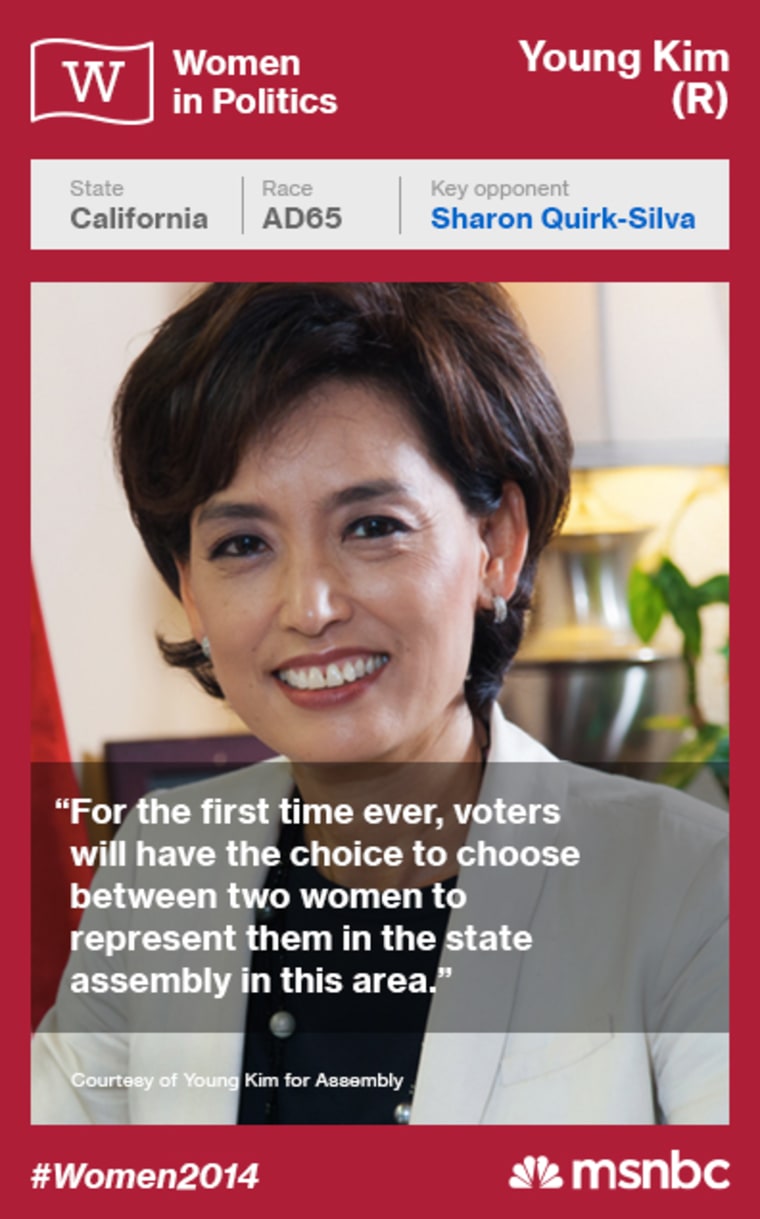 Party Affiliation: Republican
Race: California Assembly District 65
Challenger: Democrat Incumbent Sharon Quirk-Silva
Here's the Deal: This is Kim's first time running for office -- and in California's crucial 65th District. Kim faces Democrat incumbent Sharon Quirk-Silva, marking the first time voters will be choosing between two women in the district. Kim -- endorsed by Rep. Ed Royce and House Majority Leader Kevin McCarthy, among others -- was selected as a top recruit in the RSLC's Future Majority Project. 
***
How has being a woman in a field dominated by men impacted your race so far?
For the first time ever voters will have the choice to choose between two women to represent them in the State Assembly in this area. This proves that our area has moved past gender issues and we can focus on the issues that matter to our community in this election. 
What will you bring to California that your opponent can't?
I bring a different perspective to the election because I have worked in the private sector and have owned a small business. Too many of our policy makers in California make laws that hinder job growth because they have no first hand knowledge of how to operate a business or create jobs.
If elected, what will be your No. 1 priority?
The number one issue affecting Californians is the lack of good paying jobs. California is still recovering from the recession and our unemployment rate ranks near the bottom of the country. Too many jobs have left California in the last five years. Many individuals are now working in jobs that they are over qualified for because their previous employers have either closed their business or left the state to find a more friendly business environment. This affects all Californians. We need to repeal job killing legislation and over taxation of California's small businesses.
What can we expect to see from your campaign before November?
My campaign has been actively out in the communities going door to door and talking to voters on a personal level. We are going to find out what is important to each and every one of them and address each of their concerns as a state legislator.
What's one piece of advice you would give to young women looking to pursue a career in politics today?
It's simple: remain fearless in your goal and don't let anyone convince you not to chase your dreams, whatever they are. Stand up for what you believe and keep your dreams in sight. Hard work and focus will pay off.
Which women in politics inspire you?
I have a few women that inspire me, but probably the one that stands out the most is Condoleezza Rice. Like me, Condoleezza Rice had to overcome ethnic barriers in her career path. She grew up in the South during one of the most racially charged times in our nation's history. Others may have used that as an excuse to take a different path, but she approached her path to success by being tough, smart and diligent. At the same time, she never lost her class or morals. I admire that.
How will you address unequal pay for working women?
There are nearly nine million women-owned businesses in America and they employ 7.7 million Americans. Women run some of America's top corporations, including General Motors and HP. We don't need more laws or government mandates, we need to make it easier for woman entrepreneurs to open businesses and succeed in the marketplace and as we do, the problem will correct itself.
Wild Card! What the most memorable road trip you've ever been on?
When my children were younger, we took a road trip through the Southwest. At one point along the drive, the road started to rise and fall like a roller coaster track, and this went on for well over a mile. The looks of joy and the laughter that came from my children as we traveled down that road will be something I cherish forever. The time we spent in that car is still some of the best family bonding we've experienced.
Follow Young Kim @YKAssembly // Facebook // campaign website
Check out msnbc's Women of 2014 Twitter Trail to follow 2014 candidates to watch all in one place