Women are at the forefront of many of this year's critical and most-watched races. From candidates for governorships making waves from red-to-blue states, to game-changing senate seats up for grabs, women are making their voices heard now more than ever. Pivotal issues, including equal pay for women, health care, and campus sexual assault are front and center in Washington and statewide with women leading the charge. While the 113th Congress boasted 20 female senators – more than any other Congress to date, women still only make up 24.2% of state legislators in the U.S. With only a few months until the November midterm elections, it's down to the wire for many candidates striving to change all that and bring a female perspective to the table.
To showcase a year of textbook races for women, msnbc introduces '30 in 30,' a new series where the 30 of the most dynamic women candidates seeking office in 2014 will be spotlighted: One a day over the next 30 days. The candidates – Democrat and Republican – have answered questions based on women's issues and being a woman in a male-dominated industry. Welcome to Day 28!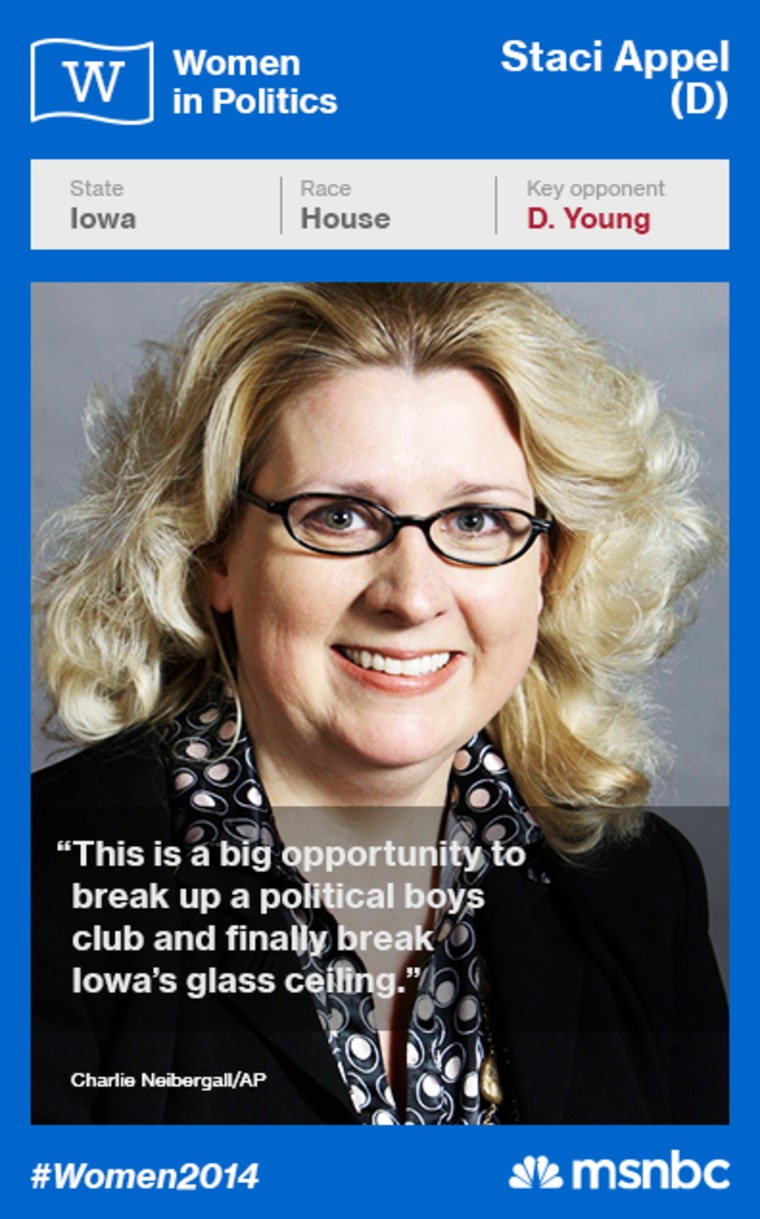 Name: Staci Appel
Party Affiliation: Democrat
Race: Iowa U.S. House
Challenger: Republican David Young
Here's the deal: Appel is a Democrat running for a U.S. House seat in Iowa, one of only two states that have not yet elected a woman to Congress. A Wednesday poll saw the candidate -- who says she will bring "Mom Common Sense" to the table -- leading her Republican opponent David Young by six points. 
***
How has being a woman in a field dominated by men impacted your race so far?
Iowa is one of only two states that have not elected a woman to Congress. So, this is a big opportunity to break up a political boys club and finally break Iowa's glass ceiling. My record standing up for Iowa families and issues from health care to education to raising the minimum wage is one that resonates in communities across my district.
What will you bring to Iowa that your opponent can't?
As a mother of six kids from 5 to 17, I will bring something I like to call "Mom Common Sense" to Washington and that means being ready and willing to work with everyone and anyone – no matter their party -to build a record of results for Iowa families.  
If elected, what will be your #1 priority?
My number one priority will be to advocate for Iowa families. For far too long, career insiders in Washington have put partisan self-interest ahead of farmers, small businesses, and everyday folks. My priority will be to make sure there is a job for every Iowan who needs one and I will fight to keep the promise of Social Security and Medicare.
What can we expect to see from your campaign before November?
I'll be out across the district talking to voters about the issues impacting Iowa communities every day. I am especially excited about the grassroots support I've received from women. I've launched a group called Appel Women For Change who are helping to reach out and spread our message. In just two months we've had over 1,600 women sign up online. This is one example of how my campaign will empower our moms, sisters, and daughters to be a part of the change in Washington.
What's one piece of advice you would give to young women looking to pursue a career in politics today?
A quote I love to share is, "Look before you leap, but leap anyway." So, don't wait. Running for office was never something I had dreamed was possible as a girl. Soon after being elected to the State Senate, I saw we could achieve real results on behalf of working class families.
Which women in politics inspire you?
Secretary of State Hillary Clinton exemplifies what it means to be a dedicated public servant. Her commitment to fighting for middle class families and being a global advocate for women and girls has been a personal inspiration to me. With role models like Hillary, future generations of young girls will see opportunities to lead and not limitations to follow.
How will you address unequal pay for working women?
As a member of the Iowa Senate, I spearheaded an effort to make Iowa one of the first states to pass a bill requiring equal pay for equal work. However, our job is not done. My first bill in the Iowa legislature was to raise the minimum wage, but women are still two thirds of all minimum wage earners.
Wild Card! Fountain, bottled, or canned soda?
Any of the above, as long as it's ice cold!
Follow Staci Appel @AppelforIowa // Facebook // campaign website
Check out msnbc's Women of 2014 Twitter Trail to follow 2014 candidates to watch all in one place