Women are at the forefront of many of this year's critical and most-watched races. From candidates for governorships making waves from red-to-blue states, to game-changing senate seats up for grabs, women are making their voices heard now more than ever. Pivotal issues, including equal pay for women, health care, and campus sexual assault are front and center in Washington and statewide with women leading the charge. While the 113th Congress boasted 20 female senators – more than any other Congress to date, women still only make up 24.2% of state legislators in the U.S. With only a few months until the November midterm elections, it's down to the wire for many candidates striving to change all that and bring a female perspective to the table.
To showcase a year of textbook races for women, msnbc introduces '30 in 30,' a new series where the 30 of the most dynamic women candidates seeking office in 2014 will be spotlighted: One a day over the next 30 days. The candidates – Democrat and Republican – have answered questions based on women's issues and being a woman in a male-dominated industry. Welcome to Day 21!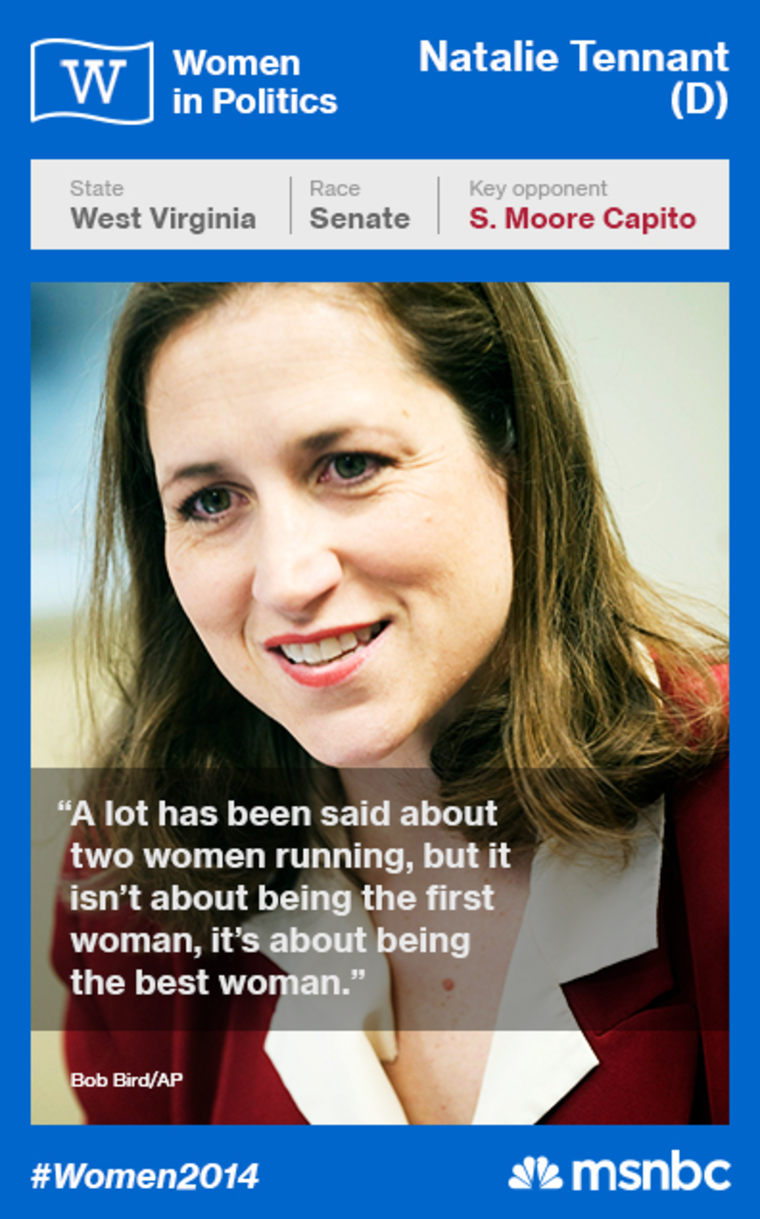 Party Affiliation: Democrat
Race: West Virginia Senate
Challenger: Republican Shelley Moore Capito
Here's the deal: Tennant -- the first Democratic woman secretary of state in West Virginia history -- faces Republican Rep. Shelley Moore Capito in a heated fight for Sen. Jay Rockefeller's seat, a Democrat retiring after 30 years. Outspoken progressive Senator Elizabeth Warren championed Tennant at an event this summer. Tennant was also recently endorsed by The United Mine Workers of America (UMWA). If elected, she would make history as first female senator in West Virginia.
***
How has being a woman in a field dominated by men impacted your race so far?
People often ask me if it's hard being secretary of state, raising a 12-year-old daughter and running for U.S. Senate. Of course it is. But the fact is it isn't any more difficult than what women are doing every day across the state of West Virginia -- and that's why I'm running, because this race isn't about me, it's about them. It's about the mom who can't be at home right now helping her kids with homework because she has to work two minimum wage jobs just to keep food on the table. It's about the small business owner who's counting every cent at the end of the month to make payroll. It's about the college student who might not be able to follow her dreams because she's about to graduate under a mountain of debt and enter a workforce where she'll only make 70 cents on the dollar compared to men doing her same job. And it's about the woman who depends on Medicare and Social Security to make sure she can care for her kids and her elderly parents at the same time.
What will you bring to Washington that your opponent can't?
A lot has been made about the fact that there are two women running for this seat. But the fact is, this race isn't about being the first woman, it's about being the best woman for West Virginia.
I know what it's like to work a minimum wage job, to run a small business, to send a husband to war, and to have an insurance company refuse to cover your family because your child was born with a "pre-existing condition."
I cut my own budget in the Secretary of State's Office and gave $3 million back to the taxpayers of West Virginia. My opponent voted to let Wall Street bankers keep raking in huge bonuses while taxpayers were bailing them out.
My opponent voted against equal pay for equal work five times – even as women in West Virginia earn just 70 cents on the dollar compared to men, 7 cents worse than the national average. She has refused to support raising the minimum wage, even as 2/3 of minimum wage workers in West Virginia are women. And she voted four times to turn Medicare into a voucher program, which hurts women who rely on Medicare and women who are caring for their elderly parents.
If elected, what will be your No. 1 priority?
Creating good-paying jobs for West Virginia is my number one priority. In West Virginia, jobs start with energy. We also have enormous potential to fuel the next wave of good-paying jobs with micro-manufacturing, research and technology. But none of that is possible unless we also invest in our greatest resource: our people. That's why investing in education and combating the drug abuse crisis are key elements of my jobs agenda.
It's time to stop Washington politics as usual and get back to getting things done for the people we work for. When three members of my own party tried to steal an election, I put them behind bars for fraud, because I will always put what's right for West Virginia above party, position, politics or power.
What can we expect to see from your campaign this summer?
Since January, I have been on a 55-county tour of West Virginia, hearing directly from the people of this state, so I can take their ideas to Washington. Throughout the summer I have presented a series of policy agendas to address the priorities I heard from West Virginia. So far, I have rolled out my Energy Jobs Agenda, my Jobs and Business Agenda, and my Education Agenda. Next, I will be rolling out my ideas for combating the drug abuse that is tearing apart families and devastating communities - not just in West Virginia, but all across the country.
What's one piece of advice you would give to young women looking to pursue a career in politics today?
Being the first woman is nothing new to me. When I was a 22-year old kid, I became the first woman to represent West Virginia University as the Mountaineer mascot. It's hard to believe now, but that was pretty controversial at the time. I was taunted and even spat on. But I just kept right on going. The fact is I didn't do it to be the first woman. I did it because I wanted to represent my University and my state. And I learned that when you do something for genuine reasons, you will be successful.
Which women in politics inspire you?
West Virginia's first female Secretary of State Helen Holt inspires me because she put herself aside and stepped up when her state and her country needed her. Helen never considered herself a pioneer, she said she was "just there to do a good job." Helen was a republican, but she served a total of seven Presidents from both parties at the Federal Housing Administration, because getting the job done mattered more to Helen than party politics.
When Helen's husband died of cancer in 1955, the Governor appointed her to serve out his term in the House of Delegates. Helen put aside her own grief to serve her state. Republican Governor Cecil Underwood later appointed Helen as West Virginia's first female Secretary of State. Helen didn't campaign for re-election because, like a lot of women, she wasn't comfortable boasting about herself.  Helen figured she had done a good job and that should speak for itself.
At the same time, Helen understood in the 1950s what we are still striving to teach women today – the importance of networking. Helena used the relationships she'd built to earn an appointment in the Eisenhower Administration. President Eisenhower appointed Helen to a nationwide commission to reform nursing homes and we owe many of the facilities our seniors still count on to her good work.
How will you address unequal pay for working women?
I want my daughter and all our daughters to grow up in a country where she knows that her hard work is worth just as much as any man's. That's why I will work to pass the Paycheck Fairness Act that my opponent voted against.
Some may argue that equal pay is already the law. But the fact is, women in West Virginia still earn just 70 cents on the dollar compared to men doing the same job. They deserve a Senator who will stand up for them and their families.
Wild Card! Your go-to snack: sweet or salty?
Pepperoni rolls  . . . If you don't know what that is, then you haven't spent enough time in West Virginia.
Follow Natalie Tennant @NatalieforWV // Facebook // YouTube // campaign website
Check out msnbc's Women of 2014 Twitter Trail to follow 2014 candidates to watch all in one place!