Women are at the forefront of many of this year's critical and most-watched races. From candidates for governorships making waves from red-to-blue states, to game-changing senate seats up for grabs, women are making their voices heard now more than ever. Pivotal issues, including equal pay for women, health care, and campus sexual assault are front and center in Washington and statewide with women leading the charge. While the 113th Congress boasted 20 female senators – more than any other Congress to date, women still only make up 24.2% of state legislators in the U.S. With only a few months until the November midterm elections, it's down to the wire for many candidates striving to change all that and bring a female perspective to the table.
To showcase a year of textbook races for women, msnbc introduces '30 in 30,' a new series where the 30 of the most dynamic women candidates seeking office in 2014 will be spotlighted: One a day over the next 30 days. The candidates – Democrat and Republican – have answered questions based on women's issues and being a woman in a male-dominated industry. Welcome to Day 3!
Name: Monica Wehby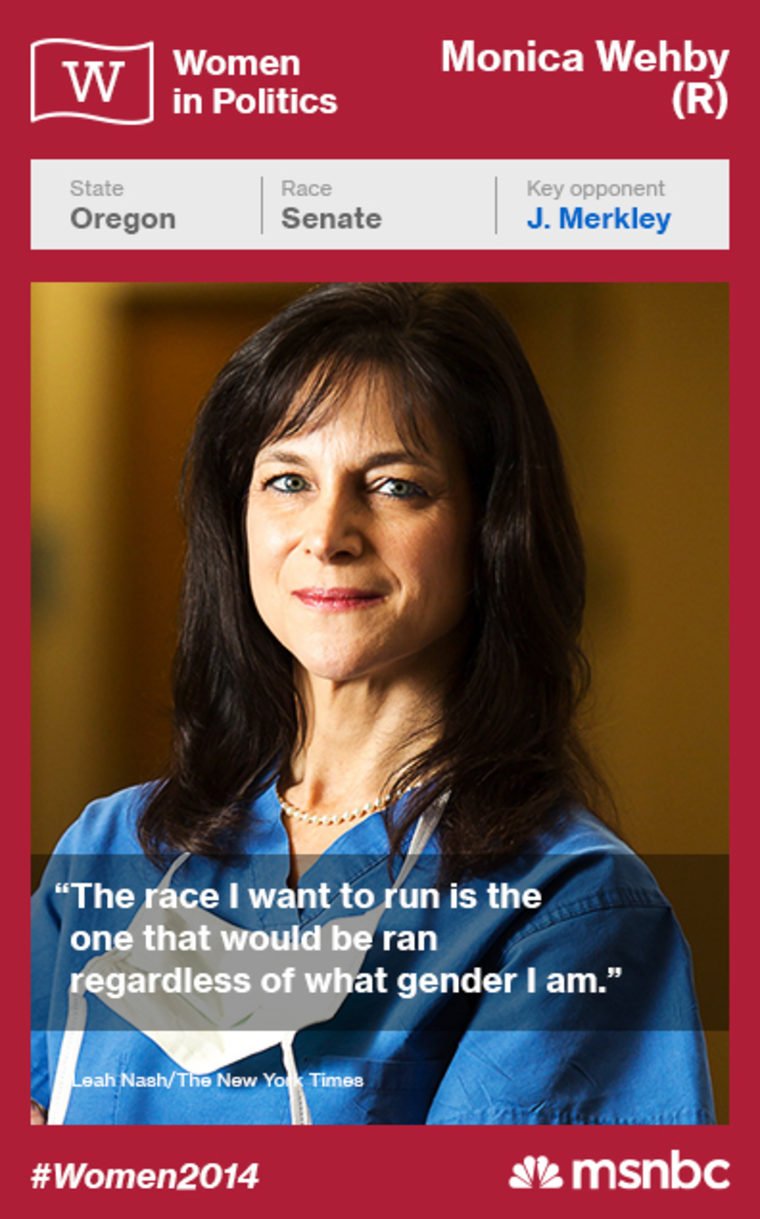 Party Affiliation: Republican
Race: Oregon Senate
Challenger: Democrat Jeff Merkley
Here's the deal: Wehby -- a Portland pediatric neurosurgeon with nearly 30 years of medical experience under her belt -- was recently quoted saying "are you kidding" when asked if she'd be able to handle the pressures of the Senate. Wehby was the first woman to enroll and graduate from the UCLA neurosurgeon program. An endorsement from former Republican presidential candidate Mitt Romney helped her win the primary in May against state Rep. Jason Conger. If elected, she would become the first female Senator from Oregon in 47 years.
How has being a woman in a field dominated by men impacted your race so far?
I have spent my entire life in a profession dominated by men, and regardless of who or what was around me, I have always aimed to do the best of which I am capable. I think the important limitations are the ones we set for ourselves, not those which society or a profession dictates. The race I want to run is the one that would be ran regardless of what gender I am, because the most important issues are the ones that affect us all. Just as I hope an employer would judge me on my credentials, so I hope Oregonians will cast their vote – not because I happen to be (or not be) a woman.
What will you bring to Washington that your opponent can't?
As a pediatric neurosurgeon and former small business owner, I possess a skill set I feel should be more prominent among the people we choose to serve us in Congress. Despite the many laws Congress passes concerning health care, there are only three doctors in the U.S. Senate. In contrast to my career as a physician, my opponent has spent a lifetime in politics, climbing the proverbial ladder; each office another rung. While public service is certainly commendable, I believe too much time spent in office sends one far down a path of partisanship. I spend every day talking with patients and families, which makes me keenly aware of their issues and concerns about jobs, the economy, health care, and the education of their children. My occupation is one that lends itself to logic, not ideology, and the votes I take will reflect that. My commonsense approach will reflect the independent minds of Oregonians better than the 97% partisan voting record of my opponent.
"The race I want to run is the one that would be ran regardless of what gender I am."'
If elected, what will be your #1 priority?
Without question, our nation is still reeling from an economy that has never quite recovered from the recession. Despite the rhetoric coming out of Washington, economic growth is still anemic, our labor force is smaller than it was five years ago, and unemployment still remains above 6%. My top priority will be introducing legislation that helps get Oregonians back to work, and fosters growth in our small business community. A strong, healthy economy is key to improving the quality of life among all Americans, and will allow us to focus on time spent with family rather than the uncertainty of being able to provide for them.
What can we expect to see from your campaign this summer?
As a first time candidate, and someone who has spent most of my professional life caring for little Oregonians as a pediatric neurosurgeon, the campaign trail has been a bit of a whirlwind. It's fascinating to watch just how quickly a campaign grows over a short period of time. At first, it was just myself and an idea that my career helping others shouldn't necessarily be constrained to an operating table; now, in a couple short months, that idea has materialized into a full-fledged movement that has brought me to share stories and ideas with people from all across our state. I've made a career out of making a difference in the lives of individuals and their families – running for office will allow me to continue that, but in a much larger way. This summer, I am focusing my campaign on listening to the people of Oregon, because I think it's an important component of public service that often goes overlooked. Listening has shown me that Oregonians want someone to take interest in the issues that matter most to them – jobs, the economy, healthcare, and education – and so as a U.S. Senator, those are the areas I will focus on to help me continue making a difference in people's lives.
What's one piece of advice you would give to young women looking to pursue a career in politics today?
Do it for the right reasons. I think too many people are attracted to politics because they see it as a means to self-serve. It's why we see individuals grab a hold of power and refuse to let go; it's why we often times see career politicians make politically expedient decisions rather than the right ones. Politics is about people, and a career in that field should reflect a desire to help enrich the lives of others, rather than oneself. Remember that the hurdles you will face are not for you alone, but for all the people you wish to help.
Which women in politics inspire you?
Former Senator Olympia Snowe is someone I have a great deal of respect and admiration for. Though a Republican, she was independent minded in every sense of the word; always willing to look at an issue from all sides regardless of party. Despite her party's opposition, she was strong voice for women's health care, recognized early the importance of preserving and protecting our environment, and more recently came out in support of marriage equality. A true pioneer, she was also the first woman to serve in both the U.S. House and Senate. While we certainly don't see eye to eye on every issue, I think Senator Snowe set a great example for women and men on both sides of the aisle. 
How will you address unequal pay for working women?
It's hard to believe that in twenty-first century America, women are still undervalued by employers. As a neurosurgeon practicing in a male-dominated specialty, I know that women are just as capable and valuable as their male counterparts, and they must be compensated fairly for the work they do. In order to close the wage gap, we need to pass legislation that isn't just a guise of equality, but is aimed at ensuring a level playing field. As a U.S. Senator, I look forward to learning more about the issue and taking action to resolve any injustices currently present.
Wild Card! Go-to diner order?
Cheeseburger – Pile on the onion rings! 
Follow Monica Wehby  @MonicaForOregon // Facebook // campaign website
Check out msnbc's Women of 2014 Twitter Trail to follow 2014 candidates to watch all in one place