Women are at the forefront of many of this year's critical and most-watched races. From candidates for governorships making waves from red-to-blue states, to game-changing senate seats up for grabs, women are making their voices heard now more than ever. Pivotal issues, including equal pay for women, health care, and campus sexual assault are front and center in Washington and statewide with women leading the charge. While the 113th Congress boasted 20 female senators – more than any other Congress to date, women still only make up 24.2% of state legislators in the U.S. With only a few months until the November midterm elections, it's down to the wire for many candidates striving to change all that and bring a female perspective to the table.
To showcase a year of textbook races for women, msnbc introduces '30 in 30,' a new series where the 30 of the most dynamic women candidates seeking office in 2014 will be spotlighted: One a day over the next 30 days. The candidates – Democrat and Republican – have answered questions based on women's issues and being a woman in a male-dominated industry. Welcome to Day 23!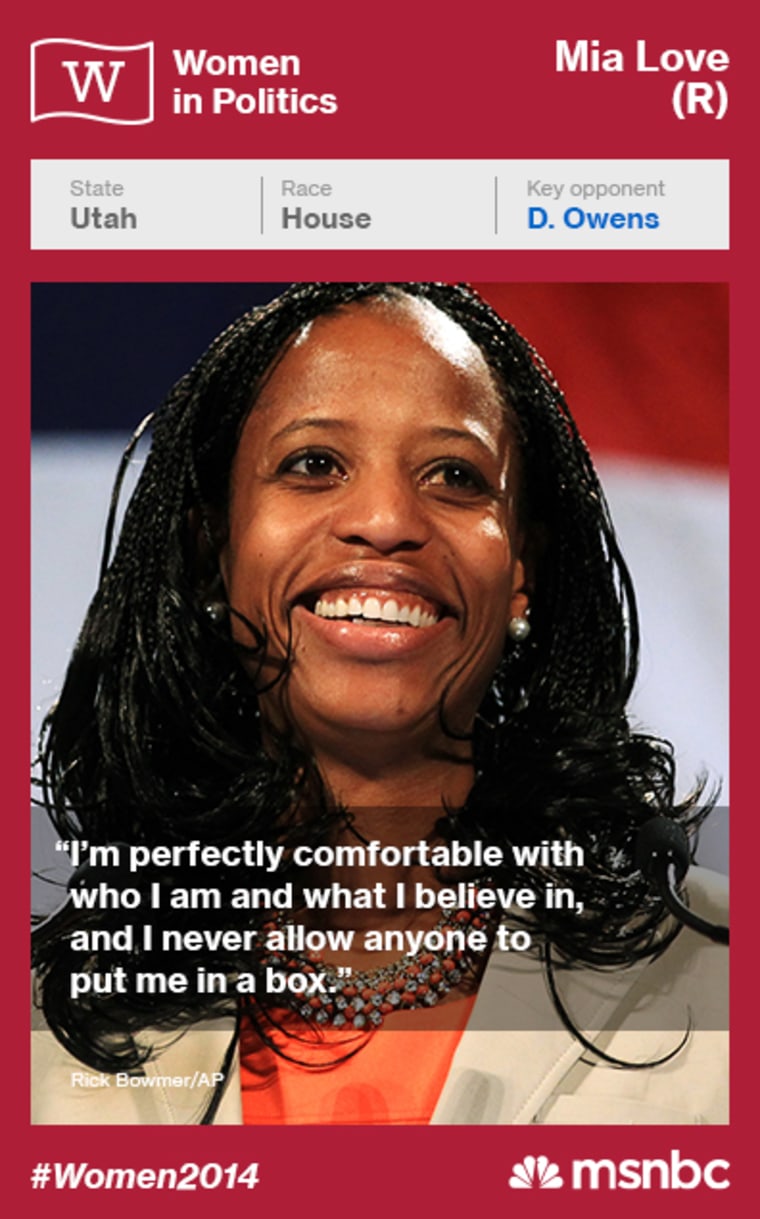 Party Affiliation: Republican
Race: Utah House
Challenger: Democrat Doug Owens
Here's the deal: This is Love's second attempt at the Utah House seat in the 4th District. If elected, she would be first black female Republican in Congress and the first person of color to represent Utah. Love previously served as the mayor of  Saratoga Springs. A recent poll shows Love leading her Democratic opponent by 12 points.
***
How has being a woman in a field dominated by men impacted your race so far?
My goal is to represent all Utah voters, regardless of gender. I think the serious issues we face are not gender-specific, but rather they impact both men and women. In that sense, every issue we face in America is a "women's issue." Because women make up half of the electorate, I don't see politics as an inherently male-dominated industry.
Women are not victims; I certainly don't consider myself a victim. I'm perfectly comfortable with who I am and what I believe in, and I never allow anyone to put me in a box.However, sometimes women are only passively involved in politics. I encourage women everywhere to get involved so that their views will be reflected in the policies that are made.
What will you bring to Washington that your opponent can't?
This election is not about who I'm running against; it's about what I'm running for. I'm running for the people of Utah's 4th district. What I bring to the table is 10 years of experience in municipal government, where I put into practice the principles of fiscal discipline, limited government, and personal responsibility. As a parent, I've helped run our household by taking my children to doctor appointments, serving as a PTA mom, and doing our family grocery shopping. That's real life experience that reflects what goes on in the lives of everyday Utahns. I understand the needs they face because I've faced those same issues in my own family, and that's why I believe I'm qualified to represent Utah in Congress.
If elected, what will be your No. 1 priority?
Regardless of which committee assignment I receive in Congress, the things I believe threaten our sovereignty the most are the deterioration of freedom and out-of-control federal spending. Americans have an inherent right to make decisions in their own homes, yet every time the federal government increases the debt, our freedom shrinks. Depending on which committee I am placed on, I'll work to find a way to focus on those issues because those are what have the biggest impact on Utah families.
What can we expect to see from your campaign this summer?
We're going to continue running a positive campaign focused on putting forth solutions to the issues facing America. I'm committed to attacking problems, not people. The campaign message I share every day is that I want to work to end the dysfunction in Washington and return control over decision-making back to the state of Utah and to the people of Utah. For example, I believe that Utah—not federal bureaucrats back in Washington, DC—is best equipped to educate our children.
The work we've been doing isn't easy, but it is important. Our plan is to continue working hard up through the election because it's important to show the people of Utah that I will give it my all when it comes to representing their interests in Congress. We will continue to meet with as many people as possible and not take anything for granted.
"I would remind the young women out there to not take for granted the sacrifices that have been made on your behalf."'
What's one piece of advice you would give to young women looking to pursue a career in politics today?
I would give them the same advice that my dad gave me, which is to point out that there are many of us doing everything we can to make sure you reach your full potential. In turn, your job is to work hard and to give back to society. I would remind the young women out there to not take for granted the sacrifices that have been made on your behalf. Perhaps most importantly, I would remind them that through hard work and education, they can become anything they want to be.
Which women in politics inspire you?
There are many women I admire in politics. A couple who come to mind include Margaret Thatcher and Condoleezza Rice. But to be honest, the women who inspire me the most are the unsung heroes, the everyday mothers you don't read about in the newspapers. These include women such as surgeons who save lives every day, teachers who use their time and talents to educate our children, and the mothers who provide nurture and care for their children. I also admire the women who serve in our military and the mothers who instill patriotism and a love for freedom in the hearts of their children.
How will you address unequal pay for working women?
Federal law already forbids employers from engaging in wage discrimination on the basis of sex. I support that law, and like any common sense person, I believe that wage discrimination is unacceptable. There should be no wage discrimination, but where there is, action can and should be taken under existing federal law.
Everything Congress does should be aimed at maximizing job opportunities. I favor lowering taxes and cutting unnecessary red tape for the purposes of encouraging greater innovation, business productivity, job creation, and international competitiveness. In general, I oppose proposed laws aimed at establishing additional regulatory compliance burdens for businesses because I believe such laws will lead to job losses for both men and women.
Wild Card! Favorite movie theater snack?
Diet Coke, gummy bears, and roasted hot almonds.
Follow Mia Love @MiaBLove // Facebook // campaign website
Check out msnbc's Women of 2014 Twitter Trail to follow 2014 candidates to watch all in one place!