Women are at the forefront of many of this year's critical and most-watched races. From candidates for governorships making waves from red-to-blue states, to game-changing senate seats up for grabs, women are making their voices heard now more than ever. Pivotal issues, including equal pay for women, health care, and campus sexual assault are front and center in Washington and statewide with women leading the charge. While the 113th Congress boasted 20 female senators – more than any other Congress to date, women still only make up 24.2% of state legislators in the U.S. With only a few months until the November midterm elections, it's down to the wire for many candidates striving to change all that and bring a female perspective to the table.
To showcase a year of textbook races for women, msnbc introduces '30 in 30,' a new series where the 30 of the most dynamic women candidates seeking office in 2014 will be spotlighted: One a day over the next 30 days. The candidates – Democrat and Republican – have answered questions based on women's issues and being a woman in a male-dominated industry. Welcome to Day 22!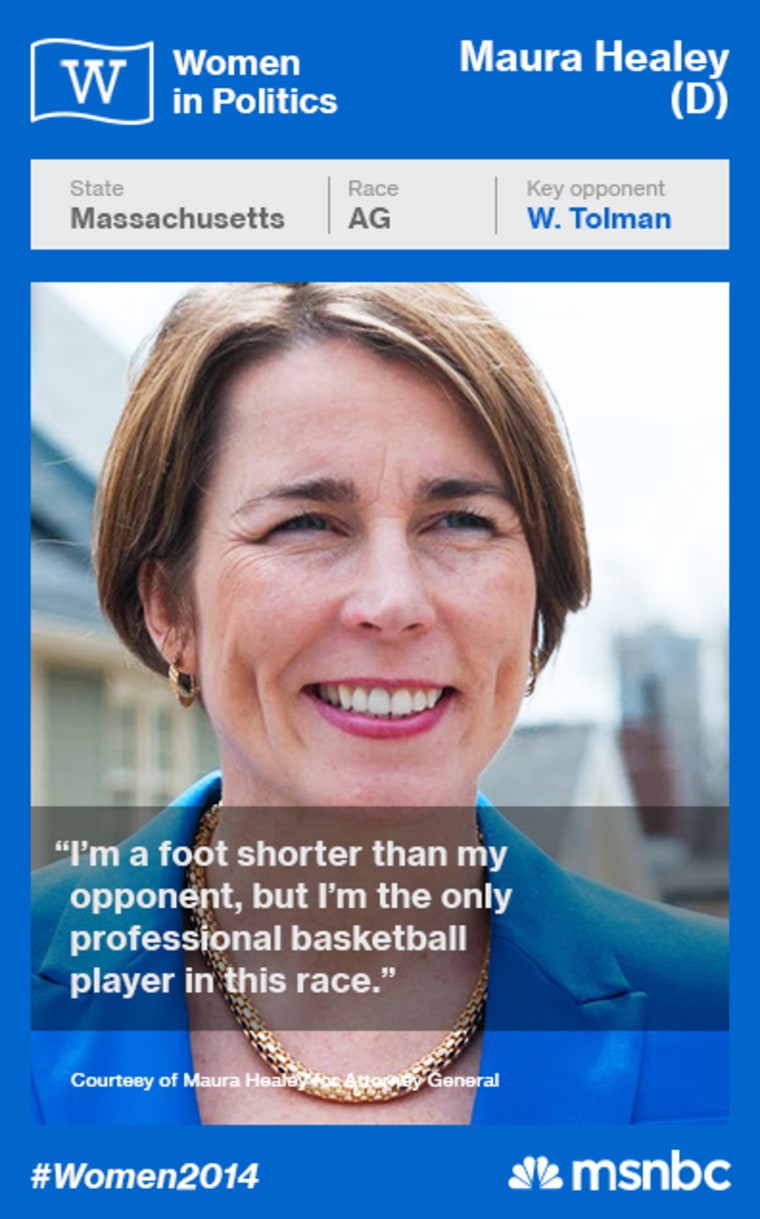 Party Affiliation: Democrat
Race: Massachusetts Attorney General
Challenger: Democrat Warren Tolman (primary race)
Here's the deal: Healey -- a former pro-basketball star -- is vying to take over Martha Coakley's seat as attorney general of Massachusetts. This is her first time running for office -- she was previously a civil rights attorney and a prosecutor. Healey faces Democrat Warren Tolman, recently under fire for calling the candidate "unbecoming" in a recent debate. 
***
How has being a woman in a field dominated by men impacted your race so far?
Before this campaign, I had never run for office before and I've had to work hard every day to prove that I could handle the campaign trail. Some voters can be a little skeptical of a woman running to be chief law enforcement officer, but I think we have brought them around.
I'm a foot shorter than my opponent, but I'm the only professional basketball player in this race (I played point guard overseas for two years after captaining my college team). I think the drive you learn in sports has really helped me as a candidate.
What will you bring to Massachusetts that your opponent can't?
The Attorney General has broad authority but she's first and foremost the state's chief law enforcement office and head of a 500-person legal team that works on behalf of the public on everything from defending civil rights and environmental laws, to prosecuting human trafficking, cybercrime and scam artists.
I'm the only candidate who's worked as a civil rights attorney or a criminal prosecutor. I'm the only candidate who's managed teams of lawyers or who's argued cases in court on behalf of the public. Over the past seven years, I've used the law to fight for social and economic justice and to stand up for vulnerable people in Massachusetts. I don't come from a political insider background and I think an attorney general with that sort of independence makes a more effective legal advocate, more willing to challenge the status quo. My unique experience and independence are why I'm running.
If elected, what will be your No. 1 priority?
My priority is to use the Attorney General's Office as a voice and an advocate for the vulnerable. The powerful interests in our state have plenty of their own lawyers, but the Attorney General should work for everyone else.
We need to fight for guaranteed access to reproductive health care for every woman in Massachusetts and use the office more effectively to target domestic and sexual violence, protect children, and fight for equal pay. I will take on illegal gun trafficking in Massachusetts to reduce the violence in our neighborhoods. Our state is reeling from a prescription drug abuse and heroin epidemic and I want to direct more resources into treatment and away from incarceration.
Our Attorney General's Office has also been among the most aggressive consumer advocates in the country. I'll stand up for consumers by taking on predatory for-profit schools, abusive debt collectors, online payday lenders, and the illegal foreclosures still happening in our state, as well as the gaming industry if we end up with casinos in Massachusetts.
What can we expect to see from your campaign this summer?
You can expect to see me everywhere. I'm trying to meet as many people as possible. This has been a grassroots campaign from day one. We didn't have the political establishment behind us, so we took our campaign into communities and got people involved. I think it's made us a better campaign. Our primary is on September 9th, just after Labor Day, so in the next six weeks, I'll be trying to meet people at cookouts, parades, senior centers, churches, community meetings and basketball courts.  We'll also be knocking on a lot of doors, so if you live in Massachusetts, I might be ringing your doorbell.
What's one piece of advice you would give to young women looking to pursue a career in politics today?
Don't be afraid to ask for money. The man you're running against won't be.
Which women in politics inspire you?
I've always been inspired by Justice Ruth Bader Ginsburg. Long before she was appointed to the U.S. Supreme Court, Justice Ginsburg was a pioneering civil rights lawyer who challenged laws that made women second-class citizens. My former boss, Attorney General Martha Coakley, is also an inspiration. She's run a nation-leading Attorney General's Office. Martha's a powerful advocate for women and she's the only state AG with the courage to challenge DOMA.
How will you address unequal pay for working women?
The Attorney General is in charge of enforcing our state's civil rights and employment laws. In Massachusetts, if you pay someone less for the same job because of their sex, you're violating both. As Attorney General, I'll be vigilant about enforcing our laws and investigating the impact that workplace culture and leave policies play in softer discrimination. Remember, this issue isn't just about women, it's about the families and children that these women support, often as the head of household. This is a priority for me.
Wild Card! What's your favorite sea animal?
Dolphins, obviously.
Follow Maura Healey @maura_healey // Facebook // YouTube // campaign website
Check out msnbc's Women of 2014 Twitter Trail to follow 2014 candidates to watch all in one place!