Women are at the forefront of many of this year's critical and most-watched races. From candidates for governorships making waves from red-to-blue states, to game-changing senate seats up for grabs, women are making their voices heard now more than ever. Pivotal issues, including equal pay for women, health care, and campus sexual assault are front and center in Washington and statewide with women leading the charge. While the 113th Congress boasted 20 female senators – more than any other Congress to date, women still only make up 24.2% of state legislators in the U.S. With only a few months until the November midterm elections, it's down to the wire for many candidates striving to change all that and bring a female perspective to the table.
To showcase a year of textbook races for women, msnbc introduces '30 in 30,' a new series where the 30 of the most dynamic women candidates seeking office in 2014 will be spotlighted: One a day over the next 30 days. The candidates – Democrat and Republican – have answered questions based on women's issues and being a woman in a male-dominated industry. Welcome to Day 16!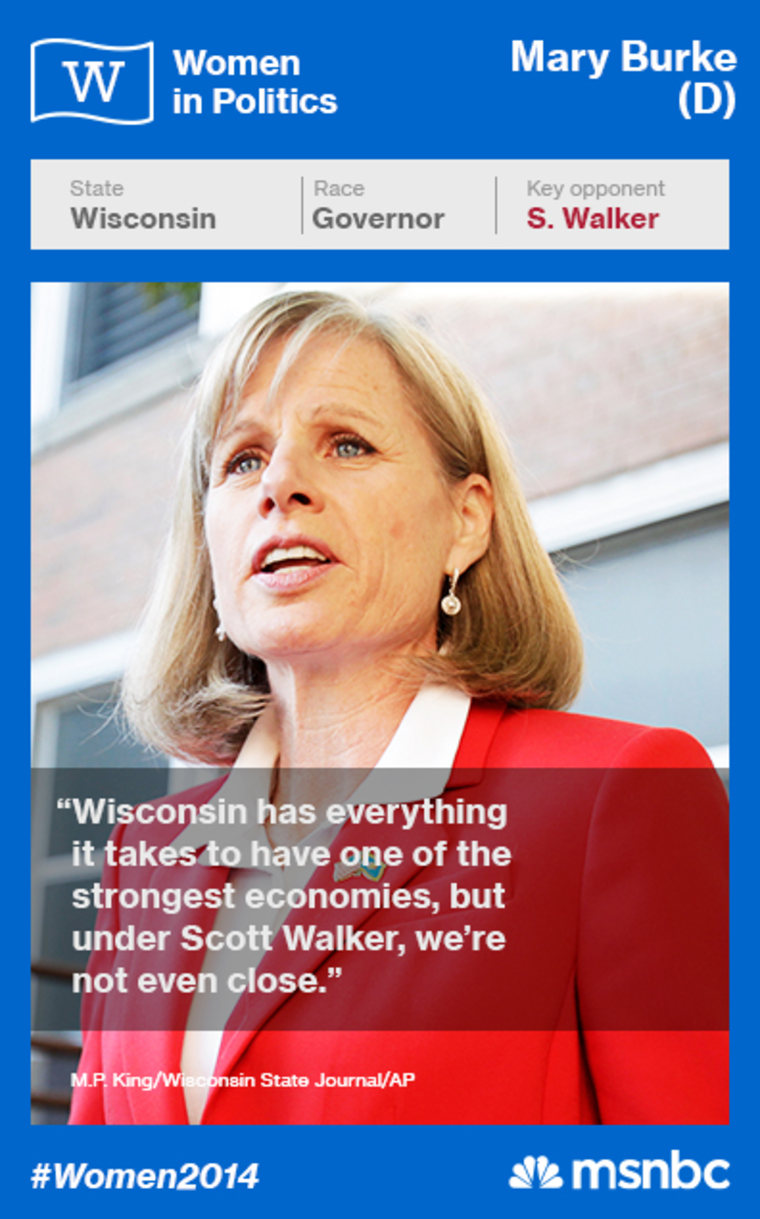 Party Affiliation: Democrat
Race: Wisconsin Governor
Challenger: Republican Scott Walker
Here's the deal: Burke made history when she became the first woman nominated by a major party for governor in Wisconsin. The latest poll out of Marquette Law School shows her in a dead heat against her Republican opponent, incumbent Scott Walker, at 47% to 46%. Burke previously served as Wisconsin secretary of commerce, and before that, worked for her family's business, Trek Bicycle, now an international company. Burke has focused on public education, jobs and economic issues throughout her campaign. 
***
How has being a woman in a field dominated by men impacted your race so far?
For me, this campaign has always been more about different types of leadership than it has gender—it's about who will provide leadership that focuses on the best interests of the people of Wisconsin. I'd certainly be honored to be the first woman governor of Wisconsin, and I am grateful to the many women who have blazed the trail and allowed me to do what I'm doing. My mother was the first in her family to go to college. She was in the business program at Marquette University, and when she graduated, the only jobs that were open to her were secretarial. Even though my mom was the better student, my dad -- who was also in business -- had more opportunities open to him because he was a man. But my focus throughout this campaign has been on allowing the people of Wisconsin to get to know me, my values, and the type of governor I'd be -- a governor who brings people together rather than dividing them.
What will you bring to the Governor's Office that your opponent can't?
Wisconsin has everything it needs to be a thriving, top 10 economy in the country: A competitive workforce, visionary entrepreneurs, and abundant natural resources. When it comes to job creation, I led the European Division at Trek where I opened up new global markets and increased sales from $3 million to over $50 million a year, creating good jobs right here in Wisconsin. I took the same private sector approach as Secretary of the Department of Commerce, at a time when Wisconsin had tens of thousands more jobs than we have today. I'm the only candidate in the race to have created jobs, met a payroll and balanced a budget in the private sector, and the only one to have started my own business.
The current administration has a very different record. Under Scott Walker, Wisconsin is dead last, tenth out of 10 among Midwestern states in private sector job creation. It's time for a governor who will put the politics aside and focus on creating a Wisconsin where businesses can start up and grow. I have the private sector experience to make it happen.
As governor, I will grow our economy and create jobs by strengthening our core industries like agriculture, manufacturing, tourism, forest products and technology. And because new and small businesses account for the majority of new job creation, I will make sure the infrastructure is there to support entrepreneurs and small business owners so we can improve our current ranking of 46th in the country in new business start-ups and continue building a thriving middle class.
If elected, what will be your #1 priority?
My top priority is jobs. I know Wisconsin has everything it takes to have one of the strongest economies anywhere, but under Scott Walker, we're not even close. I've spent most of my career in the private sector, and I know what it means to build a Wisconsin success story.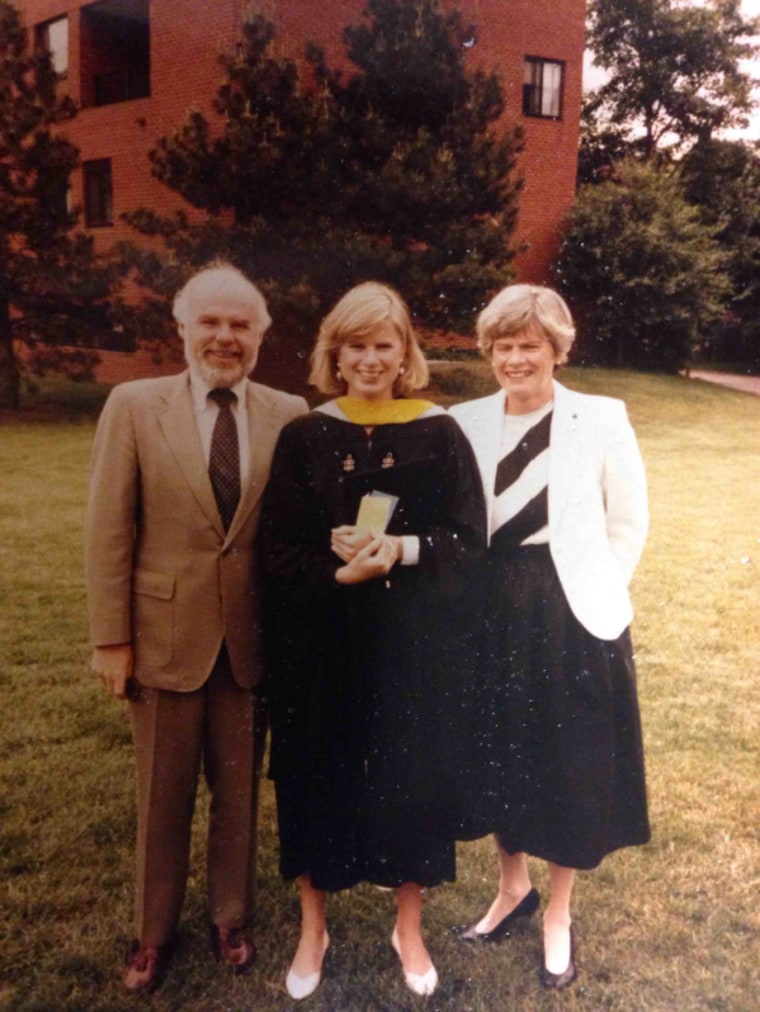 It starts with creating more good-paying jobs and making sure workers have the skills necessary to fill those jobs. Succeeding on those fronts strengthens and grows the middle class. And when the middle-class thrives, businesses grow—generating more jobs, opportunity, and prosperity for everyone.
As Governor, my goal is for job creation to outpace the nation until our economy catches up, and then set our sights on becoming a thriving, top ten economy in terms of job growth. In my jobs plan, "Invest for Success", I have laid out the five core strategies I'll use to build a stronger Wisconsin with a thriving economy.
Accountability is essential, so the final section of my jobs plan, lays out my plan for an online "Wisconsin Jobs" dashboard, and the metrics we'll use to track our progress, so that the public can hold me accountable.
What can we expect to see from your campaign this summer?
My campaign is going to be about the people of Wisconsin. I want to give every person in the state an opportunity to get to know me, my values, and the type of governor I would be. It means parades, county fairs, and street festivals. I believe in finding common ground and listening to different perspectives, so you will find me at business chamber of commerce meetings as well as progressive conferences. More than anything else, we have a history in Wisconsin of rolling up our sleeves and working together to tackle the hard issues. As Governor, I want to sit down with Democrats, Republicans, and Independents alike to make sure we consider every option and chose the best ones on the issues that matter most to Wisconsin.
What's one piece of advice you would give to young women looking to pursue a career in politics today?
That they should do it! We need women in politics. I believe diversity and representation of many different points of view is critically important. Women's voices need to be heard on every issue, but most especially on those that are directly related to our personal healthcare decisions and our equality.
"Women's voices need to be heard on every issue, but most especially on those that are directly related to our personal healthcare decisions and our equality."'
Which women in politics inspire you?
Every day I meet or read about remarkable women who have stepped forward to lead and inspire us. They don't do it for themselves or for the limelight—they do it to stand up for what they believe in. Just a few of these are Rosa Parks, who changed the world for the better by the simple, heroic act of not giving up her seat on the bus. And Aung San Suu Kyi, who has endured decades of personal hardship to democracy. And Ellen Johnson-Sirleaf in Liberia who has led a war-ravaged, poverty stricken country to democracy and improved lives for millions of people. But there are many others—most of whom are never known to the outside world—who make sacrifices to be leaders in their communities. They are the true inspiration.
How will you address unequal pay for working women?
As laid out in my jobs plan, "Invest for Success," I will reinstate the Wisconsin's 2009 Equal Pay Protection Act that Scott Walker repealed and work to raise the minimum wage to $10.10 an hour in three steps over two years.
Wild Card! What's your favorite kind of cheese?I love all Wisconsin cheeses! But if I have to choose just one, I'd go with Pleasant Ridge Reserve from Upland's Cheese, made right here in Wisconsin—the most-awarded cheese in American history.
Follow Mary Burke @Burke4WI // Facebook // YouTube // campaign website
Check out msnbc's Women of 2014 Twitter Trail to follow 2014 candidates to watch all in one place!