Women are at the forefront of many of this year's critical and most-watched races. From candidates for governorships making waves from red-to-blue states, to game-changing senate seats up for grabs, women are making their voices heard now more than ever. Pivotal issues, including equal pay for women, health care, and campus sexual assault are front and center in Washington and statewide with women leading the charge. While the 113th Congress boasted 20 female senators – more than any other Congress to date, women still only make up 24.2% of state legislators in the U.S. With only a few months until the November midterm elections, it's down to the wire for many candidates striving to change all that and bring a female perspective to the table.
To showcase a year of textbook races for women, msnbc introduces '30 in 30,' a new series where the 30 of the most dynamic women candidates seeking office in 2014 will be spotlighted: One a day over the next 30 days. The candidates – Democrat and Republican – have answered questions based on women's issues and being a woman in a male-dominated industry. Welcome to Day 15!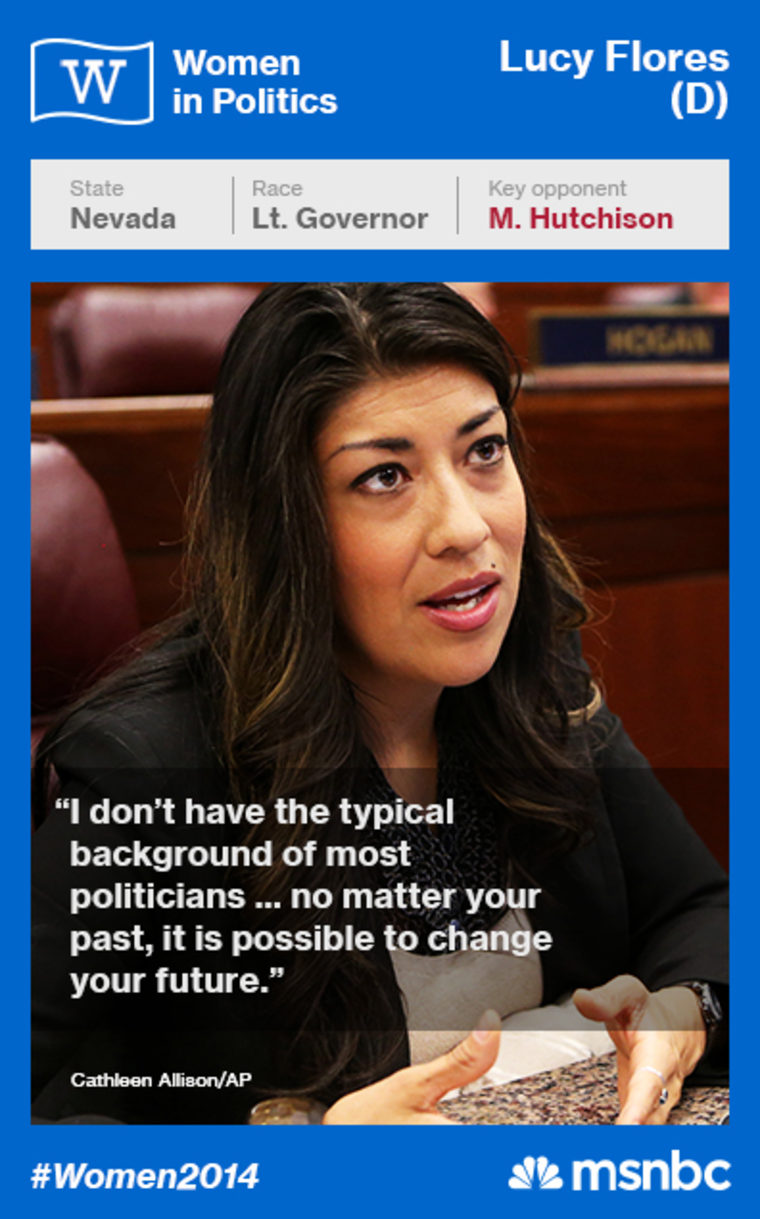 Party Affiliation: Democrat
Race: Nevada Lt. Governor
Challenger: Republican State Sen. Mark Hutchison
Here's the deal:  Flores, a Latina rising star in Nevada who overcame troubles at a young age -- including being in a gang and dropping out of high school -- has said, if elected, she will help every Nevadan "not just the privileged few." The race has gotten attention as Nevada's partisan power may depend on the outcome: Senate Majority Leader Harry Reid has supported Flores; the state's Republican Governor Brian Sandoval is banking on a Hutchison win. Sandoval could potentially challenge Reid in 2016 -- but it would mean giving up his governors seat, and passing it on to Flores could leave the Republican party weak if he then lost to Reid. Reid has spoken highly of Flores, saying "Demographically, she's perfect: Young, dynamic, Hispanic." 
***
How has being a woman in a field dominated by men impacted your race so far?
Well, my race is against one male Republican opponent and we have significant differences. I believe funding education is the best investment we can make in our future to help every child reach their full potential and it is key to creating jobs here in Nevada. I also support women making their own decisions about their reproductive health care, and tighter background checks to keep guns out of the hands of the mentally ill.
What will you bring to Washington that your opponent can't?
My passion is to ensure a quality education for every child, a strong economy that benefits every family, and a fair shot at the American Dream for all Nevadans. I don't have the background of a typical politician and I want to reform the office of Lieutenant Governor to make it a watchdog for putting the needs of people first.  
If elected, what will be your No. 1 priority?
My top priority for Nevada will be looking out for every day Nevadans, investing in education and strengthening the economy for working families. We need to give every child access to a quality education, because it is the best investment we can make in our future. I understand how important this investment is in our children because I've lived it.  
What can we expect to see from your campaign this summer?
I will continue to travel around the state and listen to voters – people in Nevada are sick of policies that favor the wealthy over average Nevadans, like corporate tax cuts and inadequate school funding. I am also strongly encouraging people to register and vote and participate fully in this election. Who we elect to state and local office matters! There is too much at stake and our democracy is stronger when we hear every voice.  
"We need to give every child access to a quality education, because it is the best investment we can make in our future."'
What's one piece of advice you would give to young women looking to pursue a career in politics today?
As you know, I don't have the typical background of most politicians. I think it's important to keep in mind that no matter your past, it is possible to change your future. I realized that education was the key to my future and I had incredible mentors in my life who encouraged me along the way. I encourage young women to seek out their dreams and find people to support them in their pursuits.
Which women in politics inspire you?
Senator Elizabeth Warren. She's a true champion for the little guy and fights for an America, just like I do, where no matter where you come from, everyone gets the same shot at life. 
How will you address unequal pay for working women?
Unequal pay for working women is a serious issue. Even in Nevada, where this gap is less than in other states – with women earning 85 cents to a man's dollar, ANY difference hurts women and families' paycheck. Paychecks are already stretched too far to make ends meet. We need to hold corporations and businesses accountable for this difference.  In addition, women are a majority of minimum wage workers and we need to see an increase in our minimum wage.  
Wild Card! If you could only choose one ice cream topping it would be…
I try very hard, even during the campaign, to keep up with my running schedule and stay as healthy as I can. It helps to keep me energized for this grueling schedule! But I definitely treat myself once in a while so I would choose fresh strawberries with chocolate ice cream!
Follow Lucy Flores @LucyFlores // Facebook // campaign website
Check out msnbc's Women of 2014 Twitter Trail to follow 2014 candidates to watch all in one place!