Women are at the forefront of many of this year's critical and most-watched races. From candidates for governorships making waves from red-to-blue states, to game-changing senate seats up for grabs, women are making their voices heard now more than ever. Pivotal issues, including equal pay for women, health care, and campus sexual assault are front and center in Washington and statewide with women leading the charge. While the 113th Congress boasted 20 female senators – more than any other Congress to date, women still only make up 24.2% of state legislators in the U.S. With only a few months until the November midterm elections, it's down to the wire for many candidates striving to change all that and bring a female perspective to the table.
To showcase a year of textbook races for women, msnbc introduces '30 in 30,' a new series where the 30 of the most dynamic women candidates seeking office in 2014 will be spotlighted: One a day over the next 30 days. The candidates – Democrat and Republican – have answered questions based on women's issues and being a woman in a male-dominated industry. Welcome to Day 19!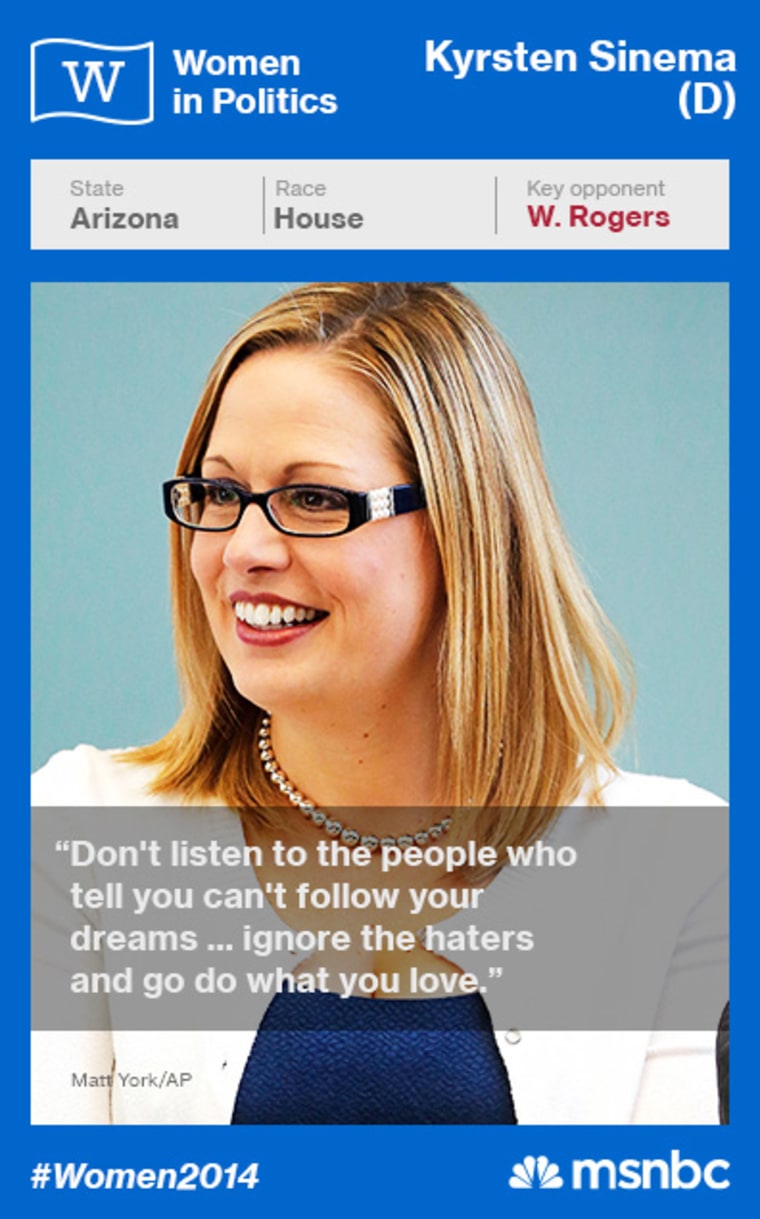 Party Affiliation: Democrat
Race: Arizona House
Challenger: Republican Wendy Rogers
Here's the deal: Sinema is running for reelection, vying to hold onto her U.S. House seat -- she previously held a seat in Arizona's state house and state senate. The first openly bisexual elected to Congress, Sinema has supported same-sex marriage and women's rights in Arizona. Sinema's known to reach the middle in the red state -- she is the co-founder of the United Solutions Caucus, a bipartisan group of House freshmen working on solutions for both parties.
***
How has being a woman in a field dominated by men impacted your race so far?
Our race is about who stands up for Arizona families, so my proven record of working with anyone to get things done for Arizona and our country is the focus of our campaign.
What will you bring to Washington that your opponent can't?
Arizonans are frustrated with the gridlock and partisan finger-pointing they see on the news, and they want solutions. I bring a track record of working with anyone to get things done for Arizona families, and I refuse to play partisan games. That's why I'm a co-founder of the United Solutions Caucus, a bipartisan group of House freshmen committed to finding bipartisan solutions to solve our country'sfiscal crisis. I am fighting for our veterans, standing up for middle class families, working to create good jobs and expand Arizona's economy and protecting a woman's right to make her own reproductive health care decisions.
I have fought for Arizona families since first taking public office a decade ago. Now that I represent Arizona's 9th District in Congress, my top priority continues to be serving the women, veterans, seniors, and families in my district. Our office is currently working on solutions to the VA Health Care crisis, which first emerged at the VA hospital in my district. We have organized and staffed resource fairs for veterans in our district to access the care and resources they deserve. Constituent service is the top priority for our office and I am proud of the work we do every day to help individuals and families in our community.
What can we expect to see from your campaign this summer?
We'll be talking to voters about the successes we've had in standing up for Arizona both in Washington and here at home, and we'll continue to listen and respond to residents about what's most important to their families and businesses.
What's one piece of advice you would give to young women looking to pursue a career in politics today?
I have two pieces of advice! First, don't listen to the people who tell you can't or you shouldn't follow your dreams. You can be anything - and everything - you want to be. So ignore the haters and go do what you love. Second, learn everything you can. Take every opportunity to further your education through formal (college) and less formal (internships, mentors) methods. Fill your toolbox with every tool you can, and know that it'll all help you be better at every endeavor in life. There's no such thing as too much learning. Be greedy about learning!
Which women in politics inspire you?
I am lucky to work with many incredible women who inspire me. I've always admired Sandra Day O'Connor, former Arizona state senator and first female Supreme Court justice. She's a tough, smart woman. I served in the Arizona Legislature with Gabby Giffords; she gave me good advice in my early years in politics and she inspires me to be stronger every day. Senator Kirsten Gillibrand and Congresswoman Tulsi Gabbard are two dear friends that I'm lucky to serve with in Congress. They're strong and smart and never give up.
How will you address unequal pay for working women?
Women are the primary source of income for nearly half of American households. We must eliminate income inequality to protect and preserve the middle class in our country. I sponsored the Paycheck Fairness Act, a bill ensuring women receive equal pay for equal work. It's a common sense bill that's way overdue.
Wild Card! What's the biggest risk you've ever taken (not political!)?
I signed up for the 2013 Arizona Ironman competition before I learned to swim. It was pretty scary, but sure enough, after 10 months of lessons and practice, I learned to swim. On November 17, I swam 2.4 miles in Tempe Town Lake (in my district!), rode 112 miles on my bike, and finished the race with a 26.2 mile marathon. It was a loooong day but one of the best of my life when I crossed that finish line!
Follow Kyrsten Sinema @RepSinema // Facebook // YouTube // campaign website
Check out msnbc's Women of 2014 Twitter Trail to follow 2014 candidates to watch all in one place!