Women are at the forefront of many of this year's critical and most-watched races. From candidates for governorships making waves from red-to-blue states, to game-changing senate seats up for grabs, women are making their voices heard now more than ever. Pivotal issues, including equal pay for women, health care, and campus sexual assault are front and center in Washington and statewide with women leading the charge. While the 113th Congress boasted 20 female senators – more than any other Congress to date, women still only make up 24.2% of state legislators in the U.S. With only a few months until the November midterm elections, it's down to the wire for many candidates striving to change all that and bring a female perspective to the table.
To showcase a year of textbook races for women, msnbc introduces '30 in 30,' a new series where the 30 of the most dynamic women candidates seeking office in 2014 will be spotlighted: One a day over the next 30 days. The candidates – Democrat and Republican – have answered questions based on women's issues and being a woman in a male-dominated industry. Welcome to Day 4!
Name: Kay Hagan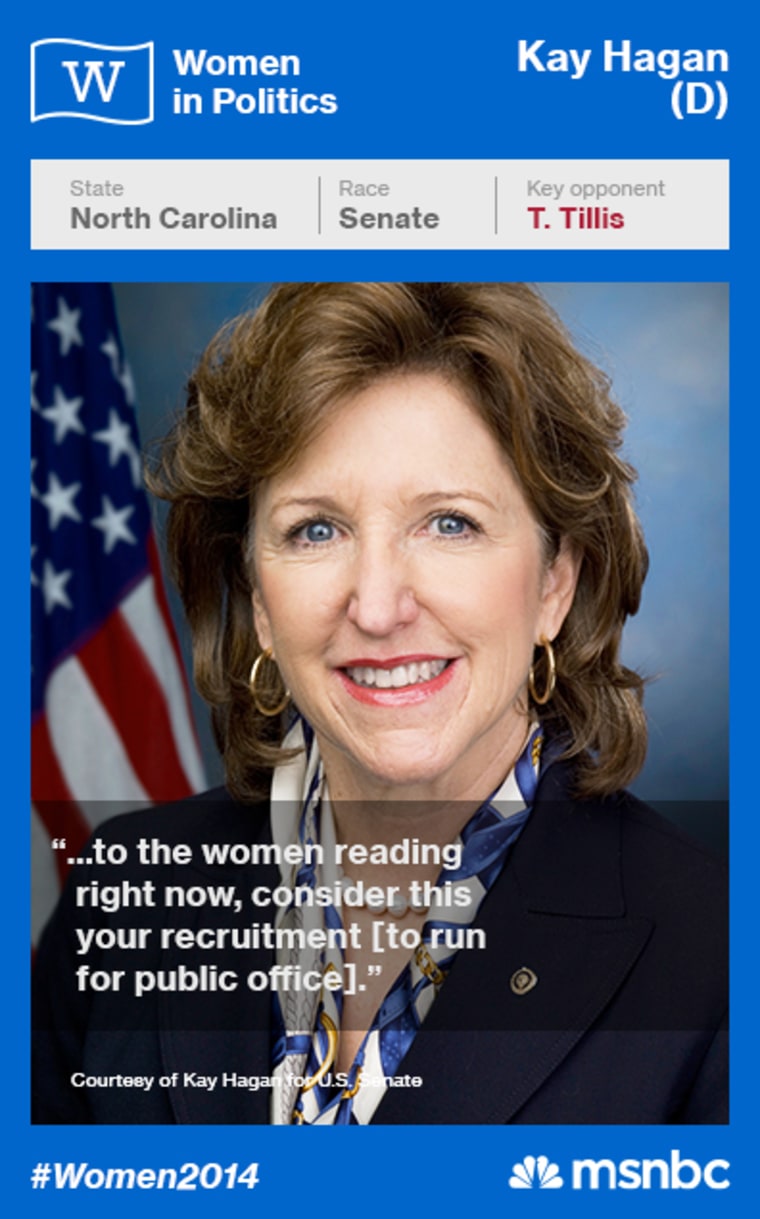 Race: North Carolina Senate
Challenger: Republican Thom Tillis, NC House Speaker
Here's the deal: Hagan's re-election race was initially projected to be a tough one for the first-term incumbent, but a recent poll from Public Policy Polling shows Hagan ahead of Tillis 41% to 34% -- marking the second month in a row she's taking the lead. Hagan has targeted women voters throughout her campaign and has strong endorsements from EMILY's List and Planned Parenthood. The first bill she co-sponsored was the Lilly Ledbetter Fair Pay Act. She comes out on top with the women vote, according to the PPP poll, 44% to 27%. Hagan has shown support for Obamacare Medicaid expansion. 
***
How has being a woman in a field dominated by men impacted your race so far?
Before I served in the U.S. Senate, I was a state Senator. Before that I worked at a bank for 10 years, so male-dominated industries are nothing new for me. Whether it's the financial industry or the U.S. Senate, I know firsthand how important it is to have women's voices at the table. I have spent my entire career standing up for the best interests of North Carolina women and their families. This election is ultimately a contrast – between my work to put North Carolina families first and my opponent, Speaker Thom Tillis, who passed a fringe, special interest agenda in Raleigh that has been bad for North Carolina women.
What will you bring to the table that your opponent can't?
I always put North Carolina first. And my record is clear – when it comes to the best interests of North Carolina's middle class families, I will never back down. As a state Senator, I co-chaired the Budget Committee where I invested in commonsense priorities like education. I included teacher pay increases in every budget I wrote.
In the U.S. Senate, I've built a track record of commonsense, bipartisan results for North Carolina. I've worked to boost our economy, improve our schools, defend women's health and economic opportunities and protect Social Security and Medicare because those are North Carolina's priorities. While I am focused on fighting for North Carolinians, Speaker Thom Tillis has the wrong priorities and is beholden to the special interests. He passed their agenda in Raleigh that included tax cuts for the wealthy while cutting almost $500 million fro public education, and he has promised more of the same if he gets the chance to go to Washington.
If elected, what will be your #1 priority?
Jobs and the economy are my number one priority. As North Carolina families are still struggling in this economy, we need to build an economy that works for everyone – not just the special interests. I supported a successful bill to encourage small business hiring and I support a $10.10 minimum wage increase that will help over a million North Carolina workers, when six out of 10 of minimum wage workers in North Carolina are women. I am also committed to ensuring that North Carolina women earn equal pay for equal work and I am proud that the first bill I co-sponsored was the Lilly Ledbetter Fair Pay Act. My bipartisan Hire A HeroAct was the basis for a bill we passed in 2011 to spur veterans hiring, and I've opposed trade deals that didn't do enough to protect jobs in my state. North Carolina workers are the best in the world, and we've got to make sure they have a level playing field.
What can we expect to see from your campaign this summer?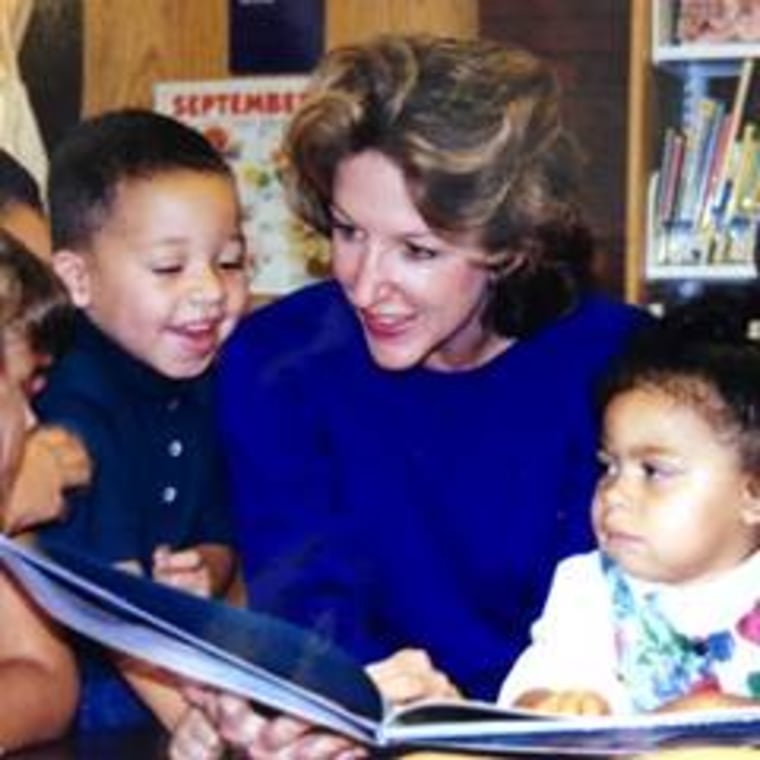 This summer, North Carolinians will see excitement and grassroots enthusiasm for our campaign in every corner of our state. We will continue talking about what's at stake this year and the stark contrast between my record of putting North Carolina first and Speaker Tillis' record of prioritizing the special interests. Our campaign will knock on more doors, make more phone calls, and talk to more voters about the contrast, and I am honored to have the support of so many North Carolina volunteers who are offering their time to build our grassroots effort. With their help, we're going to win this race in November.
What's one piece of advice you would give to young women looking to pursue a career in politics today?
Studies show that women, more than men, need to be recruited to run for public office. So every time I speak to a group of young women, I tell them that I am their "recruiter," and I encourage them to consider taking their advocacy and energy a step further by running for public office – whether it's for the local school board, city council, or the United States Senate.
We need more women at all levels of elected office. In all my time in public service, I have found that it is women, in particular, who work across the aisle, hold government accountable, and bring a commonsense voice to our policy-making dialogue – something that is all too rare in Washington these days. So, to the women reading right now, consider this your recruitment. 
"We need more women at all levels of elected office."'
Which women in politics inspire you?
Today, I am proud that we have a record number of women in the U.S. Senate – 20 women to 80 men – and although we are working hard to increase our numbers, it is my female colleagues who truly inspire me. Even though the women of the Senate span the ideological spectrum, when it comes to bridging the partisan divide, we know how to work together to get the job done. Many of us have different experiences in life – some are former prosecutors, some businesswomen, some attorneys, and some who have even been derided as just "a mom in tennis shoes," but despite our differences, we've been able to build strong relationships both personally and professionally.
How will you address unequal pay for working women?
The first bill I co-sponsored in the Senate was the Lilly Ledbetter Fair Pay Act, which guarantees that workers who have been discriminated against have the ability to hold those responsible accountable. Helping this bill become law was one of my proudest moments in Washington, but our work is not done. Congress needs to pass the Paycheck Fairness Act to give women the tools they need to fight pay discrimination.
This isn't just a women's issue – it's an economic one. More families now depend on women's income, either as the sole or co-breadwinner, and every penny matters for their bottom lines. Pay discrimination doesn't just affect women. It also negatively impacts our families and communities.
Wild Card! What's your favorite form of social media, if any?
My kids and my staff have recently shown me Instagram, which might be one of my favorites. It's a fun way to track photos of my new grandson, and I love getting to share "Throwback Thursday" photos that include some great hairstyles and outfits from back in the day. 
Follow Kay Hagan @kayhagan // Instagram // Facebook // campaign website
Check out msnbc's Women of 2014 Twitter Trail to follow 2014 candidates to watch all in one place