Women are at the forefront of many of this year's critical and most-watched races. From candidates for governorships making waves from red-to-blue states, to game-changing senate seats up for grabs, women are making their voices heard now more than ever. Pivotal issues, including equal pay for women, health care, and campus sexual assault are front and center in Washington and statewide with women leading the charge. While the 113th Congress boasted 20 female senators – more than any other Congress to date, women still only make up 24.2% of state legislators in the U.S. With only a few months until the November midterm elections, it's down to the wire for many candidates striving to change all that and bring a female perspective to the table.
To showcase a year of textbook races for women, msnbc introduces '30 in 30,' a new series where the 30 of the most dynamic women candidates seeking office in 2014 will be spotlighted: One a day over the next 30 days. The candidates – Democrat and Republican – have answered questions based on women's issues and being a woman in a male-dominated industry. Welcome to Day 7!
Name: Jeanne Shaheen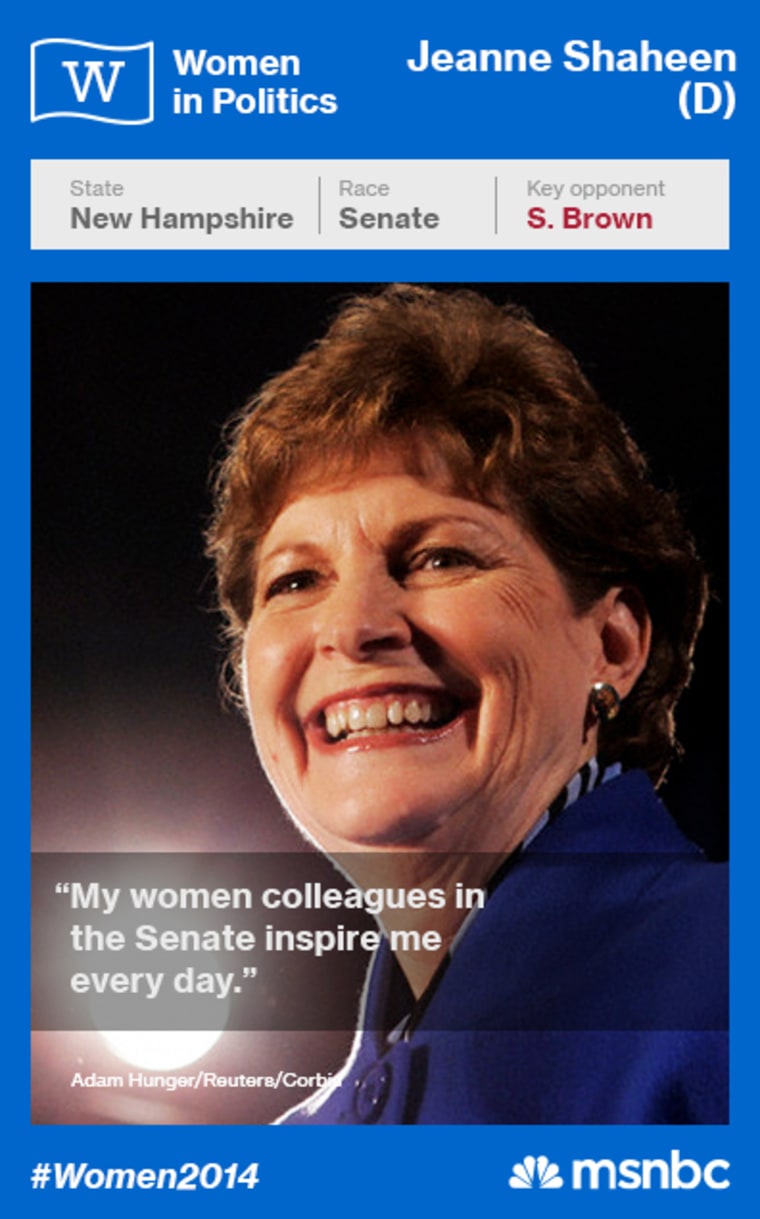 Party Affiliation: Democrat
Race: New Hampshire Senate
Challenger: Republican Scott Brown
Here's the deal: Shaheen is New Hampshire's first female governor – and first female U.S. senator from the state -- she is the first woman in U.S. history to be elected as both governor and senator. In a recent poll, Shaheen topped GOP candidate -- and former Massachusetts senator -- 50% to 42%. The incumbent Democrat is also ahead of her opponent in fundraising by nearly a million dollars in the second quarter.
How has being a woman in a field dominated by men impacted your race so far?
It really hasn't. New Hampshire has a history of electing women leaders, and voters here elected me Governor three times and to the U.S. Senate – I am proud to be first and only woman in American history to serve in both roles.
What will you bring to Washington that your opponent can't?
I see my job as protecting and promoting the interests of the people of New Hampshire. As someone who raised three daughters who attended local public schools in New Hampshire and who has served as State Senator, Governor and U.S. Senator, I understand the needs and values of the people of New Hampshire in a very deep and personal way.
If elected, what will be your No. 1 priority?
My number one priority will be working to create economic opportunity for people in New Hampshire.
What can we expect to see from your campaign this summer?
I believe strongly in the importance of grassroots organizing. My campaign will continue to build its volunteer network, and I will get around the state trying to hear what's on the mind of as many people as possible. We have been running positive campaign ads highlighting my Senate work and plan to do so throughout the summer.
What's one piece of advice you would give to young women looking to pursue a career in politics today?
Get involved working for something you believe in.  Once you first get involved, you will get involved again and again.
Which women in politics inspire you?
My women colleagues in the Senate inspire me every day. 
How will you address unequal pay for working women?
I began working on equal pay for women when I chaired the Employment Taskforce of the New Hampshire Commission on the Status of Women in the early 1980's. Our report concluded that equal pay, like other issues of women's employment, affect not only women but also their families.  As Governor, I strengthened New Hampshire's equal pay law, and I was a cosponsor of the Lilly Ledbetter Fair Pay Act in the U.S. Senate. I am currently a cosponsor of the Pay Check Fairness Act to ensure that women receive equal pay for equal work. 
Wild Card! What's the first concert you ever attended?
It may not have been my first, but perhaps the most exciting was a Doors concert that I attended in Hawaii in 1968.
Follow Jeanne Shaheen @SenatorShaheen // Facebook // Instagram // campaign website
Check out msnbc's Women of 2014 Twitter Trail to follow 2014 candidates to watch all in one place!