Women are at the forefront of many of this year's critical and most-watched races. From candidates for governorships making waves from red-to-blue states, to game-changing senate seats up for grabs, women are making their voices heard now more than ever. Pivotal issues, including equal pay for women, health care, and campus sexual assault are front and center in Washington and statewide with women leading the charge. While the 113th Congress boasted 20 female senators – more than any other Congress to date, women still only make up 24.2% of state legislators in the U.S. With only a few months until the November midterm elections, it's down to the wire for many candidates striving to change all that and bring a female perspective to the table.
To showcase a year of textbook races for women, msnbc introduces '30 in 30,' a new series where the 30 of the most dynamic women candidates seeking office in 2014 will be spotlighted: One a day over the next 30 days. The candidates – Democrat and Republican – have answered questions based on women's issues and being a woman in a male-dominated industry. Welcome to Day 2!
Name: Emily Cain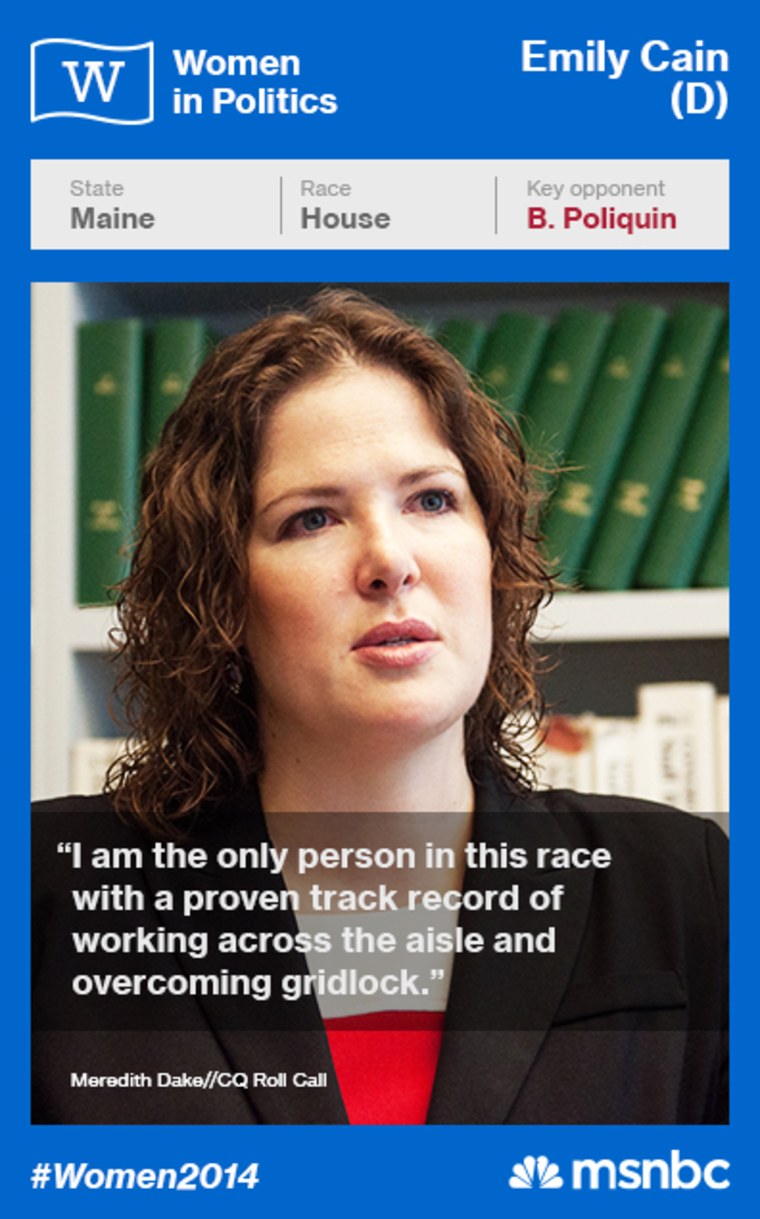 Party Affiliation: Democrat
Race: Maine House
Challengers: Republican Bruce Poliquin, Independent Blaine Richardson
Here's the deal: Cain would be the first Democratic woman to represent Maine's 2nd Congressional District. Facing tea party candidate, Poliquin, a former state treasurer. Cain's ad was chosen as TIME's top 6 best political campaign ads of the summer. Cain is the youngest woman legislator in history to hold the House minority leader position in Maine. She outraised her opponent in 2nd quarter fundraising by $83,000. 
How has being a woman in a field dominated by men impacted your race so far?
Maine has a long history of electing strong women to the United States Congress – Margaret Chase Smith, Olympia Snowe, Susan Collins, Chellie Pingree – so I am keeping good company as I seek to represent Maine in Congress.
With so many issues in the news every day that impact women uniquely – especially issues that impact a woman's ability to succeed economically and make her own health care decisions  – I believe I offer a clear choice in this race as someone who can provide an effective and compelling voice for Maine women and women across the country.  
What will you bring to Congress that your opponent can't?
Put plainly, I know how to do the right thing for Maine people. Congress needs to start working again, and I am the only person in this race with a proven track record of working across the aisle and overcoming gridlock in the most trying situations to get things done.
For the past 10 years I have worked effectively across the aisle in some of the most difficult of circumstances. As House Chair of the Appropriations Committee during the recession, I worked with my Republican colleagues to balance five, unanimous bipartisan budgets. As the youngest woman ever to lead the Minority Party in Maine, I refused to just say "no" to the Republican governor and legislature. When we didn't like their ideas, we showed leadership by offering alternatives and responding with "not that, but this, and here's why," always looking to find common ground rather than have a partisan fight. That session, we balanced the two-year budget, protected nursing homes, protected a woman's right to make her own healthcare decisions, and I even worked publicly with our often controversial Republican Governor to pass landmark legislation to break the cycle of domestic violence in Maine and keep victims safe. As a State Senator, I have chaired the bipartisan Government Oversight Committee, and personally worked to balance budgets that keep promises to teachers and public employees, invest in research, economic development, and support for small businesses.
"So many women think of themselves as not qualified to run for office, and they are all wrong."'
If elected, what will be your #1 priority?
As a member of Congress, I will spend every day working to create more opportunities for Maine families and to get Maine's economy moving. This means working to improve our tax system so it works for middle class families and small businesses, and taking on the challenge of student debt, because drowning in debt is no way to start a career on the right track. Too many Maine families are living on the edge, working more than full time and still living in poverty. That is wrong, and I will be the voice at the table to foster growth in the economy so we can achieve an economy that works for everyone.
What can we expect to see from your campaign this summer?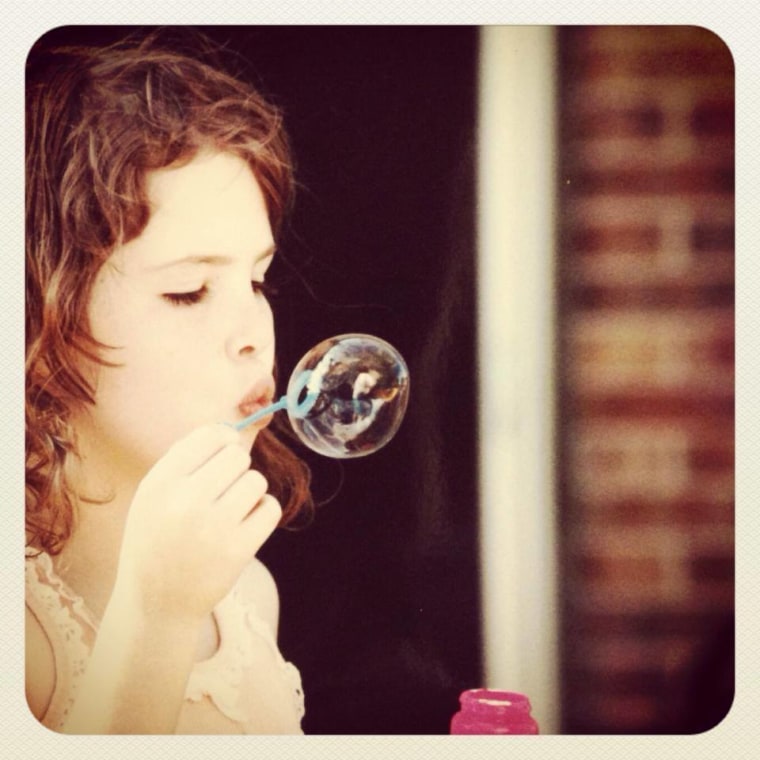 Maine's second congressional district is the largest district (geographically) east of the Mississippi River, so I will spend my time on the phone and on the road this summer connecting with Mainers and listening to the issues important to them. However, I believe I am the luckiest candidate for Congress in the country because this summer we will be attending festivals and fairs across Maine dedicated to delicious Maine food. There are festivals that celebrate blueberries, potatoes, whoopie pies, Moxie, and more that make me very proud to live in such an amazing state.
What's one piece of advice you would give to young women looking to pursue a career in politics today?
Go for it! Put running for office on your "to do" list right now.  So many women think of themselves as not qualified to run for office, and they are all wrong. The best elected officials are the ones who bring their own personal experiences to the table and who can speak up effectively on issues that impact their communities. We need more women to step up and run at every level of government.
Which women in politics inspire you?
Two women who have inspired me have held the seat I am running for today. Margaret Chase Smith and Olympia Snowe were both leaders for Maine and the nation in the U.S. House and Senate. Both women brought their Maine work ethic and values to D.C., and they found a way to work with colleagues and presidents of differing parties, even when they had disagreements. The careers of Smith and Snowe inspire me because I believe it is essential that our elected officials stay at the table to listen to each other and put aside their party ideologies in order to keep our country on the right track. Smith and Snowe, both Republicans, represented this district with distinction. If elected, I will be the first Democratic woman to represent Maine's 2nd Congressional District, and I will work hard to live up to the standard both Margaret Chase Smith and Olympia Snowe set.
How will you address unequal pay for working women?
We need to build an economy that works for everyone. Women are often the breadwinners for families today, yet in Maine and across the country they are paid less than their male counterparts, and make up the majority of minimum wage workers. This inequity is bad for families and for communities. I support the Paycheck Fairness Act and raising the minimum wage as two concrete steps we can take to end gender discrimination in pay.
Wild Card!  What's the best vacation you've ever been on?
The best vacation for my husband Danny and me is a long weekend at our small camp on Pushaw Lake in Maine. We love the sunrises and sunsets, listening to the loons, reading a book, and cooking delicious meals with friends. There is nothing more relaxing! 
Follow Emily Cain  @CainforCongress // Facebook // Instagram // campaign website
Check out msnbc's Women of 2014 Twitter Trail to follow 2014 candidates to watch all in one place