Women are at the forefront of many of this year's critical and most-watched races. From candidates for governorships making waves from red-to-blue states, to game-changing senate seats up for grabs, women are making their voices heard now more than ever. Pivotal issues, including equal pay for women, health care, and campus sexual assault are front and center in Washington and statewide with women leading the charge. While the 113th Congress boasted 20 female senators – more than any other Congress to date, women still only make up 24.2% of state legislators in the U.S. With only a few months until the November midterm elections, it's down to the wire for many candidates striving to change all that and bring a female perspective to the table.
To showcase a year of textbook races for women, msnbc introduces '30 in 30,' a new series where the 30 of the most dynamic women candidates seeking office in 2014 will be spotlighted: One a day over the next 30 days. The candidates – Democrat and Republican – have answered questions based on women's issues and being a woman in a male-dominated industry. Welcome to Day 17!
Name: Cheri Bustos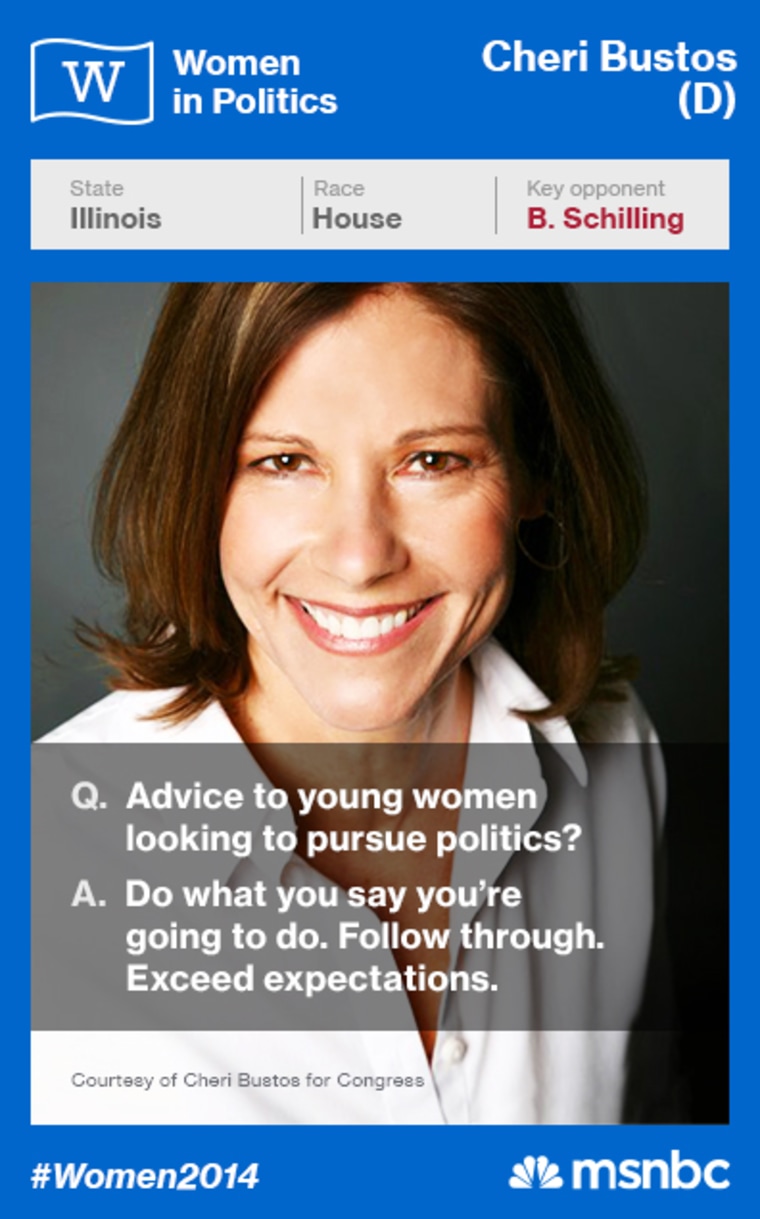 Party Affiliation: Democrat
Race: Illinois House
Challenger: Republican Bobby Schilling
Here's the deal: Bustos is vying to keep her seat in Illinois' 17th District, facing Republican Bobby Schilling -- a former congressman who she beat in 2012. Bustos -- the first woman elected in the District -- has supported raising the minimum wage earlier this year and has campaigned to get health care and good-paying jobs for veterans. Bustos is an original cosponsor of the Paycheck Fairness Act.
***
How has being a woman in a field dominated by men impacted your race so far?
I am the first woman to represent my region of Illinois in the U.S. House of Representatives, so I'm keenly aware of how far women have come in the fight for equal representation in our government and how far we still have to go. I think the current polarization and gridlock presents an opportunity for women representatives and candidates. We bring a different approach to governing that the American people are yearning for -- an earnest desire to collaborate, work together and find common ground. And with women in my region of Illinois still making a shameful 70 cents on the dollar compared to men, they need women representatives more than ever to help find solutions that will help ensure a brighter future for their families.
What will you bring to Illinois that your opponent can't?
A willingness to put the people I represent ahead of politics. I have fought and will continue to fight hard for the priorities of working families and the middle class, and I'll work with Democrats and Republicans to help everyday Americans and their children get ahead.
If elected, what will be your #1 priority?
Since being elected, I have fought tirelessly to create jobs for my region of Illinois. I will not lose sight of this priority and the need to increase economic opportunity for all and to strengthen our middle class.
What can we expect to see from your campaign this summer?
I'm going to continue doing what I've been doing since taking office—traveling across the 14 counties and 7,000 square miles that make up the 17th Congressional District of Illinois, listening to and talking with voters about what I can do to continue to fight for them and their families. I also enjoy going directly to the people with my regular "Cheri on Shifts," where I meet with and shadow workers at their job sites and "Supermarket Saturdays" where I chat with folks at local grocery stores to hear about the issues that matter most to them. 
What's one piece of advice you would give to young women looking to pursue a career in politics today?
Do what you say you're going to do. Follow through. Exceed expectations.
Reputations matter, in politics and in every field. You want to be known as someone who can be trusted to get things done and stick to your word.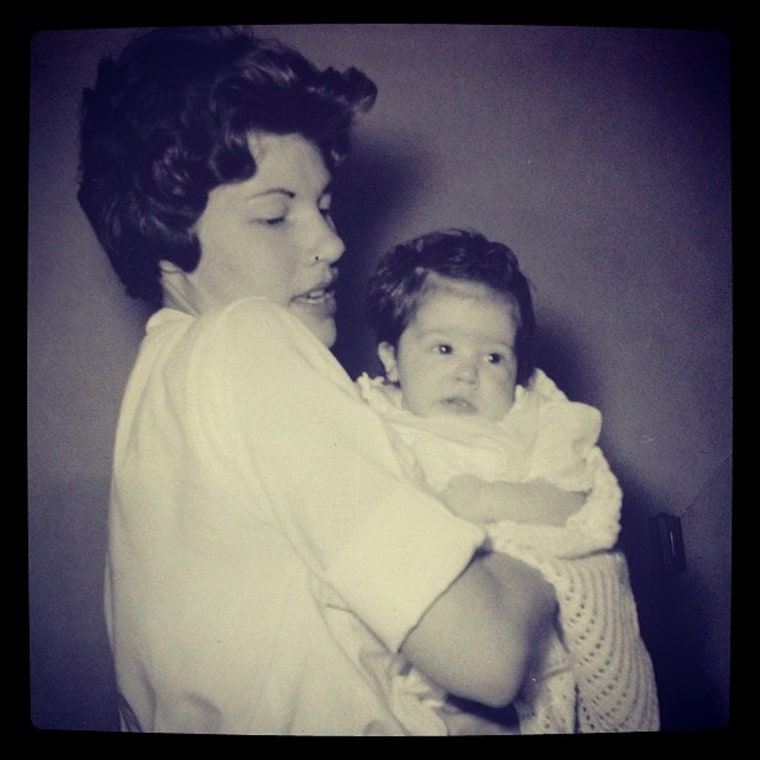 Which women in politics inspire you? 
I'm inspired by all the women who are getting involved in their government at both a local and federal level—there are many more of them now than when I was a young girl which is encouraging. I've greatly enjoyed getting to know the other women Members of Congress with whom I have the privilege of serving. The 113th Congress has the most women serving in American history! Many of my teammates on the Congressional Women's Softball team are not only inspirational but have become great friends of mine. We have productive working relationships and support each other both on and off the field.
How will you address unequal pay for working women?
I am a firm believer in equal pay for equal work—that's why I'm an original cosponsor of the Paycheck Fairness Act, a bill that will strengthen the Equal Pay Act by, among other things, prohibiting employers from retaliating against employees who file complaints or discuss wage issues with other employees. After all, women are now the primary breadwinners in more than 40% of American families. I also believe that to help working women and their families get ahead, we need a minimum wage that is a livable wage, access to affordable, quality childcare and paid sick leave.
Wild Card! Do you think Hillary Clinton is going to run for president in 2016?
Haha, I have no idea.  You'll have to ask her that.  But I know that we need women to run if we're going to have a woman president someday soon!
Follow Cheri Bustos @CheriBustos // Facebook // YouTube // campaign website
Check out msnbc's Women of 2014 Twitter Trail to follow 2014 candidates to watch all in one place!