Women are at the forefront of many of this year's critical and most-watched races. From candidates for governorships making waves from red-to-blue states, to game-changing senate seats up for grabs, women are making their voices heard now more than ever. Pivotal issues, including equal pay for women, health care, and campus sexual assault are front and center in Washington and statewide with women leading the charge. While the 113th Congress boasted 20 female senators – more than any other Congress to date, women still only make up 24.2% of state legislators in the U.S. With only a few months until the November midterm elections, it's down to the wire for many candidates striving to change all that and bring a female perspective to the table.
To showcase a year of textbook races for women, msnbc introduces '30 in 30,' a new series where the 30 of the most dynamic women candidates seeking office in 2014 will be spotlighted: One a day over the next 30 days. The candidates – Democrat and Republican – have answered questions based on women's issues and being a woman in a male-dominated industry. Welcome to Day 26!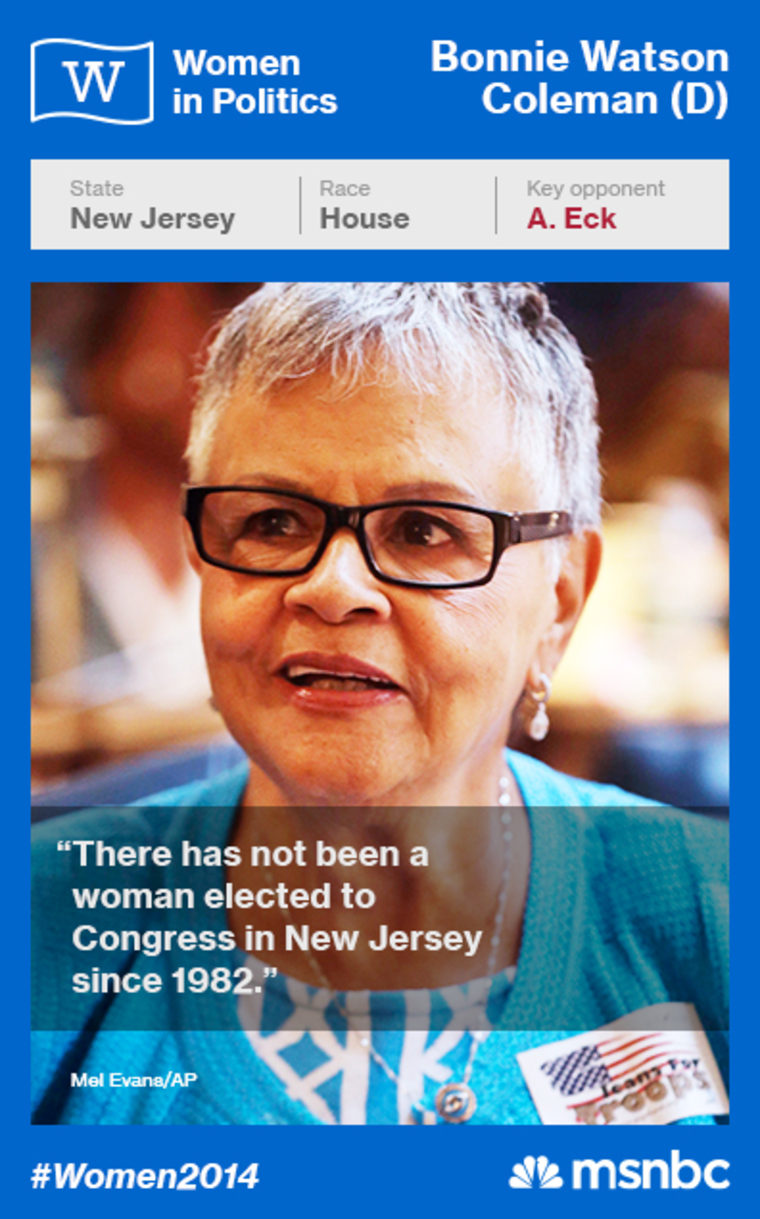 Name: Bonnie Watson Coleman
Party Affiliation: Democrat
Race: New Jersey House
Challenger: Republican Alieta Eck
Here's the deal: Coleman -- the first African-American house majority leader of the NJ general assembly and first African-American woman to win the democratic nomination -- has fought to increase minimum wage and increase jobs in the state. She was recently endorsed by the New Jersey Education Association. Coleman stood with Democratic National Chairwoman Rep. Debbie Wasserman Schultz on Monday to slam Gov. Chris Christie on the one year anniversary of "Bridgegate," once again calling for his resignation. If elected, Coleman would be the first woman elected to Congress in New Jersey in over 30 years.
How has being a woman in a field dominated by men impacted your race so far? I am the first African-American woman to win the democratic nomination and there has not been a woman elected to Congress in New Jersey since 1982. Our supporters are excited because we have the opportunity to make historyas the first African American woman ever elected to represent New Jersey in Congress. What will you bring to New Jersey that your opponent can't?
An alignment on the issues with the people of my district in areas like affordable health care, supporting a woman's right to choose, the elimination of the death penalty, pay equity and more stringent gun safety measures. There are many issues impacting middle class taxpayers on a daily basis that need to be addressed by our representatives in Washington and the conservative tea party ideology espoused by my opponent is not reflective of the constituency in our district.
If elected, what will be your No. 1 priority?
Extending our voice for people trying to navigate through this struggling economy with a strong focus on working through our foreclosure problem while we fight to create much needed jobs.
What can we expect to see from your campaign this summer?
Early field engagement and outreach to the voters in order to interact with our campaign and allow for the opportunity to listen to what people throughout the district want in their elected representative.
What's one piece of advice you would give to young women looking to pursue a career in politics today?
"Recognize that it is rare that you will be chosen, so if you desire elected office you will likely have to seek it out and make it happen on your own."
Which women in politics inspire you?
Shirley Chilsom, Bella Absug, Gerraldine Ferraro, Anne Richards, Hillary Clinton, and Elizabeth Warren. How will you address unequal pay for working women?
This issue of pay equity is an issue for women and minorities. We need to fight against disparaging treatment wherever it exists and work to level the playing field for everyone.
Follow Bonnie Watson Coleman @BWatsonColeman // Facebook // campaign website
Check out msnbc's Women of 2014 Twitter Trail to follow 2014 candidates to watch all in one place