Women are at the forefront of many of this year's critical and most-watched races. From candidates for governorships making waves from red-to-blue states, to game-changing senate seats up for grabs, women are making their voices heard now more than ever. Pivotal issues, including equal pay for women, health care, and campus sexual assault are front and center in Washington and statewide with women leading the charge. While the 113th Congress boasted 20 female senators – more than any other Congress to date, women still only make up 24.2% of state legislators in the U.S. With only a few months until the November midterm elections, it's down to the wire for many candidates striving to change all that and bring a female perspective to the table.
To showcase a year of textbook races for women, msnbc introduces '30 in 30,' a new series where the 30 of the most dynamic women candidates seeking office in 2014 will be spotlighted: One a day over the next 30 days. The candidates – Democrat and Republican – have answered questions based on women's issues and being a woman in a male-dominated industry. Welcome to Day 5!
Name: Ann Callis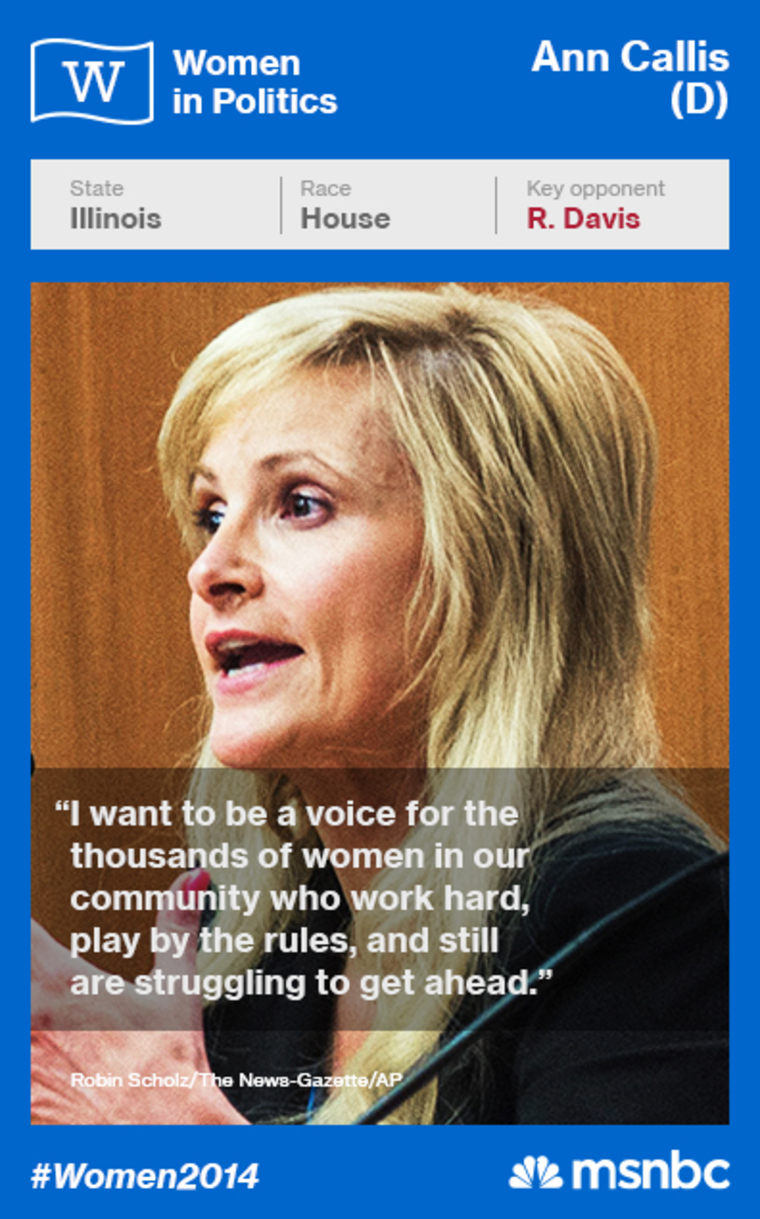 Party Affiliation: Democrat
Race: Illinois House
Challenger: Republican Rodney Davis
Here's the deal: Callis is a former Madison County chief judge -- the first female chief judge in Illinois' third Judicial district. Callis started Illinois' first special Veterans Court for Veterans facing legal issues and has since been an advocate for Veterans' needs. Callis's campaign has so far raised $1.3 million, about half of what her opponent's campaign has accrued. 
***
How has being a woman in a field dominated by men impacted your race so far?
I truly feel that being a woman, and particularly a mother, has had a large impact on my campaign. First, being a mother is one of the biggest reasons I decided to take this giant leap and run for office. Both of my children, my daughter Caroline, a public school teacher, and my son Elliot, an Army Ranger, are dedicating their lives to public service, thus they have inspired my own decision to run for Congress. On the campaign, I've had the privilege of advocating for important issues that affect all women, like demanding equal pay for equal work, pushing to raise our minimum wage and promoting the idea of paid family leave. I want to be a voice for the thousands of women in our community who work hard, play by the rules, and still are struggling to get ahead.
What will you bring to the role that your opponent can't?
I think I bring a unique perspective as a Judge, a proven record of results, and a plan to reform Washington. I've never been a part of the partisan bickering and finger-pointing that is rampant in Washington. As a Judge, I've been trained to listen to the facts, weigh both sides of an argument, and come to a conclusion. I think we need more of that in Washington. I also have a record of bringing people together and getting results for Illinois families. My work to start the state's first veteran's court, in addition to creating a mandatory foreclosure mediation program, has helped the people I was honored to serve. Finally, I bring a record of reform to Washington. Having made tough reforms to restore public confidence in the judicial system, I think we need to make some changes in Washington. I want to cut the generous perks for members of Congress and reduce the influence of lobbyists. It's time we get Washington back to helping people, not just helping themselves.
If elected, what will be your #1 priority?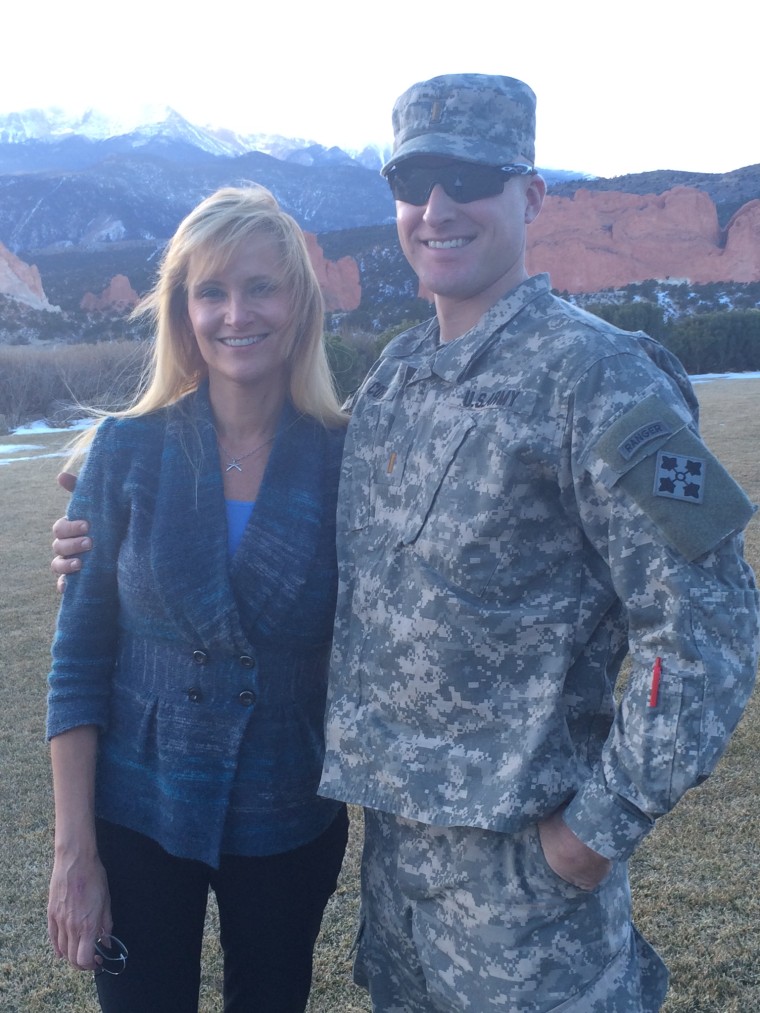 The most important issue to our community is how we can grow our economy and create jobs. That will be my focus from day one if I am honored to be elected. I truly believe we have opportunity to grow good-paying jobs in this district. I want to see us stop giving tax breaks to corporations that ship jobs overseas, and instead incentivize companies that grow jobs here. I would like to engage local businesses to expand on training and hiring our local veterans. I also want to expand on the wonderful research being done on the University of Illinois campus in my district, and link the universities and colleges in my district to local businesses and our local labor force to expand on apprenticeship programs.
What can we expect to see from your campaign this summer?
My campaign will continue to focus on spreading my message, recruiting our grassroots support, and communicating the importance of this election. I have a proven record of finding solutions for Illinois families. A lot of people throw around the phrase "problem-solver" but I can point to the Veterans Court and Foreclosure Mediation programs as examples to how I've brought people together to solve problems. We have a robust field program in our district that will continue to grow this summer to recruit volunteers, knock on doors, and make phone calls to get folks ready to turn out to vote in November. And finally, I will continue to talk about the importance of this election and the stark policy differences between myself and my opponent on nearly all issues important to this district. I will continue to voice strong support to raise the minimum wage, protect Social Security and Medicare, and reform the way Washington is run.
What's one piece of advice you would give to young women looking to pursue a career in politics today?
I would encourage all young women interested in public service to just go for it. I have found that being a public servant, from Chief Judge to congressional candidate, has been incredibly rewarding, but isn't always easy. Therefore, once the decision is made to run for office, I would advise young women to rely on their foundation, whether it be family, friends or both, and to also seek a mentor to guide you on your path. 
Which women in politics inspire you?
As a woman running for office, I truly admire those who have paved the way for my success. Hilary Clinton is obviously a role model for so many of us that want to stand up and serve our communities. I also admire Senators Warren, McCaskill and Gillibrand for their commitments to public service.
And I respect the approach Senator Olympia Snow brought to Washington. I think it's disappointing that someone who made it a point to put politics aside in order to focus on the priorities of everyday Americans felt they had to leave Washington to continue to make a difference. I'm ready to take up the cause of forging compromise based on common goals that put the best interest of Illinois families first.
"I would encourage all young women interested in public service to just go for it. I have found that being a public servant, from Chief Judge to congressional candidate, has been incredibly rewarding, but isn't always easy."'
How will you address unequal pay for working women?
This is an issue I have really been pushing during the campaign. I think it is ridiculous that in Illinois women make 78 cents for each dollar a man makes. This wage gap doesn't just affect women; It hurts families and the entire economy. Many households across Illinois rely on women's salaries as all or part of the family income. Paying women less for the same jobs their male co-workers do hurts families' ability to put food on the table, save for retirement, pay for health care or buy a house. To start, Congress must pass the Paycheck Fairness Act to ensure women are paid equally to their male colleagues for the same work. It's also time to raise the national minimum wage to $10.10 an hour. Here in Illinois, we know that six in 10 minimum-wage earners are women, many of whom are head of household. Raising the minimum wage would give more than 630,000 Illinois women a raise. Ending this wage gap gives women and families a fair chance to get ahead, not just get by.
Wild Card! What's the strangest thing that's happened to you on the campaign trail?
While there are many strange things that have happened on the campaign (being filmed at parades is definitely bizarre), by far the hardest part of my experience has been watching my son get deployed to Kuwait with the Army. The nerves of having a child deployed overseas, on top of the stresses of the campaign lifestyle, have created an intense experience.
Follow Ann Callis  @callis4illinois // Facebook // campaign website
Check out msnbc's Women of 2014 Twitter Trail to follow 2014 candidates to watch all in one place