Women are at the forefront of many of this year's critical and most-watched races. From candidates for governorships making waves from red-to-blue states, to game-changing senate seats up for grabs, women are making their voices heard now more than ever. Pivotal issues, including equal pay for women, health care, and campus sexual assault are front and center in Washington and statewide with women leading the charge. While the 113th Congress boasted 20 female senators – more than any other Congress to date, women still only make up 24.2% of state legislators in the U.S. With only a few months until the November midterm elections, it's down to the wire for many candidates striving to change all that and bring a female perspective to the table.
To showcase a year of textbook races for women, msnbc introduces '30 in 30,' a new series where the 30 of the most dynamic women candidates seeking office in 2014 will be spotlighted: One a day over the next 30 days. The candidates – Democrat and Republican – have answered questions based on women's issues and being a woman in a male-dominated industry. Welcome to Day 1!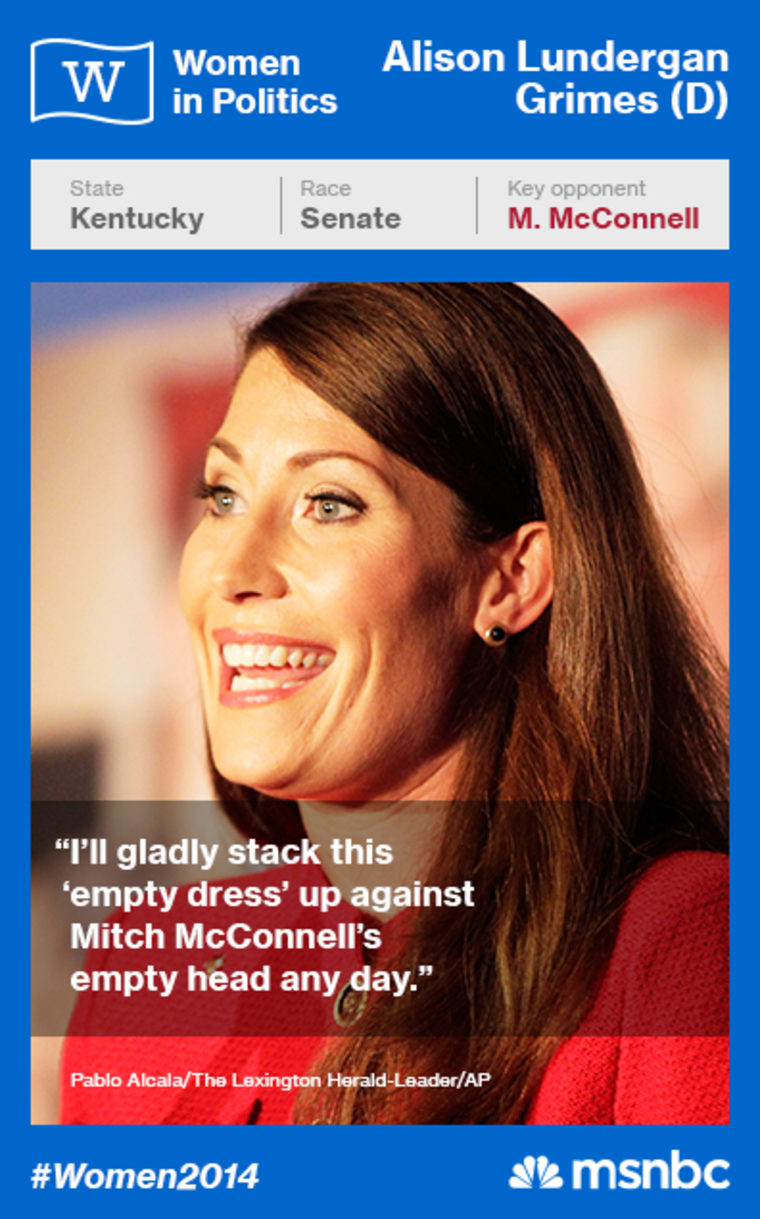 Party Affiliation: Democrat
Race: Kentucky Senate
Challenger: Senator Mitch McConnell
Here's the deal: As the youngest woman currently serving as secretary of state in the country, Grimes could replace Sen. McConnell in the Senate, the longest serving U.S. Senator in the history of Kentucky and the Senate Minority Leader. Former president Bill Clinton has campaigned for Grimes, endorsing her jobs plan. Grimes would become Kentucky's first woman Senator.
***
How has being a woman in a field dominated by men impacted your race so far?
I come from a large family of women, and my mother and two remarkable grandmothers taught me that women can and should make a difference at all levels and in every area – from government, to education, to technology. The idea that women are supposed to be "seen not heard" was never one that entered my mind.
I am proud to be a strong Kentucky woman. My opponent and his allies have called me every name in the book, even so graciously and gentlemanly referring to me as an "empty dress." But make no mistake – Kentuckians know that could not be further from the truth. I'll gladly stack this "empty dress" up against Mitch McConnell's empty head any day.
As the third of five sisters, I had to find my voice and strength early in life. Our parents and grandparents taught us that we had to find a way to get along and make the world around us better than we found it.
The issue that first inspired me to run for office is one that impacts many women and families. As an attorney, I represented women who were victims of domestic violence. I began to feel that I could better protect their interests from a government office than from a courtroom. One of my first actions as Kentucky's Secretary of State was to create the state's first address confidentiality program, which protects victims of domestic violence and sexual assault by removing their addresses from public voter registration records to stay safe from their abusers.
Just as I have throughout my career, I will continue fighting for women as Kentucky's first female senator. Kentucky women and families are ready for someone in the U.S. Senate who will finally be their voice.
What will you bring to Washington that your opponent can't?
Mitch McConnell is at the center of the obstruction and dysfunction in Washington – even going so far as to brag about being the "proud guardian of gridlock." We've all seen it. He has refused to work across the aisle, and blocked countless measures that would help strengthen and grow our middle class during his 30 years in Washington. He has even voted against raising the minimum wage and equal pay for equal work legislation, all the while quadrupling his net worth.
This race is about two very different visions for the future — one that has held Kentucky and the nation back for nearly three decades, and one that wants to move us forward. One that sends women to the back of line by telling them, "You don't deserve equal pay for equal work" — and mine, which says we will put women at the front of line, that women deserve equal pay for equal work, and that won't just be a talking point. It's the difference between someone who has only been looking out for his own job versus someone who wants to look out for the jobs of others and growing the middle class.
If elected, what will be your No. 1 priority?
As the Commonwealth's next U.S. Senator, my number one priority will be putting Kentuckians back to work in good-paying jobs. Unacceptably, Kentucky's unemployment remains higher than the national average. I believe that we can grow our economy by taking full advantage of the natural resources and people we have, expanding science, math, and computer education, investing in our infrastructure, and diversifying our economy to attract more businesses.
Unlike my opponent who does not believe it is his responsibility to create jobs, I believe that is absolutely the top job for a U.S. Senator.  Working across the aisle toward compromise and finding common ground are what it takes to improve the lives of families in Kentucky and across the country.
"It's the women who are getting things done in the U.S. Senate — people like Barbara Mikulski on Appropriations, Patty Murray with the budget, Debbie Stabenow with the Farm Bill."'
What can we expect to see from your campaign this summer?
Well, I am thrilled – and humbled! – to say that our campaign already has over 84,000 grassroots supporters from all 120 Kentucky counties and all 50 states who have invested in this movement. Last quarter, we not only outraised Mitch McConnell by a million dollars, but we also broke Kentucky fundraising records in the process. This is the third time we have outraised McConnell thanks to Team Switch members across Kentucky and the country. Kentuckians are tired of Mitch McConnell's dirty political games, and I think that is reflected in the success of our campaign thus far.
We're focused on growing our extensive grassroots organization and continuing to lay the foundation necessary to get as many voters to the polls on Election Day as possible. From now through November, we will keep organizing, build on our momentum and hold Mitch McConnell accountable for his 30 years of failed leadership – just as we've done for the last year.
What's one piece of advice you would give to young women looking to pursue a career in politics today?
Determine to make a difference each and every day. The impact may not be immediate, but in the long term I hope that others, especially young women, take action to be a part of the process and make Kentucky and this nation a better place.
It's the women who are getting things done in the U.S. Senate — people like Barbara Mikulski on Appropriations, Patty Murray with the budget, Debbie Stabenow with the Farm Bill. In fact, sometimes it seems like women are the only people coming together across party lines to get things done. And my hope is that Kentucky will break that glass ceiling and elect our first female U.S. senator to add to that bipartisan coalition of women. And by doing that, I hope we inspire other young women and let them know that their voices matter in their community, state, and nation. If I can do this, so can they.
I would also say surrounding yourself with a solid support system – of close family and friends – is key. The love and support of my family and friends keeps me going, and I wouldn't be where I am today without them.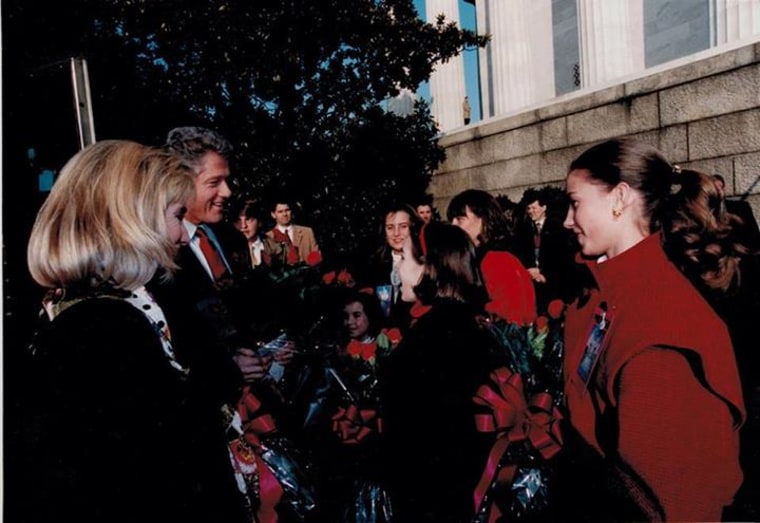 Which women in politics inspire you?
Hillary Rodham Clinton is a close friend and mentor, and as you well know, a very strong female leader. Clinton's advice has been invaluable to me throughout this past year. 
Martha Layne Collins, Kentucky's first and only female governor, has been another important mentor and has stood with my campaign every step of the way. During her time as governor, she created thousands of good-paying jobs. The state experienced record economic growth under her leadership, and I think we need that kind of leadership again.  
How will you address unequal pay for working women?
Women are half the labor force in this country, but still make just 77 cents for every dollar a man makes in the same job. In Kentucky, women lose almost five billion dollars in wages each year. That is simply unacceptable. With that money, a working woman in Kentucky could purchase 78 more weeks of groceries, pay 14 more months of rent, make eight more months of mortgage and utilities payments or buy 2,477 additional gallons of gas.
Pay inequity affects women across the board and in every walk of life. The American Association of University Women found that due to the pay gap, women have less money to pay back student loan debt. Female college graduates only make 82% as much as their male counterparts – despite the fact that they had graduated at the same time with the same major.
Mitch McConnell has refused to address these problems, and instead, actively opposed any solutions. He had the nerve to call equal pay for equal work "preferential treatment," repeatedly voted against the Lilly Ledbetter Fair Pay Act and the Paycheck Fairness Act, and measures to make college more affordable and existing debt more manageable.
Combine these facts, and it means Kentucky women have a senior senator who believes they should be forced to pay high student loan interest rates while they continue to make less than their male counterparts in the workplace. In the Senate, I will work to make equal pay for equal work a reality.
Wild Card!  Who's your favorite strong female character in a book, TV, or movie?
Daenerys Targaryen (Khaleesi) from "Game of Thrones" is one of my favorite strong female characters. Whether she's compassionately standing up for others or bringing down ruthless leaders, this mother of dragons is a courageous natural leader who seeks to bring equality, justice and freedom through her work. Those who discount her simply because of her relative youth and/or gender quickly realize the err of their ways. 
Follow Alison Lundergan Grimes @AlisonForKY // Facebook // Instagram // campaign website
Check out msnbc's Women of 2014 Twitter Trail to follow 2014 candidates to watch all in one place!