When the candidates take the stage in Las Vegas Tuesday for the first Democratic presidential debate of 2016, all eyes will be on Hillary Clinton and Bernie Sanders. But two wildcard challengers with nothing to lose could shake up what is expected to be a more staid event than the two GOP debates before it.
Both Clinton and Sanders are experienced debaters with numerous successful campaigns under their belts. But both have thus far refrained from engaging each other directly and both say they have little interest in doing so Tuesday.
"I want anybody supporting me to go after Republicans because whatever differences we might have on the Democratic side, they pale in comparison," Clinton said in a recent interview with the PBS NewsHour.
Meanwhile, an aversion to negative campaigning is integral to Sanders' political brand, and his team views the debate as an opportunity to introduce their candidate to a wider audience that may not yet know him, not to clobber Clinton.
Even Martin O'Malley, the former Maryland governor who has struggled in the polls and been more willing to go after Clinton and Sanders, has telegraphed that he'll focus on introducing himself and his record. "I'm going to focus on the actions that we need to take, and the actions that I took with 15 years of executive experience," he told reporters Wednesday.
But the two other candidates -- yes, there are two other candidate -- may not play as nice.
RELATED: Biden could participate in first Democratic debate
Understaffed and barely campaigning, Jim Webb and Lincoln Chafee have been largely ignored by the more established candidates thus far. Clinton's team has no one playing either of them in mock debates, according to The New York Times. But there will be no ignoring them Tuesday when they mount a podium in front of million of TV viewers, taking up just as much stage space as the former secretary of state and the insurgent senator from Vermont currently beating her in New Hampshire.
Those who have debated Webb and Chafee, and archival footage of their past bouts, demonstrate both have an aggressive debate style and suggest both are likely to come out swinging against Clinton, potentially posing a challenge for a front-runner who has no interest in punching down. And there's always a risk of riling Clinton or Sanders, pushing them off their game, or getting under their skin.
Harris Miller fought a heated Democratic primary against Webb in 2006, and recalls a humorless and combative debater who had an ability to aggravate opponents.
"Don't underestimate him, he's a very smart guy, he's a very aggressive guy. You can't treat him like you could a Jim Gilmore," Miller said, referring to the former Virginia governor running a longshot bid for the Republican nomination. "I would say be careful about raising your boiling point level to his boiling point level, because he can get very energized and say things that sound like the almighty has provided him with some kind of inside information."
"Don't get sucked in, because that's what he's trying to do," added Harris, who supports Clinton.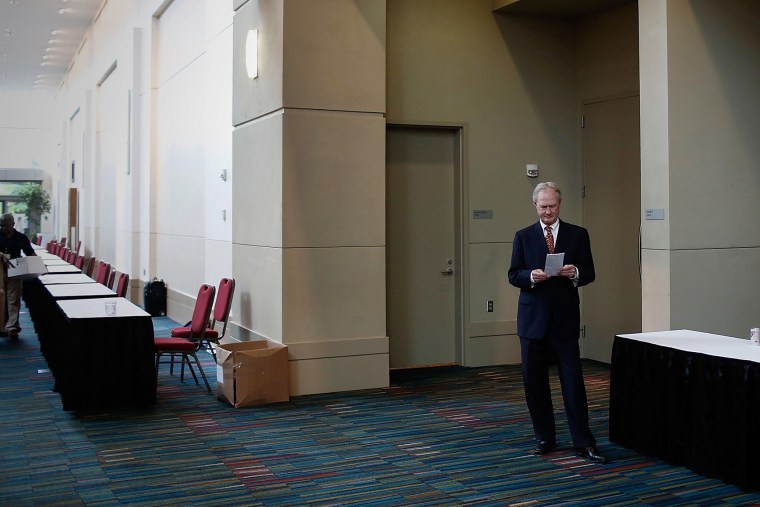 Webb's campaign declined to preview his debate prep, with spokesperson Craig Crawford saying only, "We're keeping that to ourselves."
Meanwhile, Chafee, an otherwise soft-spoken New England blue blood, is surprisingly ferocious on the debate stage. The former Republican waited exactly 30 seconds into his opening remarks of a 2006 debate before unloading on Democratic challenger Sheldon Whitehouse over political corruption, and he didn't let up for the next 50 minutes.
Paul Tencher, a Democratic strategist with the firm MWW who has worked in Rhode Island politics, said Chafee's combativeness comes from an unwavering conviction in his beliefs. "He knows people are laughing at him and not with him, and he doesn't care," Tencher said.
That doesn't make Chafee a good debater -- "Chafee is an awful debater," said Tencher, who worked on Clinton's 2008 campaign in the Ocean State. "If I were his campaign manager, and I never would be his campaign manager, I would cringe at the idea of debate prep" -- but it makes him an unpredictable one.
Steve Laffey, a conservative former Senate candidate left a primary debate with Chafee baffled. "It's sort of unexplainable," he said. "He thinks he's right. He actually, I think, believes he could win. Hey, Reagan ran three times."
Debbie Rich, Chafee's spokesperson, said we can "absolutely" expect Chafee to go on offense in Tuesday's debate. "He'll do what he's done in the past," she said.
Webb and Chafee are both likely to bring up the Iraq War, the Achilles heel of Clinton's 2008 campaign and a cornerstone of both of their careers. Chafee was the only Republican in the Senate to vote against the war, and leaned on the vote heavily in his announcement speech. Webb, a decorated Marine combat veteran and former Navy Secretary, was recruited by Democrats in part because of his opposition to the war and ability to speak authoritatively about the military.
The two candidates also bring their set of issues and priorities unlikely to be brought up by other candidates.
Clinton is an able debater who went toe-to-toe with Barack Obama and a robust Democratic field in 2008 more than 20 times, and neither Webb nor Chafee are any threat to Clinton outside of a debate. But with sky-high expectations riding on her shoulders, any slip-up or moment of weakness -- no matter which opponent caused it -- will be magnified.