FERGUSON, Missouri — Vonderrit Myers is no Michael Brown. Myers, the black 18-year old shot and killed by a St. Louis police officer last week, is also no Trayvon Martin or Jordan Davis or any of the others on a growing list of slain unarmed black men who have invigorated a new generation's fight for racial justice.
But Myers doesn't have to be.
Unlike Brown and others who were clearly unarmed during their fatal confrontations with white antagonists, police say Myers shot first, and the officer he shot at returned fire and killed the teen. Lab results found Myers had gun powder residue on his right hand at the time of his death. He was also facing trial on earlier gun charges and was wearing an ankle bracelet as a condition of his bond in that case.
Myers at 16 was arrested for another shooting but was never charged. And photographs have gone viral on social media showing him posing with guns just days before his death.
Myers, in other words, may not be the model victim in the ongoing story of police brutality and white violence against young black men. But his death nonetheless has sparked an important wave in the burgeoning movement built around the notion that black lives matter. All black lives -- not just those that draw the most public sympathy.
"Vonderitt Myers matters because we are still talking about a fundamental question of the value of black children and the value of black life," said Brittany Packnett, head of Teach for America in St. Louis. "The circumstances may be different, but there's the recognition that if we don't come out early and often to demand justice for African-American children, quite often it doesn't come."
"He has no incentive to engage the police in a shooting"
Brown's death in Ferguson on August 9 sparked weeks of rage and protest, in large part because he was unarmed and witnesses say had raised his hands in surrender when he was fatally struck.
Myers's family insists that he too was unarmed when he was shot on October 8, packing little more than a sandwich at the time. They remember Myers as a beloved teenager who had hopes of getting his life back on track.
Protesters took to the St. Louis streets in the hours and days after Myers's shooting, just as they had a dozen miles away in Ferguson. They marched and chanted. There were showdowns with police and some burned American flags. The unrest became something of a parallel protest to what had happened to Brown.
PHOTO ESSAY: Ferguson's 'Weekend of Resistance'
Myers's family and their supporters say they don't trust the police. They've poked holes in the police account of how the teen was killed and have highlighted over and again how often that account has changed.
 "A lot of people believe St. Louis police compromised this case by doing things that I hate to think they could have done in this situation," said Jermaine Wooten, an attorney for Myers' family.
Brown's killing was highly symbolic, another name on the tragic roll call of unarmed black men gunned down by white men and cops. The list includes Sean Bell, killed the morning of his wedding in Queens, New York in 2006; Oscar Grant, shot by a transit cop on an Oakland, California subway platform in 2009; Trayvon Martin, shot to death by neighborhood watchman George Zimmerman in Florida in 2012; and Jordan Davis, gunned down by motorist Michael Dunn in 2012 in a scuffle over loud music.
Brown's killing was also among a string of similar cases across America this summer, where cops killed unarmed black men under mysterious circumstances.
They include Eric Garner in Staten Island, New York on July 17, killed in a police chokehold after being confronted over selling untaxed cigarettes; John Crawford in Beavercreek, Ohio on August 5, shot down by police at a Walmart as he talked on his cell phone and toyed with a plastic gun he'd picked up off a shelf in the toy department; and Ezell Ford in Los Angeles on August 11, felled by police bullets after they stopped him on a sidewalk, at which point they say he made "suspicious movements" before attempting to take an officer's gun.
The protests sparked by Brown's killing only grew more emboldened by what happened to Myers weeks later. But while Brown's killing fits a much neater narrative, with multiple eyewitness accounts and forensic evidence, the Myers case is murky.
There are the photos of Myers allegedly showing off with handguns, holding one in each hand and another sitting in his lap. A lawyer for the officer who killed Myers told reporters the gun in Myers's lap had been reported stolen in late September and investigators had identified it as the gun police believe Myers used to fire at the officer.
The police account of what happened the night of the shooting has changed multiple times. And even with mounting evidence to the contrary, there is the unshakable heart-of-hearts belief among those who love Myers that he was not armed that night.
"We as attorneys understand what these lab results mean," Jermaine Wooten said. "If I fire a gun at you in close proximity there is going to be gun powder residue all over your body. So the fact that the gun powder residue is on Vonderrit is not indicative at all that he fired a weapon."
Wooten acknowledged Myers had pleaded not guilty to earlier charges of eluding police and illegal possession of a weapon. The charges stemmed from Myers's involvement in a high-speed car chase that ended with him jumping out of the car and eventually throwing a handgun into a sewage drain, police said.
Myers was released on bond for the incident and was facing a court date in November, Wooten said. "He has no incentive to engage the police in a shooting. Any kid I don't care if they are 14 or 18 knows that's a losing battle," Wooten said.
"We're done, as a police union, standing in the shadows in these cases"
Eyewitnesses to Myers's shooting told Wooten that the officer, who was off-duty and working a second job as a security guard, had come out from a gangway and never identified himself as he chased Myers and a handful of people with him that night.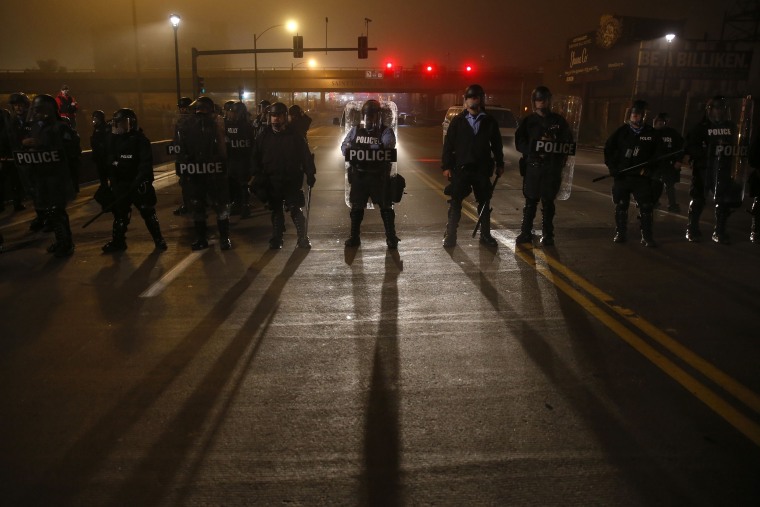 "No one knew who this man was chasing these kids with a gun," Wooten said.
On Tuesday, not long after St. Louis police released the lab results showing the residue on Myers's hand, the St. Louis Police Officers' Association held a press conference to discuss the case.
Jeff Roorda, the organization's business manager, cautioned that such high-profile cases are often tried in the court of public opinion rather than on hard evidence.
"We're done, as a police union, standing in the shadows in these cases," Roorda said, adding he and other members of the union had seen the photographs allegedly showing Myers posing with guns and were aware of Myers's earlier arrest.
Wooten accused the union of being biased and protective of its own. He also said law enforcement in St. Louis and the surrounding region, in the wake of the persistent unrest in Ferguson, has an incentive to show Myers's shooting was justified.
"I think the last thing St. Louis expected was another police shooting. If it's another unarmed black man, I think we would have been on the verge of chaos," Wooten said. "That's why I think a lot of people aren't willing to accept that he was unarmed."
'Ferguson is the Birmingham of our time'
The Myers killing rekindled activism in Ferguson, having taken place just days before a so-called "Weekend of Resistance" there which drew scores of protesters from across the country. The Myers and Brown shootings served as a double-sided rallying cry against police violence.
Between Oct. 10 and Oct. 13, protesters staged massive rallies and marches as well as meticulously planned acts of civil disobedience. Demonstrators blockaded local Walmart stores, crashed a fundraiser for a local politician, shut down a main road in Ferguson and even staged an elaborate protest during a Monday Night Football game between the St. Louis Rams and San Francisco 49ers.
Some 43 people were arrested during an action staged at Ferguson police headquarters, including a number of clergy and high-profile community leaders.
"Ferguson is the Birmingham of our time. There is no doubt about it. Ferguson is the Montgomery of our time. So each life matters. The black life matters," activist and author Cornel West told msnbc. West took part in the Weekend of Resistance, where he was arrested and briefly detained.
No Justice, No Trust
Myers was, in fact, the second man killed by police in St. Louis after Brown's death.
Kajieme Powell, a mentally ill 25-year-old, was shot and killed by St. Louis city police just 10 days after Brown. Police initially said Powell had lunged at a pair of officers with a knife raised over his head. Cell phone video released shortly after the shooting revealed that he neither lunged nor ever raised a knife.
The killings of Brown, Powell and Myers have widened an already gaping abyss of mistrust between the black community and the police.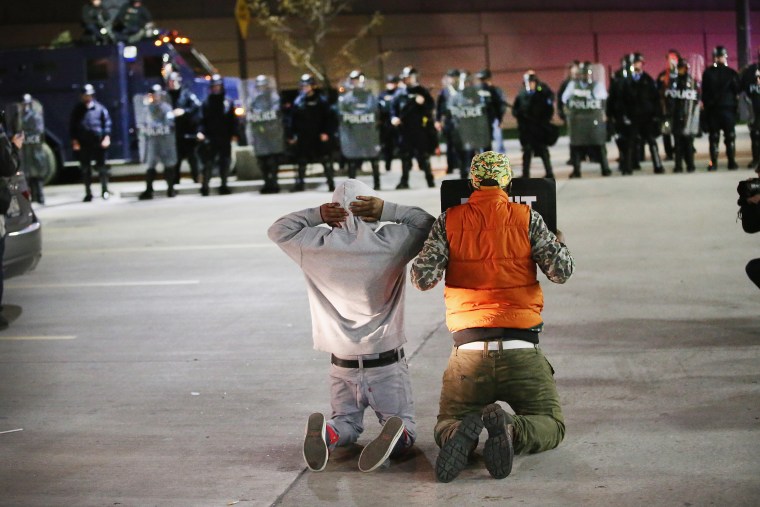 "With Vonderrit you have the structure saying trust me while we find the truth. But how can we trust you in the midst of all of this," said DeRay McKesson, a protest organizer. "How dare you demand my trust when you continue to violate our ability to be alive, our freedom to assemble and continue to threaten the assembly of black bodies."
"We're out here because people are dying," McKesson added. "We also refuse to live in a world where blackness is a death sentence. I refuse to let that be my reality."
Many believe the events that led to Myers's death was an act of racial profiling.
Police said the off-duty officer had stopped Myers and a group of men during a "pedestrian check," and that the men scattered. Police initially said the officer gave chase and that at some point Myers hopped menacingly from behind a bush. The police version later changed, as no bushes apparently exist where the shooting occurred.
The latest iteration of the story alleges that the officer chased Myers into an alley, where they engaged in some sort of physical confrontation that ended with Myers running away, falling to the ground and firing on the officer.
Police say Myers fired three shots and that the gun they believe was used in the shooting was recovered at the scene.
"The thing is even if Vonderrit did start shooting at the cop I can't necessarily say, especially in the environment we are currently in with everything going on in the city with Mike Brown, I still have an extreme level of distrust of the police," protester Leon Kemp said. "I have to take what they say with a grain of salt and I'm still skeptical."
'I Just Can't Move'
Last Monday morning more than 1,000 people staged a massive sit-in on the campus of St. Louis University, not far from where Myers was killed in the city's Shaw neighborhood. Protesters blocked intersections, jumping rope and throwing balls, a play on a common chant during rallies that authority "think it's a game, think it's a joke."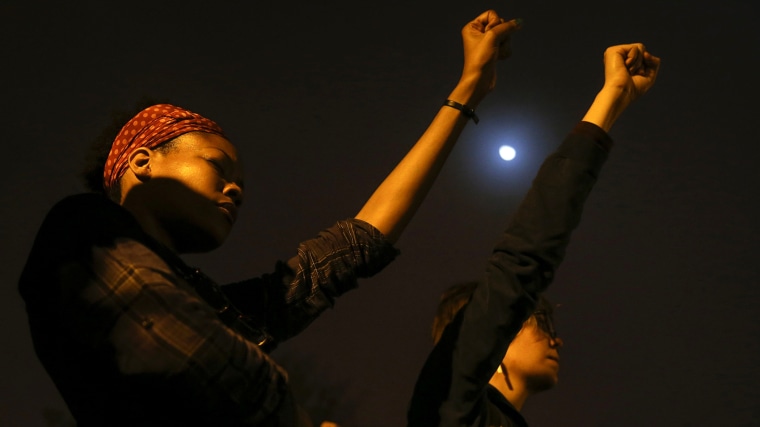 Police in riot gear stood at the ready, as the peaceful protests swelled through the campus. At one point protesters held a moment of silence, a minute for each day since the teen was killed.
Myers father, Vonderrit Myers Sr. stood at the front of the crowd.
"You make my heart feel easy," he said over a loudspeaker. "God bless you."
The Myers family has joined a national club of heartbroken parents whose children have been taken, regardless of circumstances, too soon.
A few days earlier, the fathers of Michael Brown Jr. and Vonderrit Myers Jr. met face to face for the first time.
"It was really a beautiful moment," said the Rev. Carlton Lee, who was in the room during the meeting. "They just talked and showed love. It's what they both needed."
During the meeting Ron Davis, the father of Jordan Davis, called in and spoke with both men. Tracey Martin, Trayvon Martin's father, has also reached out.
Vonderitt Myers Sr. was scheduled to join Michael Brown Sr. for a service at Rev. Lee's Flood Christian Church. But in the middle of his sermon, Lee received a text from Myers, saying: "I just can't move."