It was a no-brainer for legendary stoner comedian Tommy Chong to endorse Sen. Bernie Sanders — the Vermont senator is the one candidate running who has advocated for the decriminalization of marijuana, but that's not the only part of his message that resonates with the "Up In Smoke" star.
"His basic message is spot on. He says the poor and middle class are getting a raw deal and marijuana laws fall into that category," the 77-year-old told MSNBC on Thursday. "The marijuana law has always been a racist law. Even the fact that it's called marijuana — as soon as it gets legal, it's called cannabis or hemp."
Although Chong has long supported Democrats, and previously told Rolling Stone he would support Hillary Clinton should she become the nominee, he believes "Bernie speaks for everybody ... he's honest, he's decent and he's got the right message." Meanwhile, Sanders' campaign is also peaking at a moment when the government and country's attitudes on marijuana have dramatically shifted.
Last fall, a Gallup poll found that a majority of Americans (58 percent) now support legalizing the drug, a 46-year high in their surveys. And in just the last four years, recreational marijuana use has been authorized in Colorado, Alaska, Oregon, Washington and the District of Columbia. Chong believes we'll see a majority of states "get wise" when it comes to legal weed in his lifetime.
"The thing is, marijuana has always been legal for the people who knew about its power and about its use. What's happening now when people legalize it, they're more or less admitting that they've been led astray by the administration and they've come around to the true facts," he said, adding, "I think if Obama's smart, that'd be one of his executive actions at the end of this term."
RELATED: Sanders: 'Do away with mandatory minimum sentences'
Chong is reveling in the new landscape. He has launched his own line of marijuana products, called Chong's Choice, which will be sold only in states where it's not prohibited. "I tried to get into the bong business, but that was a disaster because I ended up in jail," he said. "What we're giving you is the highest quality of the product that you can find on the market today." 
The endeavor is an exciting one for a man who has recently been battling a second bout of cancer. Four years ago, it was cancer of the prostate, and now he has just undergone surgery for rectal cancer. During his recovery, Chong, perhaps not surprisingly, relied on weed to recuperate.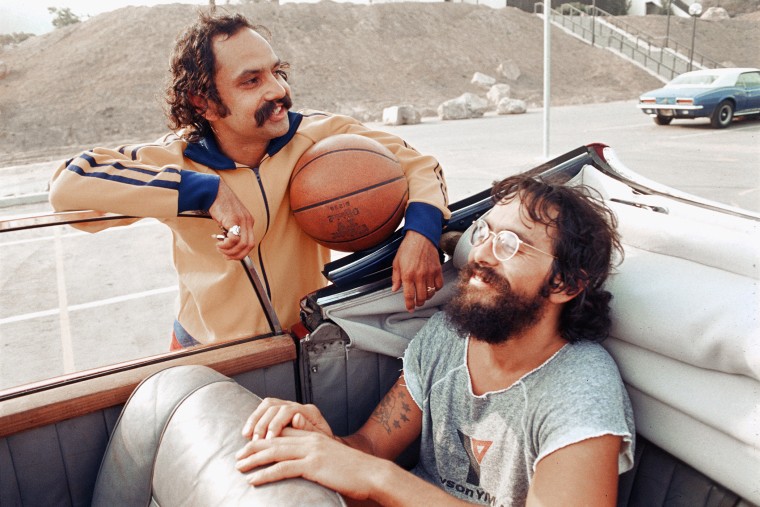 "When you're knocking on death's door, you check on your life and you question whether you're doing exactly what you want to do and, thank God, I was. The only difference in my life now is that I really want to spread the word on how effective marijuana is health-wise in all sorts of ways. That is my mission now. It always has been but more so now," he said.
In his string of hit films alongside his comedy partner Cheech Marin in the late '70s and 1980s, Chong deliberately bulked up so he could show that stoners aren't necessarily unhealthy. "That was a conscious decision. If I'm representing pot, I wanted to be more in shape than 'The Big Lebowski' for instance," he said. Those films also added some diversity to the movies during an era when it was seriously lacking. But that's not the only way they were subtlety ahead of their time.
"When we did 'Up In Smoke' [over] 30 years ago, the movie was all about marijuana, and the legal system and the immigration system. And we did it without any kind of corny story. We did it without demonizing anybody or anything. We just showed what was going on in a humorous way. And that's why that movie still stands up today," Chong said. "We're like Bernie, we're exactly like Bernie — same message he had 30 years ago, we're the same way."
He added: "Everybody's worried about him being a socialist, but Republicans are the most socialist people on the planet with their private prisons."
RELATED: 2015 may have been tipping point for pot — but in what direction?
Today, though, he and Marin are in a bit of a holding pattern because the positions they took on marijuana decades ago have become more mainstream. "Cheech and I are sort of pondering our next move because the legalization really stopped [us] being the Cheech and Chong show. We can't really go out and protest against something that's legal," he said.
Still, Chong has a lot of ambitious projects on the horizon. He has an upcoming animated role in "Zootopia." "I saw that film last night and I swear to God — I'm not saying this because I was really stoned, because I was — but it was so funny I laughed what's left of my a** off," Chong joked.
And then there's his Chong's Choice brand, which he predicts will making him a "billionaire before Donald Trump."
After years of advocating for the medicinal, spiritual and recreational benefits of marijuana, Chong is bemused to see the rest of the country catching up with him. He even ran into a Republican congressman, the pro-medical marijuana Rep. Dana Rohrabacher, recently at a conference on the drug in San Francisco, "He's getting into the weed business himself," Chong said. "Marijuana is gonna save the world."