By nearly every estimate, Tuesday will be a tough night for Texas Sen. Ted Cruz and there's a good reason for that. The five states that will be voting — Connecticut, Delaware, Maryland, Pennsylvania and Rhode Island — are lacking in a critical element of the Cruz coalition: evangelical voters.
Data show that evangelical adherents in those states make up 12 percent of the population or less — in some cases a lot less. That's compared to a national figure of about 19 percent, according to the 2010 U.S. Religion Census.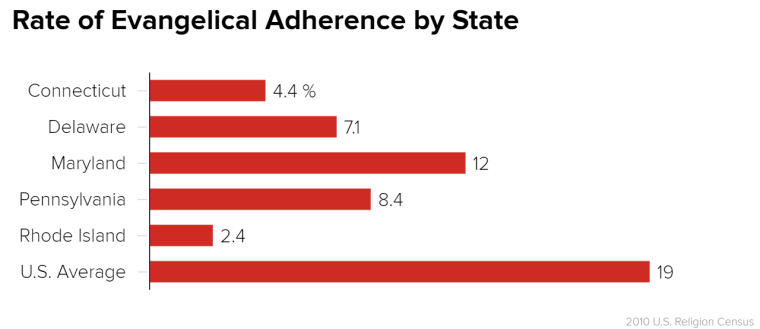 And for a candidate who relies on social conservative voters, as Cruz does, those figures are bad news. They mean the Republicans in those states are less likely to be tuned into the issues that are the backbone of the Cruz campaign.
There's more than a little evidence for that view of Tuesday night. Consider another state with few evangelical adherents: New York, where Mr. Cruz finished a distant third last Tuesday. Only 4.4 percent of New York's population is identified as being evangelical Christian, the same number as Connecticut.
In fact, in a larger sense, the data suggest that the five states voting on Tuesday are where social conservative presidential candidates go to die politically.
The two last social conservative challengers for the GOP presidential nomination — former Arkansas Gov. Mike Huckabee in 2008 and former Pennsylvania Sen. Rick Santorum in 2012 — went a combined 0-10 in the first states nominating contests. And neither man got to 30% in any of the states.

There are few points worth noting in that above chart.
Maryland, for instance, looks as though it has a pretty consistent social conservative voting bloc. Both Huckabee and Santorum won just under 30 percent of the vote there. Maryland also has the largest percentage of evangelical adherents in those states, according to the Religion Census data.
And Connecticut Republicans in particular look immune to the campaign efforts of social conservative candidates.
But the bigger point is the numbers suggest a bad Tuesday ahead for Cruz.
There may be hope on the horizon for team Cruz: Tuesday May 3 in Indiana. About 19 percent of that state's population is evangelical Christian.
That's the good news for the Cruz campaign. The bad news? Of the 11 states to vote after Tuesday, that's the largest evangelical population by far. 
This article first appeared on NBCNews.com.