The Boy Scouts of America made big strides in 2014 when it rolled out a landmark policy to allow openly gay scouts — but for gay and lesbian adults that ban was never lifted, and now one mother is taking action.
An online petition calling on BSA to revisit the policy toward gay adults is gaining traction and is getting the attention of the organization's leaders. Adella Freeman began the petition after a committee member in her son's troop told her she could no longer volunteer because she's gay.
"(A committee member) called me to the side with my application and said it had come to his attention that I might be gay and that I could either withdraw my application or pretend this conversation never happened," Freeman said.
Freeman and her son, Nick Zamora, had just joined Troop 512 of Schertz, Texas, after their previous troop was dissolved. Zamora, now 15 and close to earning Eagle Scout, has been involved in Scouts for eight years – since he was in second grade. He's now no longer a Boy Scout, opting to leave the organization voluntarily after the decision to ban his mother.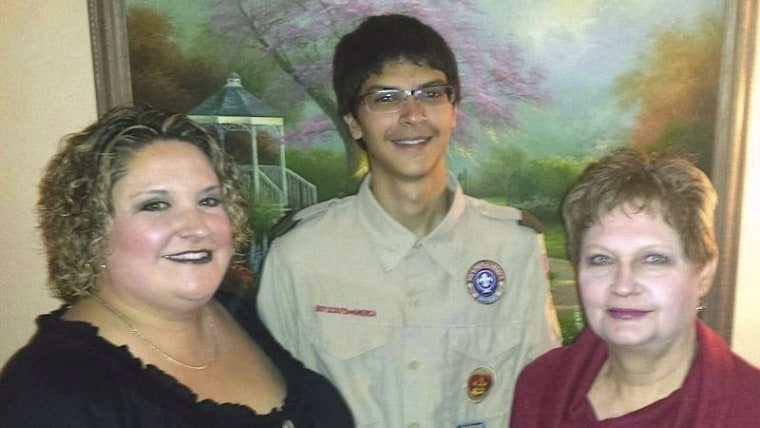 "It's kind of ridiculous," Zamora said. "For as long as I've been in the troop, no one has said anything to me. I'd like to attempt to rejoin, but in all honesty, I don't want to if I'm not allowed to do it with the people I love."
Freeman started the online petition last month to change BSA policy, but it's seen rapid growth over the past week – sometimes garnering nearly 10,000 signatures in a 24-hour period. There are signees from every state, as well as internationally. 
"The Boy Scouts dropped a ban on gay scouts and that took some time and plenty of people petitioning, and it's not to say that Boy Scouts aren't going to change," Freeman said. "We need to get the policy changed to get (Boy Scouts) to be more accepting of all families." 
The petition comes after during a tough time for the Boy Scouts. The group's policy ending a longstanding ban on gay scouts went into effect at the beginning of 2014 – a year where the organization saw one of the steepest annual drops in participation in recent memory. Membership fell to 2.4 million youth participants, about a 7.4% drop over 2013. In addition, general enrollment declined by about 6% and the number of adult volunteers ticked down 1% to fewer than a million. BSA officials accurately point out that many major youth organizations are seeing their membership dwindle, and say many factors contribute to a child's decision to become involved in scouting.
Related: New Boy Scouts chief Robert Gates: No new talk on gay scout leaders
"We believe every child deserves the opportunity to be a part of scouting," said Deron Smith, a BSA spokesman, in a statement to msnbc. "We do not believe this topic has a role in scouting and we do not seek to discuss the sexual preference of our adult volunteer leaders. Scouting remains focused on working together to deliver the nation's foremost youth development and leadership program." 
Robert Gates, the former secretary of defense who now runs the Boy Scouts, said last May he would have allowed gay adults to participate in the organization, but opposed amending the policy toward gays at that time. The Boy Scouts will hold their annual meeting May 20-22 in Atlanta. It was the 2013 annual meeting when leaders moved to allow gay youths in scouting.