Republican presidential front-runner Donald Trump's public life has long been littered with demeaning, sexist remarks about women. And for just as long, he has refused to apologize. But so far, potential female voters aren't running away from the billionaire real estate mogul's 2016 candidacy.
In fact, even after his epic debate exchange with Fox News' Megyn Kelly—in which Kelly asked the GOPer about calling women he dislikes "fat pigs," "slobs" and "disgusting animals"—and then later suggesting that Kelly asked those questions because she was menstruating -- Trump's popularity among female voters did not take a hit, according to a Gallup survey. In fact, 29% of female voters viewed Trump favorably before the debate compared to 30% the week after.
RELATED: Donald Trump trolls the morning away
The former reality TV show host continued to jab Kelly on Monday, engaging in a vindictive tweet-storm during Kelly's show, resulting in Fox News Chairman and CEO Roger Ailes demanding that Trump apologize. But so far, none of it seems to be hurting Trump. And looking at Republican women specifically, while Trump had a lower favorability among that group compared to Republican men (by a 50% to 59% margin), that gender gap in favorability was typical among GOP candidates.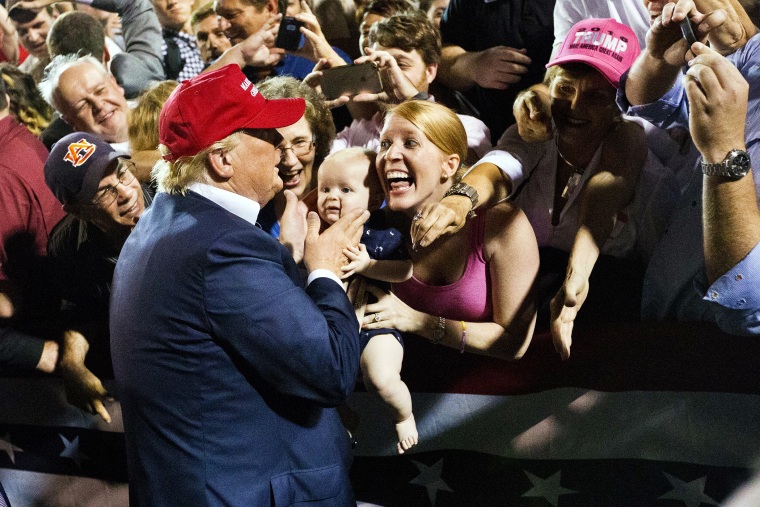 It's all a bit baffling. Not only does Trump say sexist things, but his invariably macho stance on everything from foreign policy to immigration is the sort of testosterone-fueled bravado that typically rubs many female voters the wrong way. But with Trump, apparently, that's not the case.
Take, for example, the battle against the terrorist group known as ISIS. Trump said his plan to beat ISIS involves "boots on the ground" and to "knock the hell out of them." Meanwhile, according to Pew Research, there's a 14-point gender gap when it comes to favoring ground troops in Iraq and Syria, with 51% of men being in favor and just 37% of women.
And then there's the issue of undocumented immigrants, in which Trump suggests building a 2,000-mile wall along the U.S.-Mexico border and wants to methodically arrest and deport more than 11 million illegal immigrants, with the hope that the "good ones" will eventually be let back into the country. According to Pew, there's a seven-point gender gap, with 45% of women wanting undocumented immigrants living in the U.S. to be able to apply for citizenship compared to just 38% of men.
RELATED: Trump-Fox feud boils over as CEO fires back
So why are so many GOP women still standing with Trump?
"I have no problem with a man being a man. I like him because he's real. He's saying it like it is. If you want to be treated like a lady, act like a lady."'
Several women who donated to Trump's campaign told msnbc that they aren't bothered by Trump's remarks about women.
"I like that he's not politically correct," said Michelle Letner, a 48-year-old commercial cleaner from Medina, Ohio, who donated $225 to Team Trump. On the derogatory names Kelly brought up during the debate, Letner—who said she's never donated to a candidate in the past – said, "I have no problem with a man being a man. I like him because he's real. He's saying it like it is. If you want to be treated like a lady, act like a lady."
Susan Speros, the CEO of a business technology company in Savannah, Georgia, who donated $500 to the campaign, said she too wasn't concerned with Trump's remarks. "Everyone needs to take their offended hats off and needs to worry about what's happening in this country," like the economy and national security, she said. "I think Trump is a smart man and what he doesn't know, he'll surround himself with smart people and he'll get the job done."
Lori Pesta, creator of the Women For Donald Trump Facebook page – which has nearly 2,000 likes – is going as far to organize a "national women for Trump" day across the country on Oct. 18. "We want to show our support that women are behind Donald Trump, as are men as well ... I think Donald Trump is very pro-women," said the Atlanta resident.
RELATED: Amid bluster of riches, Trump wants your money
Jennifer Lawless, the director of American University's Women & Politics Institute, argues that conservative women's support for Trump is understandable. After all, "the records of other Republican candidates are just as half-full on women's interests." She also pointed to Trump's soaring rhetoric on women when he's pressed -- declarations like "I cherish women" and "I would be the best for women." Lawless said, "It's vague, but it may mitigate concerns people may have."
The support may also stem from voters' overall dissatisfaction with Washington, D.C. politics and Trump pitching himself as an outsider. "I think it's frustration with the status quo," said Debbie Walsh, director of the Center for American Women and Politics at Rutgers University. "I do think he's tapping into this general frustration and anger that government isn't working and it's not getting things done."
And "even though his macho tone might turn some people off, what they perceive as authenticity may counteract that," added Lawless.
Of course, there are some Republican women who have criticized Trump's rhetoric, including Sen. Kelly Ayotte of New Hampshire, who said after the debate, "I don't think women in New Hampshire will appreciate" Trump's comments. The state Republican Party's chairwoman Jennifer Horn also said Trump's remarks were "out of line and unacceptable." Former Hewlett Packard CEO – and 2016 GOP competitor -- Carly Fiorina, the only woman running for the party's nomination, also criticized Trump.
RELATED: Clinton campaign: Bush and Trump one and the same
Part of the support may also come down to the intentional vagueness of Trump's positions. In many ways, he's all hat and no cattle -- talking a big game about being "the best for women" without offering any details, policy-wise, on how he'd actually do that. When recently asked about those issues on MSNBC's "Morning Joe," Trump said, "As far as questions like that ... I'm not going to do it on this show and I don't want to discuss it on this show. I want to discuss those questions at a debate. But all I can say on women's issues and women's health issues, there will be nobody better than Donald Trump."