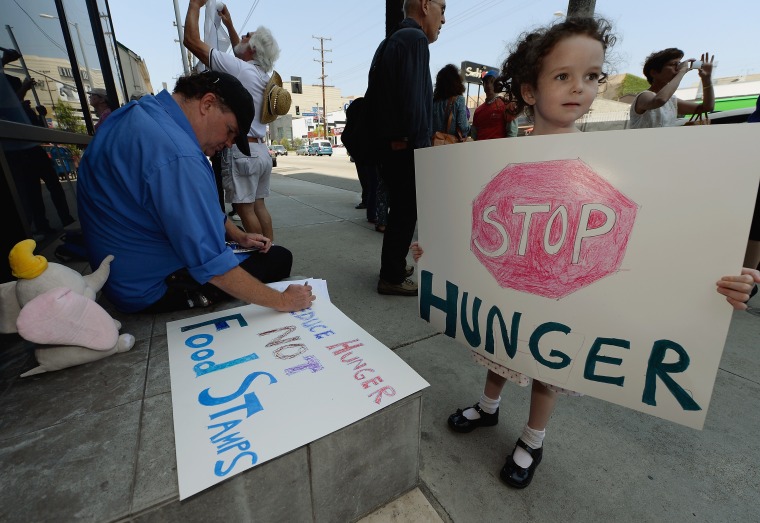 The House of Representatives passed a farm bill on July 11 that, for the first time in 40 years, excludes authorization for food stamps. Although this omission doesn't eliminate spending on what's known formally as the Supplemental Nutritional Assistance Program (SNAP), which can still receive congressional appropriations, it will likely result in substantial cuts. That's because SNAP's expansion has become a source of growing complaint among Republicans—most famously during the 2012 Republican primaries, when Newt Gingrich labeled Barack Obama "the food stamp president."
The GOP's objection to food stamps is that they create welfare dependency among recipients (even though they can't be used for anything except food). As Rep. Paul Ryan put it in his 2013 budget document, "State governments have little incentive to make sure that able-bodied adults on SNAP are working, looking for work, or enrolled in job training programs."
But this gets the problem exactly backwards. A majority of food-stamp families with an able-bodied adult do work, and more than 60% of such families work when they have children. They just don't get paid enough to feed their families. SNAP is therefore principally a program to subsidize cheapskate employers like Walmart that don't give employees enough salary to live on. It's actually been called "the Walmart Syndrome."
The main reason SNAP has been expanding lately is, of course, the Great Recession. Robert Rector and Katherine Bradley of the Heritage Foundation, observing that spending on food stamps has increased from $20 billion in 2000 to $85 billion in 2011, have proposed lowering SNAP's budget to pre-recession levels.
Trouble is, neither the gross domestic product growth nor the unemployment rate has returned to anything like pre-recession levels. The poverty rate continued to go up after the recession technically ended in 2009, and now stands at 15%, the highest it's been in two decades (and much higher than it was throughout the 1970s, when we were supposedly losing the "war on poverty"). Median income is currently 5% lower than it was when the "recovery" began and 6.7% lower than it was when the Great Recession began. These are not auspicious circumstances to reduce food-stamp benefits.
Critics of SNAP are right when they  point out that the program started growing during the economic expansion that preceded the Great Recession. But that's partly because the poverty rate was growing then, too. The tax-cut-fueled economic recovery that followed the 2001 recession was an underwhelming affair, particularly when it came to creating jobs that anyone could actually live on. The other reason SNAP spending went up during the pre-2007 expansion was that the administration of President George W. Bush (a Republican) made an effort to get eligible families to participate.
Conservatives are scandalized that states actually hire recruiters to sign up families for food stamps, following the federal government's own program guidance. (Step right up for your government handout!) But they don't seem troubled that private companies do exactly the same thing. A decade ago Sally Lieber, a member of the California assembly, made public a Walmart handout instructing employees how to verify their employment status while applying for food stamps, Medicaid, and Temporary Assistance For Needy Families (the federal government's cash assistance program)—all programs that you would think anyone lucky enough to work for the nation's most profitable company would have little need for.
A report recently released by the Democratic staff of the House Education and Workforce committee estimated that workers employed by a single Walmart Supercenter in Wisconsin soaked up somewhere between $96,000 and $220,000 annually in food stamp benefits, and somewhere between $905,000 and $1.7 million annually in total federal assistance. That's somewhere between $3000 and $6000 that taxpayers are subsidizing Walmart per employee for not paying what the federal government considers a minimally decent wage.
What's true of Walmart is true of many other businesses: the reason Walmart gets most of the attention is that it's the country's biggest private employer. That makes it hard to ignore. For instance, Walmart, according to that Democratic House report, has more employees enrolled in Wisconsin's Medicaid program—and presumably more employees on Medicaid in most other states--than any other company. There are other cheapskate companies, but none with an army of underpaid workers that can match Walmart's.
The Washington, D.C. City Council, apparently fed up with corporate America's dependency on government-provided social services, voted on July 10 to require large retailers that don't have unions to pay their workers $12.50 an hour--$4.25 more than the city's minimum wage. The obvious target was Walmart, which plans to open six stores in D.C., where it does not currently operate.
It's an interesting experiment in welfare reform, but it probably won't get carried out, because the mayor is hinting he may veto the bill to appease Walmart (which is threatening to pull out if he doesn't). Even if D.C.'s Mayor Vincent Gray stands firm, there's a decent chance that those same congressional Republicans who complain endlessly that SNAP fosters welfare dependency will overrule D.C.'s local government (something Congress does whenever the whim strikes it, because D.C. is not a state). Then Walmart will be free to suckle the welfare teat within the capital's very borders.
Cut the food-stamp program? The way Walmart's going, we may have to double it.