The journalists questioning candidates in this fall's biggest campaign debates are overwhelmingly white men, according to an msnbc analysis of the nation's most contested Senate and gubernatorial races. In the closest senate races, 7 out of 10 of debate moderators and panelists were men, while 92% were white. In the closest gubernatorial campaigns, 7 out of 10 debate moderators and panelists were men, while 79% were white.
These numbers were calculated based on publicly available data on 71 debates held to date in the 24 senate and gubernatorial races ranked as tossups by RealClearPolitics as of Monday.
"The numbers are disappointing but not surprising," said former Chicago Tribune editor Ann Marie Lipinski, who currently heads up Harvard's Nieman Foundation for Journalism. "Debate moderators are chosen from newsrooms where the representation of women and minorities in senior political or editing roles is decidedly low."
Like Lipinski, Bob Butler, president of the National Association of Black Journalists, was also disappointed by the lack of diversity. "Those are awfully low numbers for a country that is around 35% people of color," said Butler.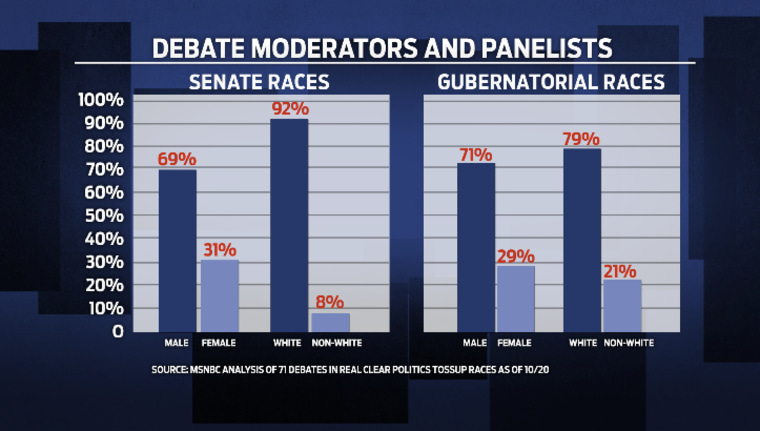 The data is especially striking in an election cycle where women's concerns and questions of African-American and Latino turnout have garnered a lot of attention. A recent front page New York Times article declared that the black vote was the last hope for Democrats to hold onto the Senate. Ads highlighting candidates' positions on the Paycheck Fairness Act and the Violence Against Women Act have dominated the airwaves, while candidates have squabbled over who would provide greater access to birth control. Policy issues of importance to women and minorities have taken center stage, but very few women and minorities have actually taken center stage to ask those questions.
At an Illinois gubernatorial debate last week co-hosted by the Urban League, African-American journalist Perri Small opened the debate by asking Republican candidate Bruce Rauner about diversity in his own workplaces. "You earned $63 million last year yet there are no African-Americans in the companies where you have been a decision maker," said Small. "Why should the African-American community trust you for their vote?" Questions like this one, posed by a black woman on an issue of concern to a minority community, have been few and far between in top Senate and gubernatorial races across the country.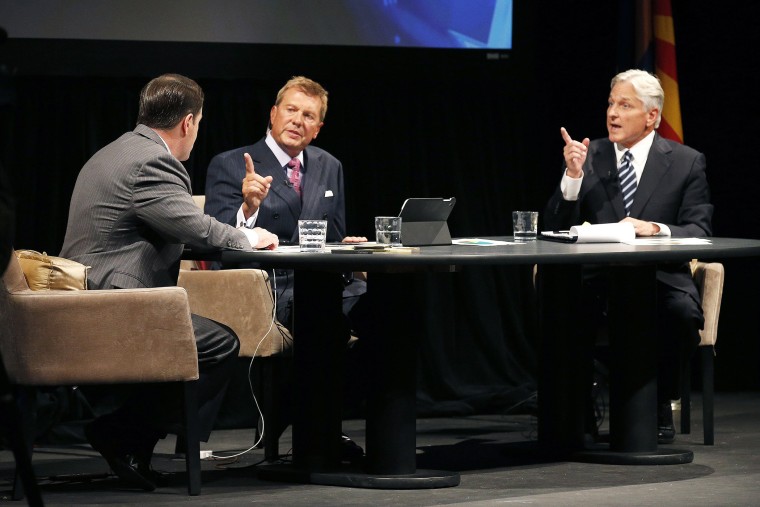 Richard Prince, chair of the Diversity Committee of the Association of Opinion Journalists, said the debate moderator's perspective matters. He pointed to the question PBS's Gwen Ifill asked then-Vice President Dick Cheney about AIDS in the 2004 debate she moderated. "Black women between the ages of 25 and 44 are 13 times more likely to die of the disease than their counterparts," Ifill told Cheney. "What should the government's role be in helping to end the growth of this epidemic?"
To be sure, women and minorities don't have to be present to ask questions of particular interest to those communities. Kyle Clark of KUSA in Denver made headlines last week when he challenged Colorado Republican Senate candidate Cory Gardner on how he has portrayed his position on personhood. "It would seem that a charitable interpretation would be that you have a difficult time admitting when you're wrong and a less charitable interpretation is that you're not telling us the truth," said Clark. "Which is it?"
But diversity among debate moderators is not just a priority because it brings more diverse perspectives to the table. Lauri Strauss, who organized 11 debates in Georgia this fall as executive director of the Atlanta Press Club, noted that diversity on a debate panel is critical to treating all candidates fairly. "A female candidate wouldn't feel as comfortable with an all-male panel," said Strauss. "A person of color wouldn't feel as comfortable with an all-white panel."
So why are so few women and minorities being selected as debate moderators? Overall numbers for professional journalists show an industry still dominated by white men. Minorities make up about 21% percent of the television news workforce and women make up about 40%, according to the Women's Media Center.
But debate moderator diversity falls below even those low numbers, as white men dominate higher status positions in news organizations. Only 29% of news directors are women, and only 12% of newsroom management positions are held by people of color, according to the National Association of Black Journalists.
"I think that the better way to look at this question is that our newsrooms and places of power -- especially at the top -- don't look like America," said Roll Call editor-in-chief Christina Bellantoni. "They are not reflective of America's demographics."
The 10 U.S. Senate races analyzed were Arkansas, Kentucky, North Carolina, Georgia, Iowa, Kansas, Louisiana, Colorado, Alaska and New Hampshire.
The 14 gubernatorial races analyzed were Florida, Georgia, Colorado, Kansas, Wisconsin, Michigan, Illinois, Arizona, Connecticut, Massachusetts, Maine, Rhode Island, Alaska and Hawaii.