The Obama administration has met its December 1 deadline for fixing healthcare.gov. With just three weeks remaining in this year's health insurance enrollment season, the administration has announced what it hopes is a turnaround that will enable millions of people to find coverage for 2014.
In a Sunday morning conference call, administration officials detailed a series of software and hardware upgrades that they claim will create a "greatly improved consumer experience" throughout the Obamacare website. Jeffrey D. Zients, the management consultant and former budget director tapped to oversee the rescue operation, said healthcare.gov can now smoothly handle 50,000 simultaneous users, up from just 500 in October, enabling at least 800,000 to register every day.
"We've tripled the site's speed," he said, "and we've widened the onramp to four lanes instead of one or two."
The administration hasn't yet released enrollment figures for November, but the figures will likely show that the upgrades are making a difference. On Monday, Bloomberg News quoted an anonymous source saying that 100,000 consumers signed up for insurance through healthcare.gov last month—nearly four times the 27,000 who enrolled in October. NBC News has confirmed that estimate, but the government isn't yet releasing hard numbers. "We're in the process of scrubbing final data and expect to report November numbers in mid-December," the Department of Health and Human Services said in a statement, "but we expect that enrollment will increase with the technical improvements we've made, enrollment taking place across our customer service channels."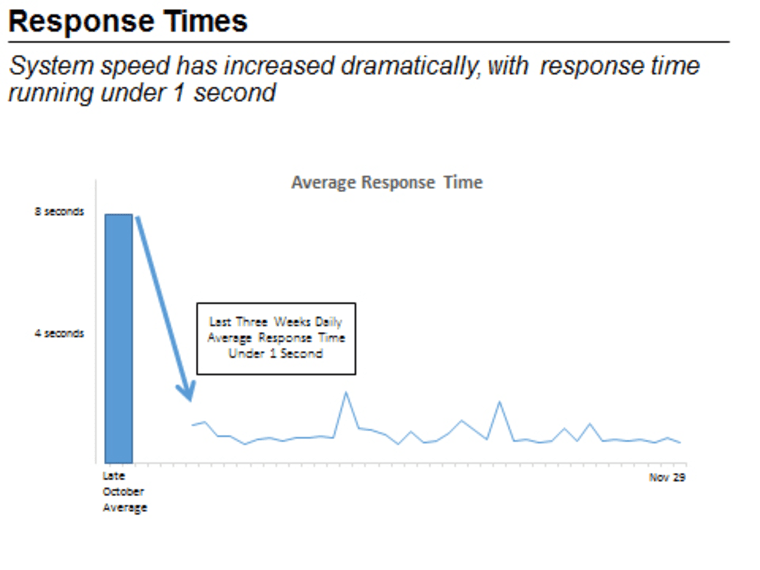 In a "progress and performance report" released during Sunday's conference call, the administration said that its 400 software fixes and hardware upgrades had cut the delays that users experience from an average of eight seconds in late October to less than one second today. Over the same period, the proportion of users getting error messages has fallen from 6% to less than 1%. And the system is now up and running 95% of the time—up from just 43% in early November.
Zients said that the technical team had also streamlined its system for making repairs to the system. "Outages that used to last several hours can now be fixed within an hour," he said.
While boasting of the "dramatic progress" made in recent weeks, the administration acknowledged what a disaster the original rollout had been. "The status of HealthCare.gov in October was marked by an unacceptable user experience," the new report concedes. "Consumers were experiencing slow response times and frequent, inexplicable error messages. The website experienced frequent outages. For some weeks in the month of October, the site was down an estimated 60 percent of the time."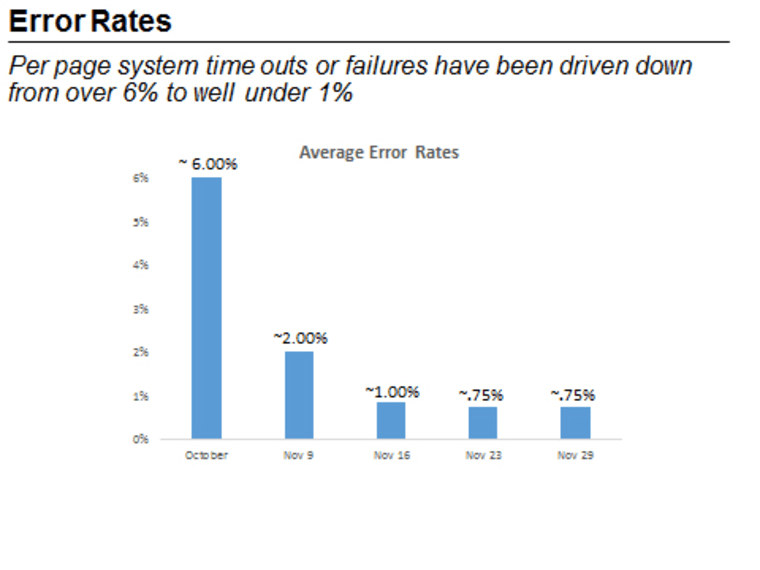 Besides being plagued by design flaws and software bugs, the original site lacked the monitoring systems that engineers needed to identify problems and respond to them quickly. More important, the report says, "inadequate management oversight and coordination among technical teams prevented real-time decision making and efficient responses to address the issues with the site."
The administration has since tapped one contractor, QSSI, as "systems integrator" to coordinate the work of other vendors, and set up a central command structure, enabling Zients to reach across federal agencies that previously lacked oversight.
"While there is more work to be done," the report says, the team is operating with private sector velocity and effectiveness, and will continue their work to improve and enhance the website in the weeks and months ahead."
There is plenty left to do. Though 90% of users can now successfully complete transactions on the site, up from 30% a month ago, many will still encounter glitches and delays. And officials acknowledge that some critical "back-end" mechanisms—the ones insurers need to manage enrollment data and bill the government for subsidies—are still a work in progress.  Just last week, the administration announced it would have to delay the online exchange for small businesses for another year. And the New York Times reported Monday that some newly enrolled consumers are still not showing up in insurance-company records.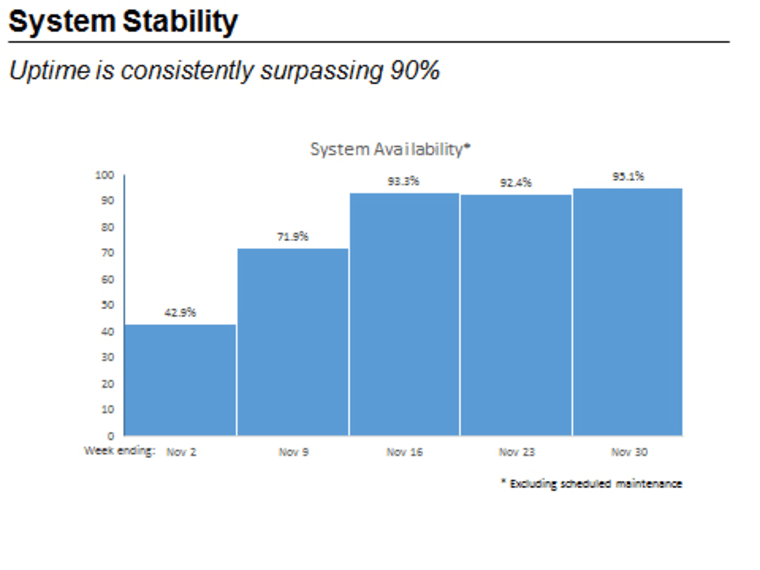 "While we strive to innovate and improve our outreach and systems," the government's new report concludes, "we believe we have met the goal of having a system that will work smoothly for the vast majority of users." That's a far cry from where things stood a few weeks ago. With luck, the administration will soon be reporting similar changes in enrollment. Stay tuned. 
This story was updated on Monday, December 2.