Hillary Clinton's victory over Bernie Sanders Saturday in Nevada was a big win for the campaign.
Clinton performed well with black voters in Nevada, an important voting bloc heading into the South Carolina Democratic primary on Saturday. In 2008, 55 percent of the South Carolina electorate was black. Data from the latest NBC News|SurveyMonkey Weekly Election Tracking poll conducted online from Feb 15-21 shows that nationally, Clinton maintains a double-digit lead over Sanders among black voters—65 percent to 22 percent. She also maintains her overall national lead 51% to 40%.
While Clinton holds strong support among black voters nationally, her support among Hispanic voters is not nearly as strong. One of the questions headed into Nevada on Saturday was where Hispanic voters—a significant share of the Nevada electorate—would place their support. In 2008, Clinton did well among this group. According to Nevada entrance polls, however, Sanders bested her among this group 53 percent to 45 percent. Nationally, our poll shows that the race is tight among Hispanics. Results from the latest week of polling show Clinton ahead of Sanders by just 3 points among Hispanics—46 percent to 43 percent.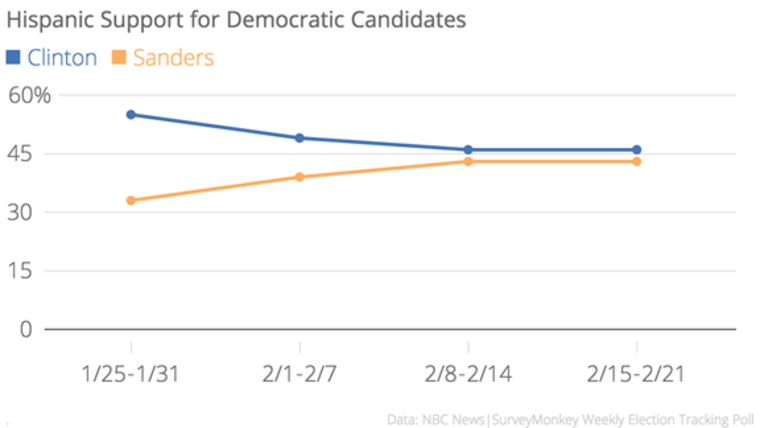 This slight advantage over Sanders does not hold across all Hispanic age groups, however. When further breaking down Hispanic support, Sanders' strong popularity among millennial voters holds. Sanders does better than Clinton among Hispanic voters under age 35 by 26 points—60 percent to 34 percent. For Hispanic voters older than 35, however, Clinton is the favorite over Sanders by nearly the same margin—30 points.