ROCK HILL, South Carolina -- The three Democratic presidential candidates will meet in this key presidential state for the first time Friday evening at a forum hosted by MSNBC and the state Democratic Party on the campus of Winthrop University.
The candidates will not interact with each other, but rather be interviewed by MSNBC's Rachel Maddow back-to-back. Even so, fireworks may be inevitable after two weeks of tension between front-runner Hillary Clinton and top rival Bernie Sanders, and as each of the candidates enters the stage from very different positions and with different goals. Here are three key things to watch:
Will Bernie Sanders pull off the gloves?
The challenger has increasingly drawn sharper contrasts with Clinton as polls have shown her pulling away nationally and potentially even overtaking Sanders in New Hampshire.
"I disagree with Hillary Clinton on virtually everything," Sanders told the Boston Globe Thursday in the latest shot he's fired at Clinton this week. "You asked me about the differences between Hillary Clinton and myself? I have taken tough votes throughout my entire life." 
RELATED: Bernie Sanders files for New Hampshire state ballot
He even used his visit to the New Hampshire secretary of state's office Thursday to file his paperwork to suggest a more bellicose tone. "You ready to kick some Republican butt, Bernie?" a supporter asked him. "There's some earlier butt we have to deal with," he replied.
Sanders advisers say this is the natural next phase of the campaign, and they say his sharper tone is consistent with campaigns he has run in the past. But he's walking a fine line between drawing contrasts, which his team says is fair game, and launching negative attacks, which his campaign has said they will never do. 
Can Clinton keep her lock on black voters?
Clinton is likely to use the forum to focus on reaching out to people of color, who make up the majority of South Carolina's Democratic primary electorate. In an op-ed published in Ebony magazine Friday morning, Clinton called for "a new and comprehensive commitment to equity and opportunity for communities of color," that includes better investment in under-served communities.
RELATED: Clinton showcases strength with black voters in South Carolina
The former secretary of state has a huge advantage among nonwhite voters over Sanders, capturing support from 8 out of 10 black voters in the Palmetto State. She lost the state handily to Barack Obama in 2008 in a bitter and racially charged primary.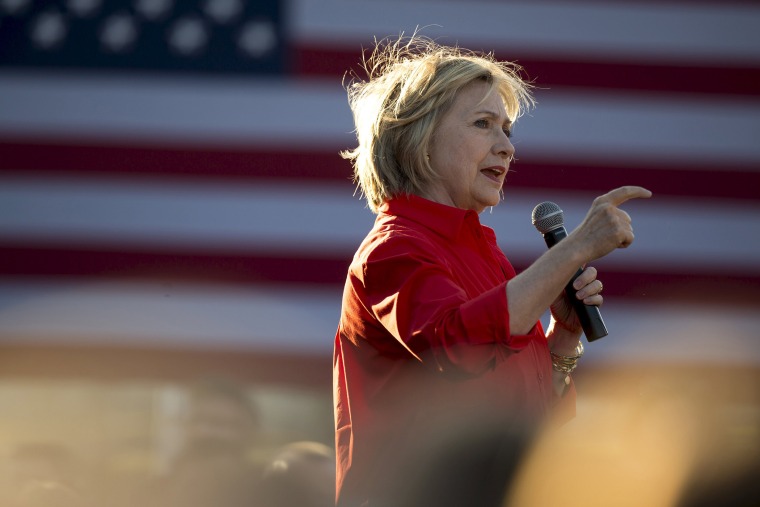 Rep. James Clyburn, the most powerful Democrat in the state, said that's been forgiven. "I have talked to a lot of people and they are not holding any of that against Hillary today," he told MSNBC's Steve Kornacki. 
But Sanders will have a big chance to introduce himself for the first time to South Carolina black Democrats for the first time Friday night, and he'll roll out a campaign leadership team in the state that includes Black Lives Matter activists and others.
Still, Clyburn said it could be a challenge. "I always say all of us are the totality of our experiences. Bernie comes from New England, where there aren't too many black people," he said. "That's something that's a little bit foreign to Bernie." 
He added that on policy, he saw "no difference" between Sanders and Clinton when it comes to race. "I think it's all style."
Can O'Malley get noticed?
Meanwhile, the third candidate on the stage has been such a non-factor in the primary than many political reporters believed that the Wall Street Journal didn't know who he was. The photo caption listing former Maryland Gov. Martin O'Malley as "an unidentified man" was a joke, but his obscurity is not. 
O'Malley has struggled to climb above 1% in the polls, but is hoping the winnowed Democratic field – which has been cut in half in the past three weeks – will give him the attention and credibility he needs to change the trajectory of the race.
RELATED: Martin O'Malley announces leadership teams in 21 states
Events like this, which feature all the candidates and a larger audience than O'Malley can attract on his own, are his best chance to find a moment to move the needle and introduce himself to a wider audience.
He missed one chance in Iowa late last month, though allies say they did see a pickup in the polls, but has another chance Friday night and then again next weekend at the second Democratic presidential debate in Iowa.