TOLEDO, Ohio — Amjad drove a stick shift his entire life; it's been hard getting the feel for an automatic transmission. He feels more hopeful when he looks ahead to when his young kids get behind the wheel. He wants to see them flourish, graduate from college, and one day be known as more than just refugees, but rather as Syrian-Americans.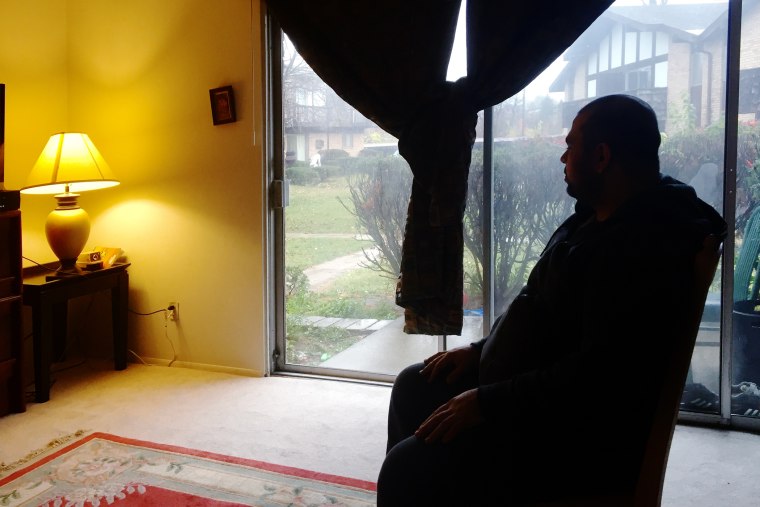 But for now, Amjad worries about another label that's been imposed on him and the hundreds of others like him—sometimes tentatively—by Americans he's never met: terrorist. 
Lately, an atmosphere of fear and panic over refugees from Syria's brutal civil war has swept much of the country. At least 31 governors have said they'll bar refugees from settling in their states, and a few public officials have even called for internment camps. They're responding to Friday's horrific terror attacks in Paris, in which a Syrian passport was found by the body of one perpetrator—never mind reports that it was likely stolen or fake.
But polls have shown Islamophobia was on the rise in the U.S. even before last week's massacre.
In many ways, Amjad and his family have been living in a bubble since they first moved to Toledo six months ago. That's in part because, acutely aware of the damaging power of prejudice, the Arab-American community here that rushed to welcome Amjad's family has acted as their protectors. The family has been through enough, Islamic groups say. They don't need to know the full scope of the fear and resentment behind their move to the U.S. 
RELATED: House passes GOP bill restricting Syrian refugees
"America is awesome!" Amjad says in the few words of English that he's mastered. It's not that Amjad is oblivious to the potential for prejudice. It's just low on his list of concerns, compared to everything the family has been through.
Indeed, Amjad's extended family, including his father and siblings, remain in Syria. Some are simply too stubborn to leave. Others nearly died trying. For their safety, he asked not to disclose his full name.
"I know the true meaning of fear," Amjad says in his native tongue, sitting in his new home in Toledo. "When I talk to my cousins or uncles, they tell me just horrific stories about what has happened to them. It's so terrible that I don't even want to talk to them anymore so I don't cry."
"For the refugees, it's probably best right now just to help them out quietly."'
Amjad knows assimilation will come. In Toledo, a longtime settling place for Middle Eastern immigrants, it has for more than a century. But right now, local and national media are dominated by expressions of fear and animosity over Syrian refugees. (On Wednesday, a local radio host asked: "Are you willing to take responsibility if these people turn out to be terrorists?") That means for now, integration will have to wait.
"We don't want any backlash onto these people. We don't want any anti-immigrant people coming out and saying 'we've got these terrorist refugees in our town! Whoa let's go find them!'" said Ammar Alo, a Syrian-American lawyer who grew up in Toledo. "For the refugees, it's probably best right now just to help them out quietly."
A maze of cross-checks, interviews and medical clearances
In recent days, some on the right have questioned the thoroughness of the U.S.'s vetting of refugees. But on average, it takes roughly two years to successfully complete the resettlement process. Less than 18 months is considered speedy for those coming to the U.S. At least four federal agencies are involved: the departments of State, Defense, and Homeland Security, and the FBI. It's a maze of cross-checks, interviews and medical clearances that whittle down the candidate pool from several thousand to a few hundred.
"Syrian refugees are the single most heavily-screened category of all U.S. arrivals," said Brian Hansford, a spokesperson for the United Nations High Commissioner for Refugees, the agency that plucks refugees from the millions that have fled Syria and refers them to resettle in countries around the world.
The U.S. has taken in less than 2,000 Syrian refugees since the civil war began there in 2011. President Obama has pledged to raise the cap to 10,000 within the next year. By comparison, Germany has led the European Union by accepting 90,000 refugees so far. 
Hansford says humanitarian groups have started using iris scans to help identify Syrian refugees that have fled without their passports to neighboring countries. But the numbers keep on growing. The infrastructure within these countries is already at a breaking point, he says. Threats from world leaders to halt refugee resettlement could be enough to test those limits. 
WATCH: Rep. McCaul: Refugee bill 'well-balanced'
"Refugees are the victims of terrorists, not the perpetrators," Hansford said. "We focus on the most vulnerable of the vulnerable. They're fleeing the same type of atrocities that we saw in Paris over the weekend, and in Beirut recently."
Amjad and his family fled in 2012. Their home was under siege from constant bombing for six days. Amjad's business, a vegetable market, was completely decimated in the rubble. The families that survived shuttled from house to house, relying on the kindness of neighbors for safe haven until the shower of missiles came to a stop. The dead were buried in a mass grave outside of town. 
Soon, the question of whether the family should stay or leave had already been decided for them.
Once in Jordan, and with six people crammed inside a one-bedroom apartment, Amjad started feeling severe chest pains. It took the family 15 days to track down a doctor, who eventually operated on Amjad's heart having never seen his medical history. In the middle of surgery, his chest cut open on the operating table, Amjad had a heart attack.
Still, Amjad and his family were lucky. Put on a fast-track, they think, because of his heart condition, the family was displaced for a total of two and a half years. First came interviews with local organizations to discuss resettlement options. Then wait a few months. Then came the UN. More questions, more waiting. A few days after officials took the entire family's fingerprints, the call came: American officials wanted to begin their own rounds of interviews.
The perfect fit?
Toledo, of all places, seemed like the perfect fit. The first wave of Arab immigrants arrived there more than a century ago. Families across the Middle East and Mediterranean have since then planted firm roots in a number of Midwest cities, turning them into enclaves for Arab-Americans that span the spectrum of religious and cultural beliefs. In Toledo, there was once a "Little Syria" of sorts, but in recent years their presence has remained largely hidden. That is, until the refugees starting pouring in.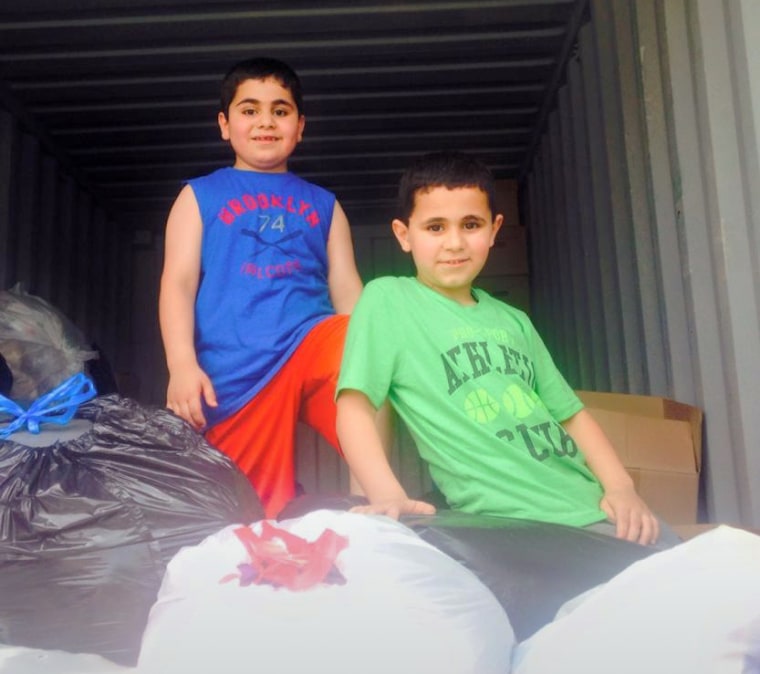 As a Syrian-American, Corine Dehabey's role as a resettlement coordinator at U.S. Together Toledo took on a new meaning once the first Syrian refugees arrived.
"I trust in the American system," Dehabey said. "The refugees have been through a lot of interviews, a lot of background checks. They are doing nine screenings on the people. What else can the American government do?"
When Ohio Gov. John Kasich this week announced he opposed new Syrian refugees settling in his state, local Muslims were shocked. Kasich had been a supporter of refugee resettlement, but now he's running for the Republican presidential nomination at a time when anti-refugee sentiment is high, especially among conservatives. Still, it will be up to federal officials, not governors, to determine the U.S.'s refugee policy.
"The governor, in his political posturing, is doing nothing but creating hostility," said Dr. Ovamir Anjum, chair of Islamic studies at the University of Toledo. "That's the best way to let ISIS win, because it's exactly what they want — the clash of civilizations."
WATCH: Clinton: We must vet, not refuse refugees
Toledo's Muslims have already seen violent Islamophobia flare in their community.
In 2012, an ex-Marine from Indiana said he drained 45 beers in less than seven hours before he drove to Ohio, "riled up" by conservative media and seeking revenge for Americans killed overseas. Carrying a gun, he walked into the Islamic Center of Greater Toledo and poured gasoline on the prayer rugs. He then lit the flame.
The arson was largely viewed as an outlier, the isolated action of a single drunk bigot. And it's hardly representative of the community at large, particularly one that has been welcoming toward Arab immigrants for decades. 
But local Arabs like Nadeem Salem, a financial advisor, are fearful that buried tensions will eventually rise to the surface. Though proud of his city and optimistic for the future, for him, it's only a matter of time before his neighbors, fed up with watching their community grow into something unfamiliar, will say 'not in my backyard.' 
"Not yet, but yes, it's coming," he said. "It's inevitable."
A way to get around
Amjad takes his first driving test on Saturday. Life in Toledo is near-impossible without a car. Public transportation is spotty at best in the few places where it even exists. He still doesn't have anything to drive, but the community has tried to shore up old beaters to give the refugees a way to get around.
"I don't know how to drive yet — it's been five years!" Amjad says laughing, holding his hands out as if he's white-knuckling a steering wheel. 
The family is nearly settled in a small apartment just outside the city. But they've had some hiccups along the way. The first few months were a nightmare, trapped in an unfamiliar place with no way to get food or buy simple furniture. Amjad's five-year-old daughter was turned away from daycare because she didn't understand English. "How is she going to learn if she can't go to school?" Amjad's wife, Shadia, asks.
Amjad has come to hate crying, but some days, he's helpless.
"I experienced very little from what the rest of the people of Syria experienced," Amjad says, his face contorting, trying to ward off tears. But he's looking ahead. 
"I'm here for my family. I want my life to mean something."