Early and absentee voting is changing the face of elections in the United States. Casting a ballot before Election Day allows campaigns to build advantages – sometimes significant ones.
In the Arizona presidential primary Tuesday, the early vote will be pivotal in determining the outcome. Arizona has a very high early and absentee voting rate. In the 2012 Republican presidential primaries, around 75 percent of 505,613overall ballots cast were of this type. Who wins the absentee vote in Arizona has a very high likelihood of winning the state.
In the 2016 presidential primaries, as of March 21 (see below for exact dates county by county) 297,714 Democratic and 371,693 Republican voters have already cast ballots in Arizona. This is according to data obtained from NBC's data partner TargetSmart—a leading voter-file company in the United States.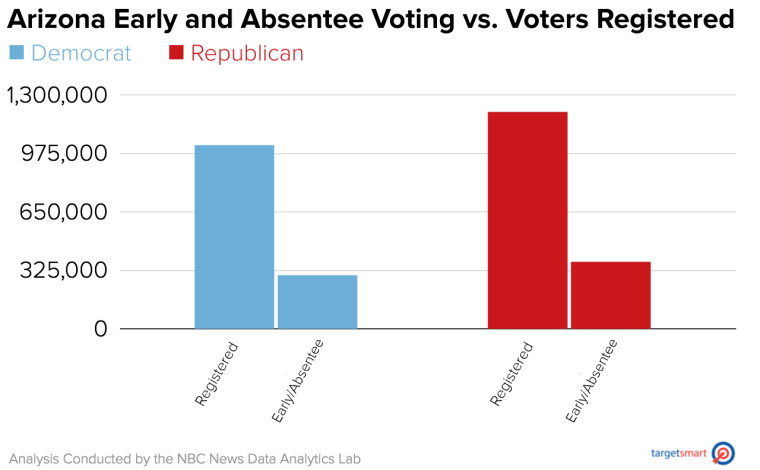 According the TargetSmart data, 29 percent of registered Democrats and 31 percent of registered Republicans have already cast ballot. Arizona is a closed primary state, meaning that those registered as independent or "other" would need to update their voter registration by February 22, 2016 to be eligible to vote in either the Democratic or Republican primary.
There has been record turnout in Republican primary races in the 2016 primary cycle—and early evidence from  the early vote totals in Arizona seem to point to a continuation of this trend in the Grand Canyon State.
In Maricopa County alone—where Phoenix is located—more than 251,579 voters have already cast ballots on the Republican side. In 2012, the total number of Republicans who voted in Maricopa County in total (including early or absentee votes as well as election day vote) was 312,357.  
One big factor with the early vote in Arizona is that 309,620 votes were cast as of March 15, which was the day Marco Rubio suspended his campaign. Given that Arizona is a winner-takes-all state by plurality, the Rubio early vote may help Donald Trump as our polling shows that more of his vote will likely go to candidates other than Trump
On the Democratic side, of the 297,714 voters who have already cast their ballots—174,706 were female, representing 59 percent of the total early Democratic vote. The breakdown of early Democratic voters by gender and age is shown below. The early vote by women is dominated by older age groups.   Voters under 30 account for only 7 percent of Democratic early voters compared to 41 percent for the over 65 crowd. The large number of women, particularly older women, who have already cast Democratic ballots, is a good sign for Hillary Clinton.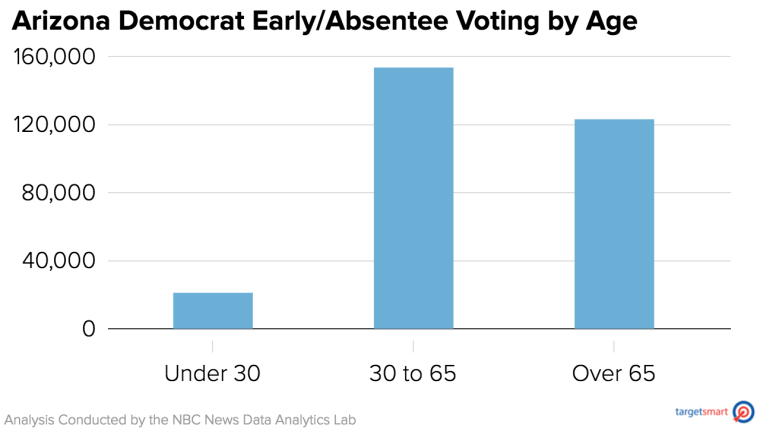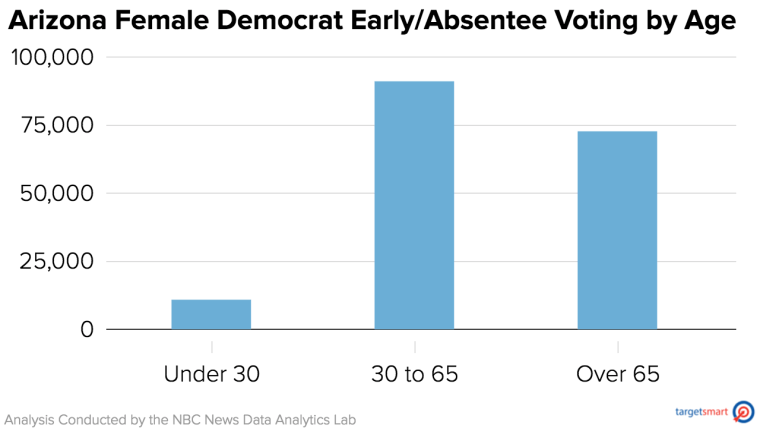 However, Arizona has a large proportion of white voters on the Democratic side. The 2008 NBC Exit Polls showed that 68 percent of the Arizona Democratic primary electorate was white. Sanders has done better among white voters than Clinton this primary season, winning this group in several states.  
It will be interesting to see how the election day vote compares to the early vote in Arizona for both contests, but the early indicators suggest that Clinton and Trump are poised to do well in the early vote.  
Data analysis conducted by the NBC News Data Analytics Lab in conjunction with the Penn Program on Opinion Research and Election Studies. Voter file data, collected by TargetSmart, contains information on most voters' turnout history and selected demographic information. Arizona voter file early vote data is as of the following dates for each county: APACHE 2016-03-21; COCHISE 2016-03-17; COCONINO 2016-03-18; GILA 2016-03-21; GRAHAM 2016-03-17; GREENLEE 2016-03-17; LA PAZ 2016-03-09; MARICOPA 2016-03-18; MOHAVE 2016-03-21; NAVAJO 2016-03-18; PIMA 2016-03-18; PINAL 2016-03-17; SANTA CRUZ 2016-03-14; YAVAPAI 2016-03-17; YUMA 2016-03-21.