The early vote is playing an increasingly important role in national elections.  Nearly half of the electorate in Florida is expected to vote prior to their primary on March 15, and there has been no lack of speculation for what this means for the overall contest. To provide answers rather than speculation, NBC News has entered into a data partnership with a leading voter-file company in the United States – TargetSmart – to help us probe questions about the early vote in Florida. In this story, we focus on the Republican contest.
Early voting is important because it allows candidates to lock up support before election day – and in the case of Florida, to lock up a lot of that vote. This is perhaps good news for Marco Rubio, whose poor performance in the March 8 primaries won't affect the minds of voters who selected him on their ballots before that date.
Florida voters were able to request absentee ballots as early as February 9 and begin early voting on March 5.  As of March 9, more than 700,000 Republicans had already voted (Florida is a closed primary state and voters had to declare as a Republican by February 16). 
In our NBC exit polling we found that Trump has done exceptionally well with the early vote so far.  In Louisiana, Trump's large lead in the early vote allowed him to overcome barely losing the election day vote to Ted Cruz   
Will this pattern hold? What can we glean from the early vote to help forecast the upcoming election the crucial winner-take-all state of Florida? To answer these questions, we examined where the early vote has been cast and how those areas voted in the 2012 Republican primary. Our deeper dive provides a glimpse into what the early vote might hold for Rubio – the hometown candidate who is thought to be best positioned to challenge Trump in Florida. 
To do so, we use data from the voter file collected by TargetSmart and analyzed by NBC's Data Analytics Lab and Penn's Program on Opinion Research and Election Studies. The data is current as of March 9, so things may change before the primary.
To show where the vote is coming from, we first map the percentage of early vote cast in the Republican closed primary as a fraction of active registered Republicans in the county. Not every Republican will vote, but the percentages provide a sense of where the early vote is from.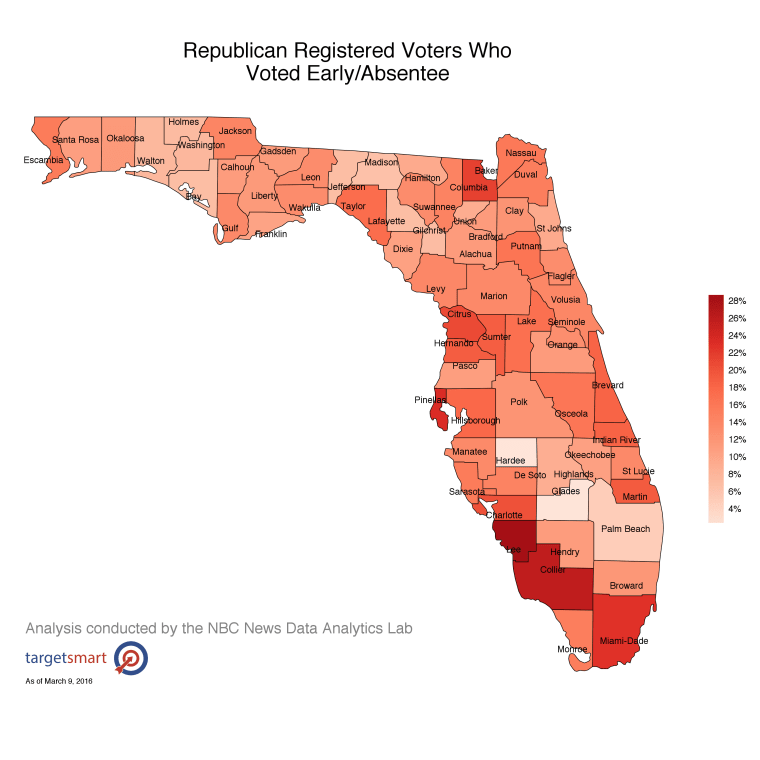 In some counties, nearly 25 percent of active registered Republicans voted before the March 8 primaries. This was true in Miami-Dade, Lee, Pinelas, Collier, and Sumter counties. In other counties, the fraction of registered Republicans who have already voted is much less, and even sometimes close to non-existent (e.g., Glades, Hardee).  As of March 9, early voting appears stronger in counties located in southern Florida (an area where many think Rubio is strong) than the Pan Handle (where many believe Trump has gained support). 
Knowing what the early vote map might mean for the March 15 election requires knowing something about the political leaning of the counties from which this vote is coming. To do so, we map the percentage of votes that were cast for Mitt Romney in the 2012 Republican presidential primary for each county. Given that both Romney and Rubio are considered the "establishment," the level of support for Romney in a county is likely a good approximation of support for Rubio.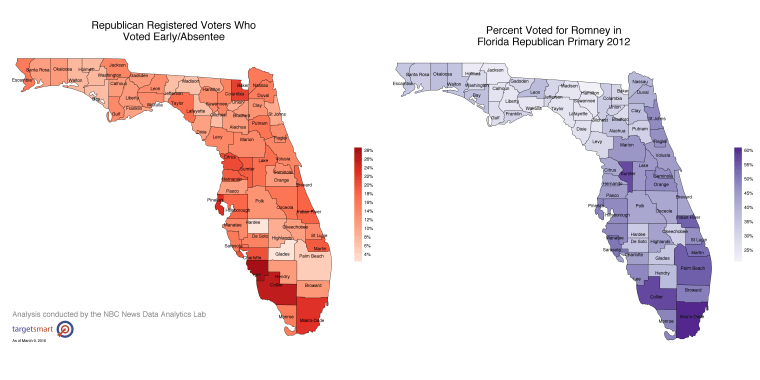 In what is likely good news for Rubio, comparing the two maps reveals that some of the counties that were most supportive of Romney have also cast the highest percentage of early votes. This is true, for example, in Miami-Dade, Collier, and Sumter counties. It seems likely that Rubio has locked in some support prior to his disappointing performance in the March 8 primaries. Even so, the pattern is not universal – Palm Beach county, for example, strongly supported Romney in 2012, but it currently has among the smallest percentage of early votes cast.
Reaching a firm conclusion would require a more nuanced accounting, but these maps allow us to paint a portrait of the early vote using broad strokes. Trump has dominated the early vote in the Republican primaries as of now, but insofar as counties that were likely to support Romney in 2012 are the most likely to support Rubio in 2016, the pattern of the early vote suggests that Rubio has a chance of competing with Trump.   
What does this mean for the outcome on election day? The results suggest Rubio was likely doing well as of March 9, but it is unclear what has happened since. Also, his potential support in the early vote could doom candidates other than Trump if Rubio were to fare poorly in the election day vote. Even if Cruz were to surge as a result of anti-Trump vote, it appears that many ballots have already been cast for Rubio. While we will find out for certain on election day, it is clear that the early vote in Florida is going to be a big part of what happens.
Hannah Hartig contributed to this article.  
Data analysis conducted by the NBC News Data Analytics Lab in conjunction with the Penn Program on Opinion Research and Election Studies. Voter file data, collected by TargetSmart, contains information on most voters' turnout history and selected demographic information. Florida voter file data is current as of January 31, 2016. Early and absentee vote data is current as of March 9, 2016.