For a congressional staffer, social media can be the devil.  So when there is activity on Twitter, Facebook, or Instagram (let's not get into Snapchat), you'll typically find cautiously-worded posts and politically correct photos. 
But these humans, like most humans, have opinions and judgments, and on occasion their views might differ from those of their bosses or peers. With Cloakroom, there's no repercussion for being honest — because it's anonymous. 
Staffers on Capitol Hill have been using this app to express unfiltered thoughts on life, policy and events ever since it launched last year. Now, as the 2016 presidential race has become a political focal point, the election is a common theme among its 2,800 active users. 
All that's required for entry is a senate.gov or house.gov email address. Once approved, a user can create an alias and start posting. Other users can then "upvote" a post or reply with a comment. 
MSNBC was given a 24-hour access pass into the app to see exactly what was being shared on the Hill as it related to the election. Users from both parties, unsurprisingly, had a lot of nice and not-so-nice things to say about front-runners Donald Trump and Hillary Clinton.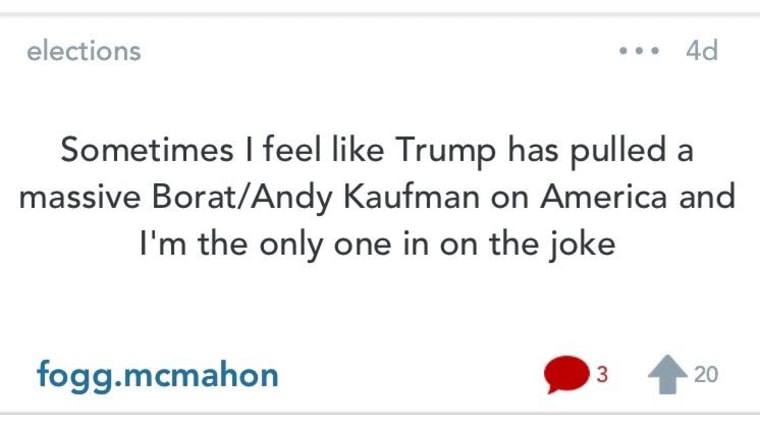 "Sometimes I feel like Trump has pulled a massive Borat/Andy Kaufman on America and I'm the only one in on the joke," one user wrote. 
Another posted: "The R's might be freaking out. They are losing their party to a candidate that is half fascist and half populist. I don't know many informed Democrats that are worried. Look at the poll earlier. Can't wait to run against the Donald." A Republican staffer replied, "I'm not. This has been the dark side of the Republican party for 8 years..."
"I sound like a broken record, but Trump is killing it," one user wrote, to a rapid response: "What's he killing? Civil discourse?"
Cloakroom was created by Ted Henderson, a former Capitol Hill intern who was once told by a former chief of staff that, "your job is to support your boss, not really to be seen or heard personally." In an effort to provide an open forum without staining reputations, Henderson leveraged his outreach with Capitol Bells, another app he created which offers alerts on updates from the House and Senate and which hundreds of staffers use.
"People are using social media," Henderson told MSNBC, "but by giving them anonymity, they can be as honest as they want to be." The app doesn't collect information; there is nothing personal saved on the server in case it gets hacked, Henderson said. 
On Cloakroom, people who typically feel strong allegiance to their party share concerns and even pose questions to one another across the aisle.  
"Any Republicans here who are willing to vote for Hillary over either Trump or Cruz?" asked "Spending289." One response was a flat-out "no," while another wrote, "I doubt any of the people that have said they would or might would actually go through with it."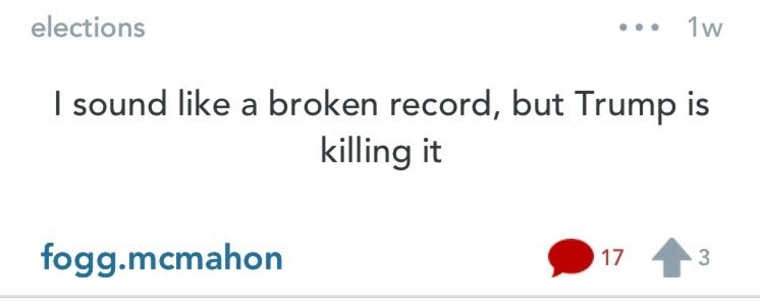 Posed to Democratic staffers, one user asked: "Would you rather face Trump (yea) or Cruz (nay)?" Someone under the username "wholistic.thinker" responded: "Either one, The dem candidate, whom ever it is, will win. Do you republicans honestly think candidates can lead the free world...."
Hillary Clinton's private email server is also a topic bouncing around in the app, as is who the former secretary of state should choose as her running mate. (Julian Castro, Gabrielle Giffords and Tulsi Gabbard were some names thrown out.)
When former New York Mayor Michael Bloomberg officially said he wouldn't put his hat in the 2016 ring, Cloakroom users shared their feelings on that, too. "You're surprised Bloomberg isn't running?" one wrote. Another said, "I'm a bit bummed."
Others are hoping some candidates remove themselves from the race. "Rubio should drop out to run for Governor of Puerto Rico," one post read.
Much of what you might see on a Twitter timeline during events — jokes, memes, cursing — exists on Cloakroom. There's a meme of Marco Rubio in a baby swing, a photo of Trump photoshopped as Dr. Seuss' The Grinch, and Mitt Romney deemed "Mittens" riding a white horse. Someone wrote that Gov. John Kasich "thinks he is with Harry Potter, but he would obviously be in Hufflepuff," and that "Ted Cruz would try to shut down the Ghostbusters."
A new feature recently added to the app is direct messaging between users. Much like Snapchat, once a message is read, it's instantly deleted. 
"It starts with humor and gossip," Henderson said, "but it leads to legislation and policy discussions. These are real conversations."
And it doesn't get any realer than this from "specialelect": "I'm afraid for America."