The Texas state lawmaker who used an extraordinary one-woman filibuster Tuesday night to stop a draconian abortion bill is being hailed as a rising progressive star. But the marathon talk session was hardly the first time that Sen. Wendy Davis has played high-stakes Texas Hold'Em to stymie the GOP: She also helped lead the fight against a partisan GOP redistricting plan that deliberately discriminated against blacks and Hispanics.
Davis's filibuster began just after 11 a.m. Tuesday at the state capitol in Austin, and ended with the lawmaker, clad in athletic shoes, having been on her feet for around 11 hours. By the end, #StandWithWendy was trending worldwide and even President Obama had offered support. There's talk about a run for governor—not bad for a woman once dismissed by incumbent governor Rick Perry as a "show-horse." One fan even tweeted: "Hillary Clinton/Wendy Davis 2016."
Davis's spokesman, Rick Svatora—who'd pulled an all-nighter himself as Davis spoke—told msnbc Wednesday morning the senator was getting some well-deserved rest.
A blonde, well-spoken 50-year-old, Davis's up-by-the-bootstraps personal story made her a perfect fit to lead the fight against the abortion bill, which would have banned abortions after 20 weeks and led to the closure of 37 of the state's 42 abortion clinics. Born to a single mother, Davis started working at 14, then herself became a single mother at 19. She worked two jobs to put herself through college before being admitted to Harvard Law School and graduating with honors.
As a city council member in Fort Worth, Davis worked on behalf of her district's minority voters.  "I gained a reputation over time…for working on behalf of the community and really trying to be a voice," she told msnbc in an April interview in her office.
As a result, local minority leaders approached her about running for a state Senate seat held by a conservative Republican. With strong support from the district's black and Hispanic communities, Davis narrowly won election in 2008. Once in the Senate, she worked to kick-start economic growth in poor neighborhoods, and cracking down on predatory lending practices targeting the poor. In 2011, Davis led a filibuster that helped stop—for a while at least--a Republican effort to cut more than $4 billion form public education.
"I have a story that is very similar to so many people that I see struggling in the district that I represent," she said. "I think they understand that my voice is a very sincere one for the interests of their community."
But in 2011, Texas Republicans used a secretive process to pass a redistricting plan that moved tens of thousands of minority voters out of her district, placing them in new districts where they were outnumbered by white conservatives. (It did something similar in several other minority-heavy districts, on both the state and federal levels). As Davis recounted to msnbc, the new map didn't just make it harder for Davis to win re-election, it also tore those minority voters away from each other, weakening their ability to elect the candidates they wanted (see map below).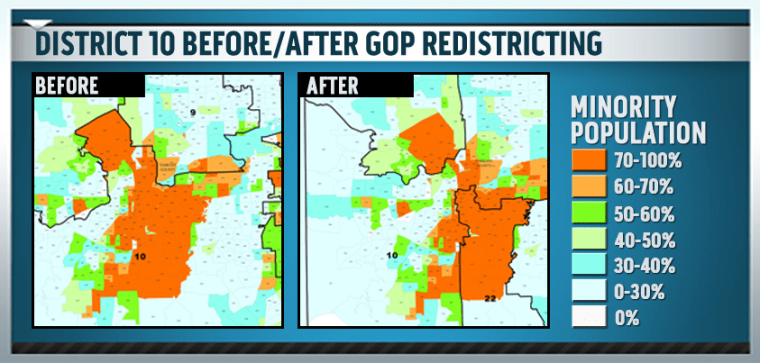 "They were being separated very purposely from each other, and therefore from the power to ever express their preference at the ballot box again," Davis said.
So Davis joined civil-rights groups and the U.S. Justice Department in challenging the GOP map. A federal court ultimately blocked the plan last year under Section 5 of the Voting Rights Act, finding that Republicans had intentionally discriminated against blacks and Latinos, both in Davis's districts and in redrawing a U.S. Congressional district in west Texas to ensure that its Latino population voted at a lower rate. Still joined to the constituents who had supported her the first time around, Davis narrowly won re-election last year.
But now that the Supreme Court has invalidated Section 5, Texas has signaled it plans to revive the GOP maps. It's uncertain whether they'll go into effect.
Tuesday night, Davis fought back tears as she read personal stories of women who had sought abortions. Shifting her weight from one leg to the other, she tuned out an anti-abortion protester who shouted "abortion is genocide."
"What purpose does this bill serve?" she asked at one point. "Could it be, might it just be a desire to limit women's access to safe, healthy, legal, constitutionally-protected abortions in the state of Texas?"
Her filibuster was ultimately broken by Republicans on a point of order shortly before midnight, because she veered off topic. But thanks to raucous protests from liberal activists in the gallery, Republicans were unable to complete the vote before the midnight deadline, when the Senate session ended. As a result, the bill was stymied—though it could yet still pass if Perry, a staunch abortion foe, calls for another special session.
Davis sent a text Wednesday morning to Cecile Richards, the president of Planned Parenthood and a veteran Texas progressive activist, conveying the good news, which Richards read aloud to ecstatic demonstrators in the Capitol:  "The lieutenant governor has agreed that SB 5 is dead."
For Davis, her fight against the abortion bill appeared to be in line with her past stands on behalf of Texans who, she believes, don't have a voice in Texas's Republican-controlled government.
"Are Texans as a whole being represented?," she asked in April, speaking to msnbc. "Are their interests being represented? I think the answer is no."
She added: "It just shows up over and over and over again in terms of the decisions that are being made."
And Tuesday night—all night—Davis was fighting back.
Wednesday, the fight seemed ready to begin again. Gov. Perry said he would schedule another special session in order to try again to pass the abortion bill (as well as a transportation funding measure). Davis issued a statement that said in part: "If leaders are serious about using this second called special session to improve the lives of Texans by repairing and expanding our transportation networks, they will find no greater ally than me. If they intend to keep pushing their extreme personal political agenda ahead of the interests of Texas families, I will not back off of my duty to fight."
Now a national figure, she also seemed ready for a new campaign fight as well. Asked by Chris Hayes if she's considering a run for the governor's office, she said, "You know I would be lying if I told you I hadn't had aspirations."